This Christmas is going to be a different kind of Christmas this year. It's important to make sure you have some family Christmas traditions ready to make it a special and memorable one.
Family Christmas Traditions to Start this Year
Let's start from the beginning of this year before we get into family Christmas traditions. 2020 has been quite the year. When I look back at all the holidays, I know they were all very different than I'm used to.
Easter was spent at home in our pajamas, no travel to Pittsburgh. Mother's Day was spent at home, no going out to dinner. 4th of July was spent at the beach with just our family, no parades or family reunion. Halloween was spent trick or treating during the day.
Every holiday so far since the beginning of this craziness has been different. But there's been one truth that has remained. Each holiday we've celebrated we've remembered and we made special. We made new traditions and kept as many as we could of our old ones.
With Christmas right around the corner, I'm keen on making fun family Christmas traditions that my kids will remember forever. There's one thing I feel like I know for sure right now, this will be the Christmas my kids will remember forever.
Usually we're celebrating with my entire family. There's over 20 of us that gather at my parents house. The kids all play together. The adults all hanging out with each other. We all eat a beautiful (and delicious) meal together. We open gifts. It's a BIG family to do.
None of that can happen this year. It's going to be a whole different experience for all of us. It's very bittersweet. I'm happy that everyone will be safe, but I'm sad to not be with my entire family. It's just going to be the McClelland crew at home, like I know it will be for so many families out there, too.
Things To Do at Home this Christmas:
I want to share with you 12 fun family Christmas traditions you can do at home with the ones you love. These are all traditions that you can do right now, during this time. These are also traditions you can continue doing next year, too.
Make your own Christmas ornaments
Holiday movie marathon
Red and green countdown chain
Matching pajamas
Make your own holiday cookies
Write letters to Santa (regardless of age)
Decorate outside your house
Leave a holiday package for the delivery men and women
Send out holiday cards
ZOOM Christmas
Make Your Own Christmas Ornaments
This is one of those fun family Christmas traditions we've never done, but I want to start and continue. Be creative with your kids and start making your own ornaments. Find some fun ones on Pinterest you can easily make. See our Rustic Reindeers that we've made!
I realized when I was decorating our tree this year that we don't have many homemade ornaments from our youngest kids. I want to start doing this with them. This would be such a fun tradition.
Holiday Movie Marathon
There's nothing I love more than watching Christmas movies. I prefer Hallmark and Lifetime, but I'm game for any! I actually created a printable for my fellow Hallmark and Lifetime fans, 52 Christmas TV Movies to watch this season.
Take a day or two or three to have a massive holiday movie marathon with your family. See how many you can watch in a day. Maybe you'll do this on Christmas. Just pick a day and have a beautiful movie day. One of my all time faves is White Christmas.
Red and Green Countdown Chain
I used to do this when I was a kid and I LOVED it. Make a red and green paper countdown chain. Did you ever make one of these? It's so much fun to see the kids get up in the morning and start peeling off the chain for the day. This is a fun family Christmas traditions you can start NOW.
Matching Pajamas
I'm all about matching ANYTHING. With Christmas being so different this year, I have a feeling we will be in our jammies as much as can be. Buy some fun matching pajamas for your entire family. This is a tradition you can start at anytime and continue. Just make sure you take photos!
Make your own Holiday Cookies
When I was a kid my mom would let my sister and I take a day off of school and we would just make Christmas cookies all day long. It still makes me smile. Start this with the ones in your family. This is such a great tradition.
This is one you will enjoy because it's a full day of fun. It's a day to relax and enjoy the beauty of the season. Make sugar cookies and decorate and even eat them, too!
Write Letters to Santa (regardless of age)
This is a tradition kids should (and can) be doing until they become Santa! What? Oh, yes. This is a long standing tradition that is magical for kids of all ages. Write your letters and then head to the post office to mail them.
Decorate Inside and Outside your House Tradition
My kids love driving around and seeing houses that are decorated. One of the best things we love to do as a family is to decorate our own house. Whether you're going all out or just doing some touches here and there, this is a fun tradition to do with your kids.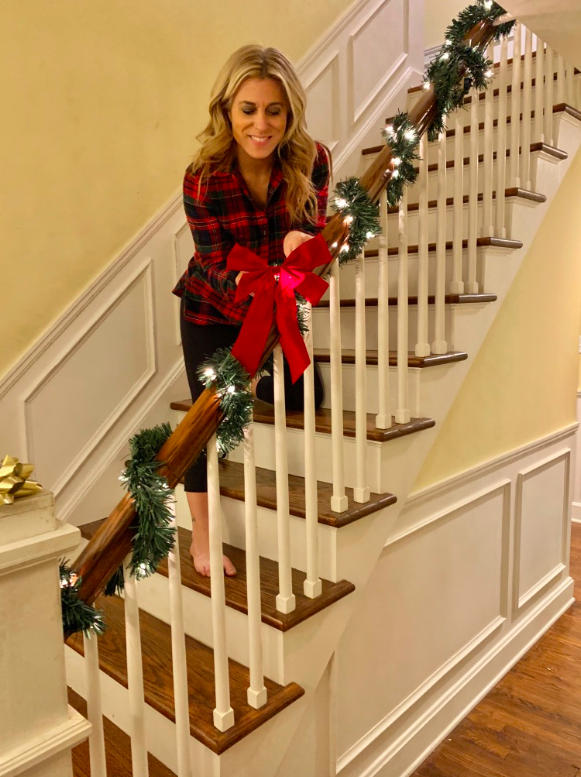 Leave a Holiday Package for the Delivery Men and Women
I hope this is one of those family Christmas traditions you start to do with your family and will continue to do, too. The hardworking men and women who are out there delivering mail and packages, leave them something special.
Maybe you're creating a basket of snacks and drinks or just a beautiful thank you package. Just let them know you're appreciating everything that they're doing.
Send out Holiday Cards
As my kids have gotten older, I love having them help me with this tradition. It's a tradition I truly love doing because I love people to see our family year after year. I'll now have a little assembly line set-up. It's stuff the envelopes. It's lick the envelope. It's pop the stamp on and then pop the label down.
ZOOM Christmas for Family Christmas Traditions:
This is one of those fun family Christmas traditions I think I'll be doing every single year now. ZOOM in your family and friends for a celebration. Everyone we've never gotten to see for the holiday, I love that we can celebrate with them now, too. I love this and I love how technology has brought everyone closer.
I hope these family Christmas traditions inspire you or get you excited to start new ones. I feel like we just need to do everything we can to make this year special. Even if you're doing one or all of these, it will be fun.
Allow new things to be brought into your life this season. It's going to be a Christmas and holiday season none of us forget!