Looking for some shirt dress outfit ideas? A Shirt dress is one of the most versatile fashion items you can have in your closet. It's all knowing how to style a shirtdress properly and make it work in a variety of different ways.
Wondering how to style a shirtdress? You can easily take a shirt dress and wear it in a bunch of different ways. You can wear it as is, buttoned from top to bottom. You could unbutton it and wear it as a cover-up. Or you could even wear it as a shirt. Shirtdresses are a must have item in your spring and summer wardrobe.
If you're wondering what is a shirtdress, it's a dress that looks like a shirt. You could easily wear it both ways as a dress and as a shirt, just depending on how you're styling it.
How to Style a Shirtdress
When it comes to coming up with shirt dress outfits and wondering how to wear a shirt dress, make sure you find one that you really love. There are so many different options out there, so take your time finding one that fits you perfectly. Make sure you take into account the length of it, you don't want it to be too short.
Free People Voyage Shirtdress
The shirt dress I love to wear when coming up with ways on how to style a shirtdress is Free People's Voyage Shirtdress. This is my favorite shirtdress because it's so cozy and comfy. It's worth the investment in buying this piece.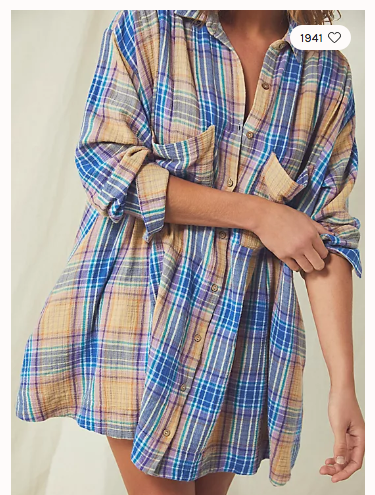 A true timeless essential, this effortless shirtdress is featured in the perfect plaid print with button-front closure and pleated bottom piecing for added shape.
Double bust pockets
Dropped dolman sleeves
Button-front silhouette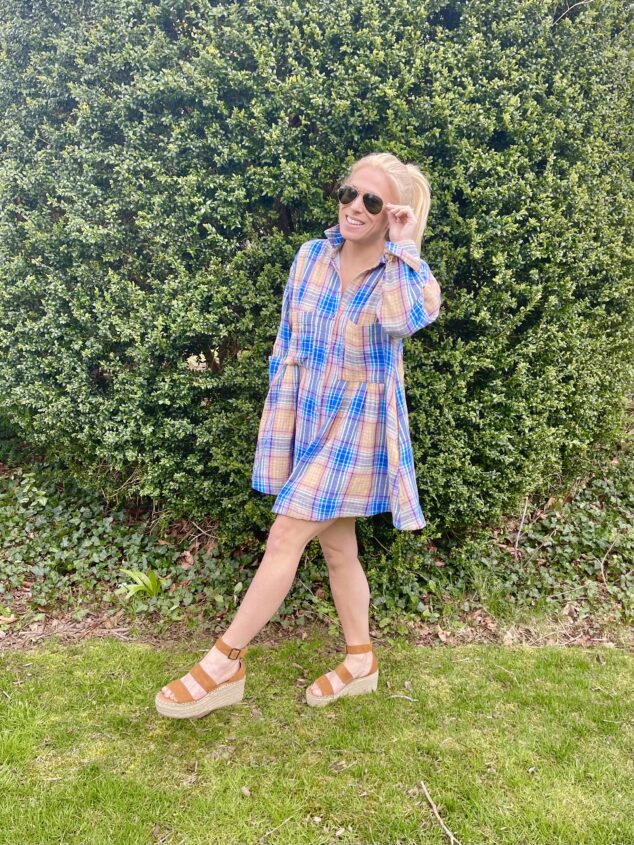 Style with a Belt
One way to easily style a shirtdress is with a belt. You can make it appear like a top and bottom or just give it a different look altogether. This is an easy way to change up a look and create an stylish shirt dress outfit.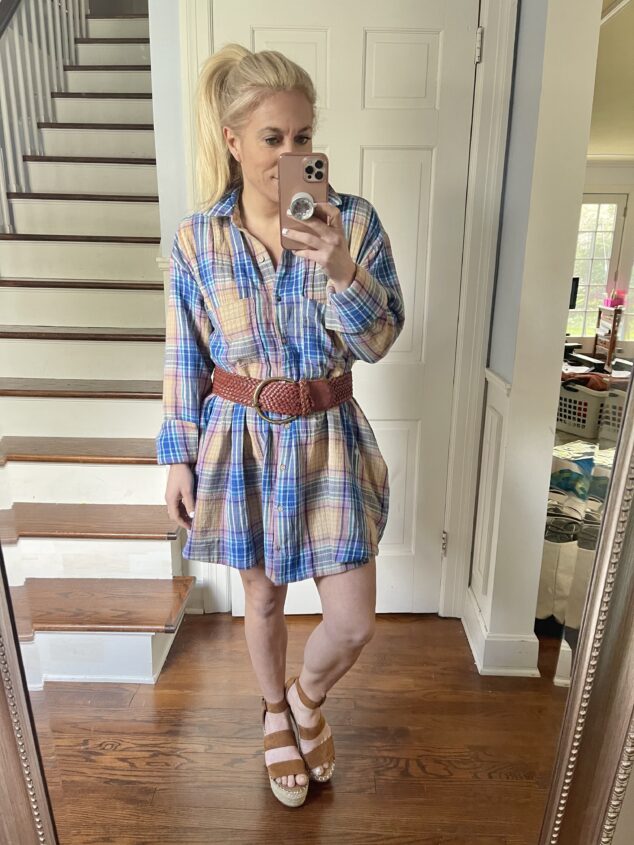 Style with Shorts
Looking to change up the shirt dress? Just unbutton it and wear over tees and shorts or as a beach cover-up. This is why a shirtdress is so versatile. When looking for ways to style a shirtdress, these are easy ways to do it. Just take it and unbutton it and wear it this way.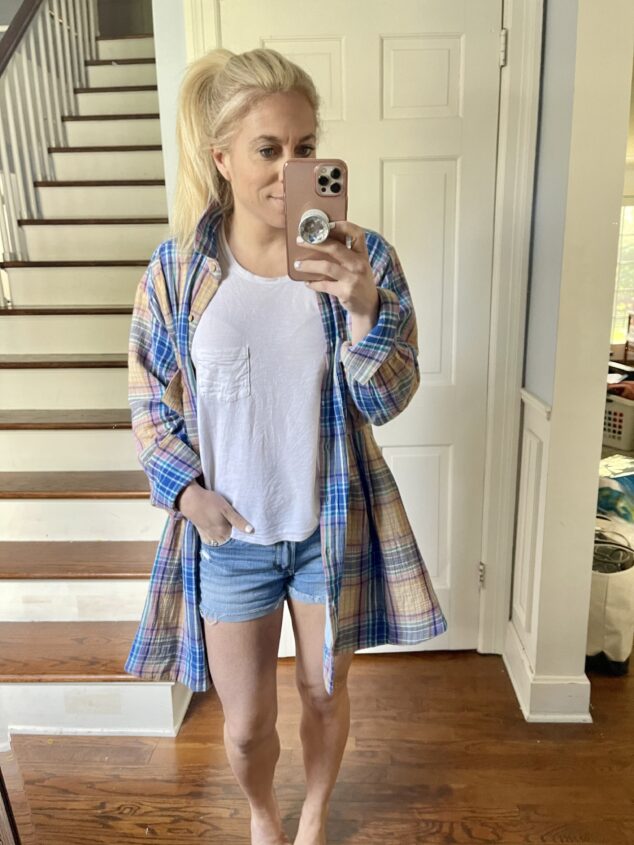 I love this look because it's just an easy layer to toss on if it's a chilly night. The print and pattern works beautifully, too.
Style with Jeans
If you're someone who loves to wear a button down, grab your shirt dress and use it as an oversized shirt. This is another quick and easy way to wear a shirtdress. You can tuck it in or even do a tie in front (like I did). Check out how easy it is to style your shirtdress as a shirt.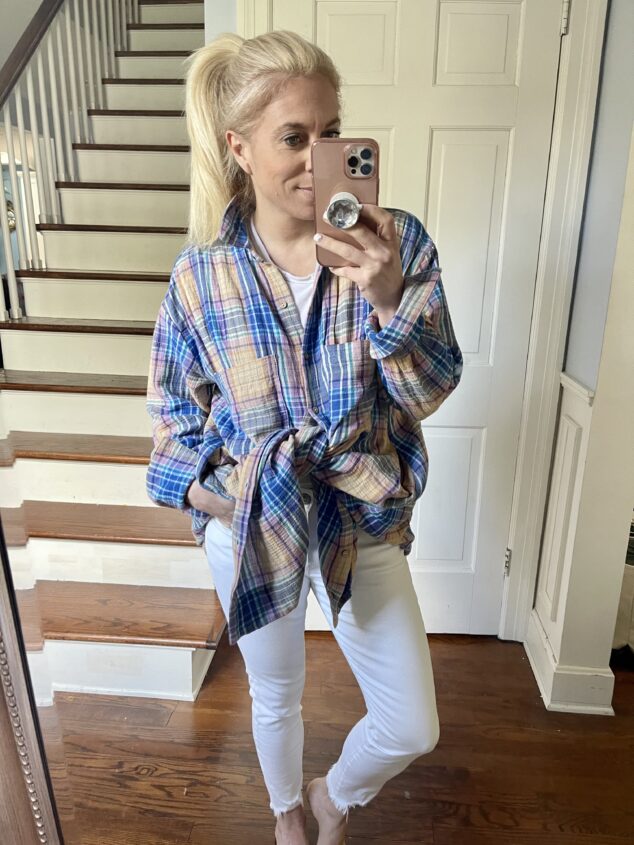 I'm a big fan of white jeans in the spring and summer. Think about taking your shirtdresses and pairing them with your white jeans. It's another easy way to style white jeans and a shirt dress.
Wrap it Around
Looking to do something a little more fashion creative? Here is an easy way for you to do this one. Take your shirt dress and wrap it around like a faux wrap shirt. This is a fun one to do because it's a stylish way to wear a shirtdress, but it also looks super cute, too!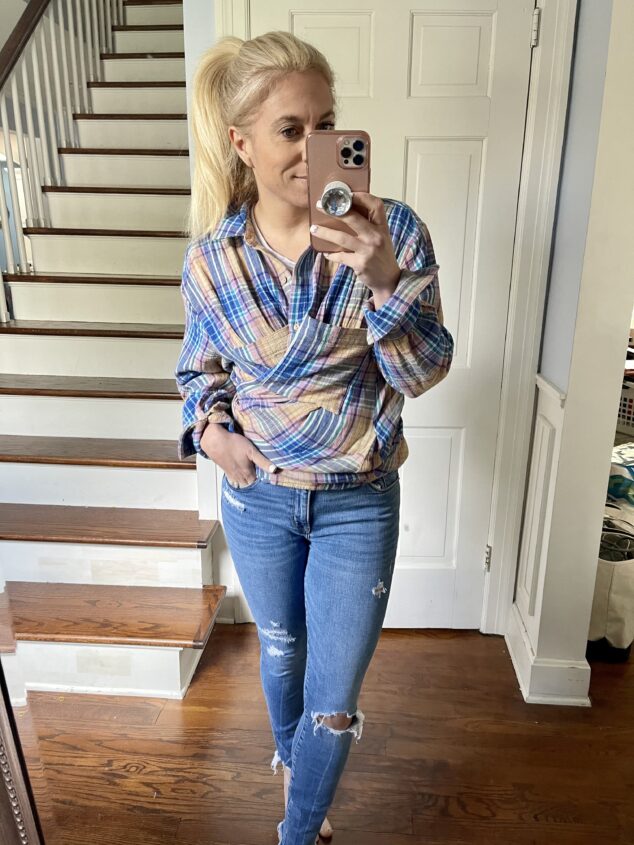 I had some fun sharing how to style a shirtdress on TikTok, so here are these fashion styles in motion! Enjoy these and tell me your favorite.
Loving my Fashion Deals – Daily Dose of Style Facebook Group (that I would LOVE for you to join) and I share trends and styles every single day in there, along with the best sales online for fashion.
I fully believe that you can and should be able to look your best without breaking the bank. You want to feel confident and beautiful and you CAN! I hope my info helps! We have a ton of fashion fun in there! And you don't need to be 40 years old!!

HEAD ON OVER AND JOIN US HERE!!! I also share beauty tips there, too. Love your support and let me know what it is you're looking for, too!