It's so easy to turn memories into artwork with TilePix. You have the ability to take your favorite photos that you've captured and (literally) turn them into beautiful, creative artwork pieces.
Looking to give your walls some personality? TilePix gives your walls some magnetic personality with TilePix 8×8 ready-to-hang photo tiles. With TilePix you don't have to worry about having a hammer or nails on hand either, everything just magnetically sticks to your wall to make it seamless for you. It's as easy as 1-2-3!
Personally, I love that TilePix are sustainably made with recycled material and 100% pride right here in the USA. It's just a nice thing to know!
TilePix Turns Artwork Into Memories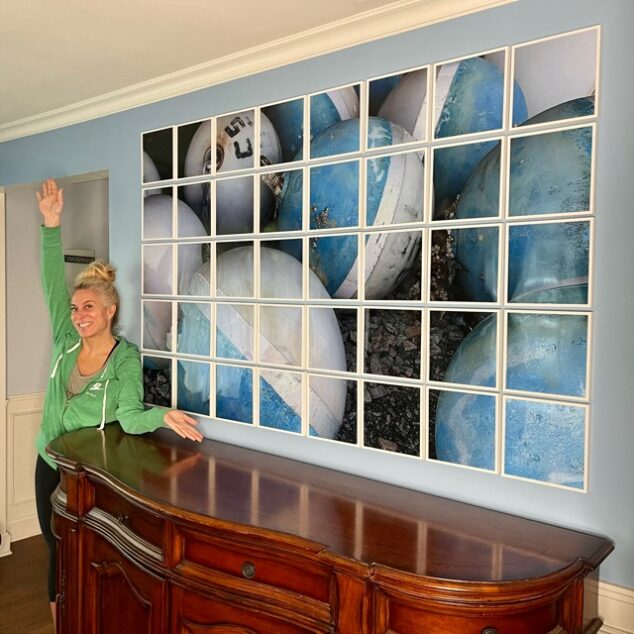 The cool thing is that TilePix lets you build your memory wall in three easy steps. That's right, you don't have to worry about the process being tons of steps or overwhelming. All you need to do is: 1) Pick your photos 2) Choose your frames 3) Check out.
Take the time to pick photos that mean something to you. The incredible thing about TilePix is that you can pick photos and create a collage of meaningful photos, you can take one photo and grid it out, or you can use their new confetti option!
Let me walk you through each one!
Option #1: You can find photos that you would love to have displayed on your wall. This is the fun part! Once you select photos you want to turn into TilePix, you simply upload them. I love that you can constantly swap them out, too.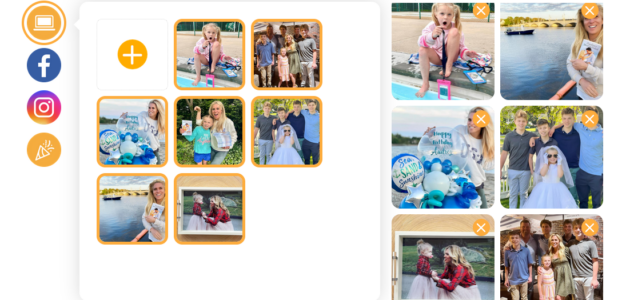 Option #2: You can find one photo you love and turn it into a grid of TilePix for your wall. This is the option that we did for our wall. We're big into the nautical feel, so a photo my husband took last summer we turned into artwork.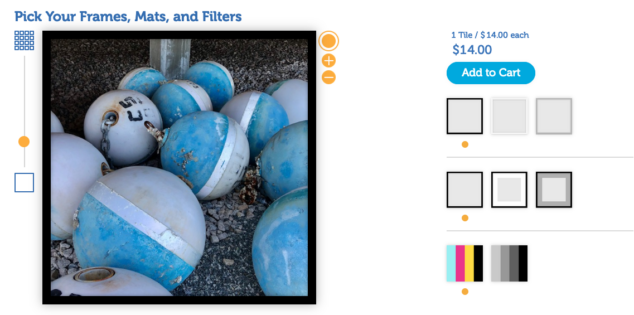 Option #3: You can do the new confetti option! You can choose letters and numbers to help create some fun on your wall. Maybe you'll display your last name, your company name, your child's name. Whatever it is… this one is a fun option, too!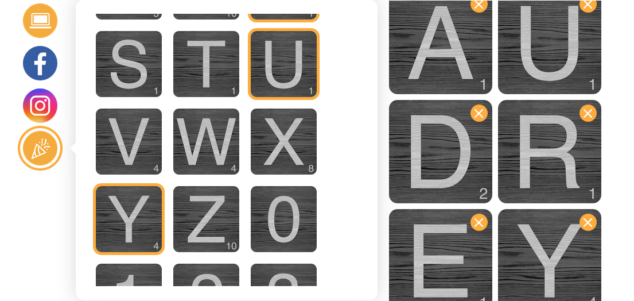 As you can tell, you can really have some fun and be as creative as you want to be with TilePix. We opted for this beautiful nautical photo to create into a 40 tile piece of artwork.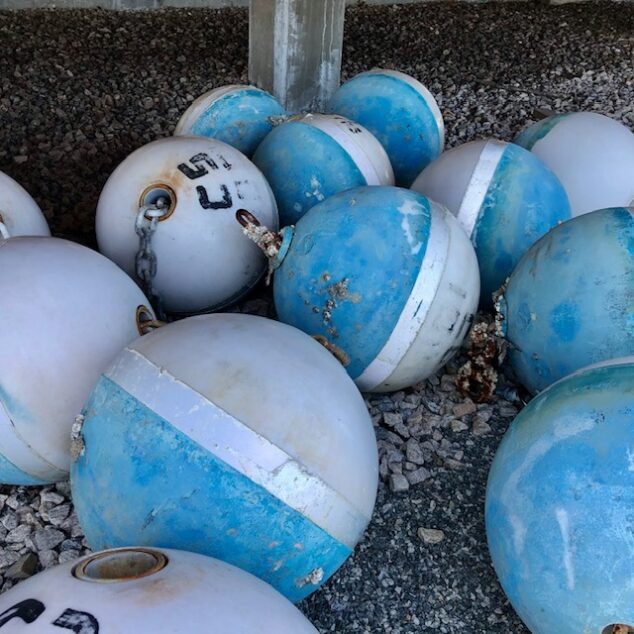 Your package arrives quickly and it's organized and set in boxes, just waiting for you to unpack! When my TilePix box arrived, I couldn't wait to get it up on my wall. We chose to display our TilePix artwork in our dining room. We had a "blank" wall that's needed a little something-something forever now!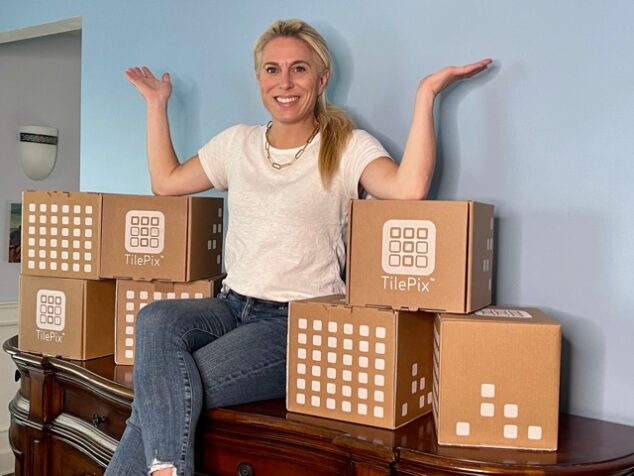 The great thing is that TilePix makes it easy for you to open the boxes up and get to your tiles. What I personally loved was that the directions on how to put up the tiles were clearly displayed in every box.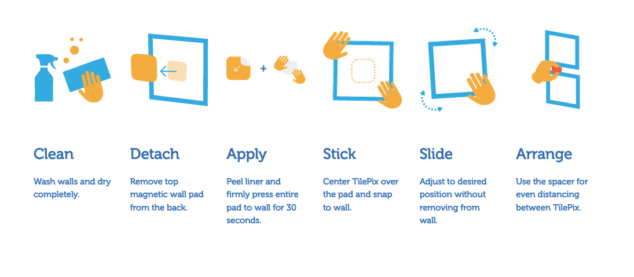 As you can see, there are steps that you must take in order to make sure everything is placed properly. The steps are easy to follow and you will be so happy to see how quickly you're able to go through the process. You'll be very happy with how organized they are packed, too.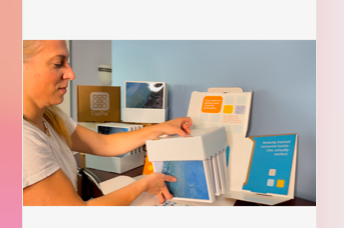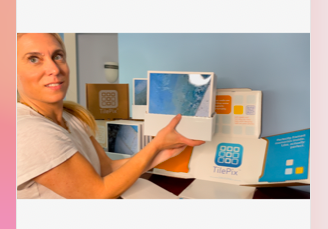 Before we got going, we tool all of the tiles out and placed them on the floor. This was the fun part for us because we got to see what it would look like before placing it on the wall.
How great does this look? And this was just on our floor! We were so excited to get it UP!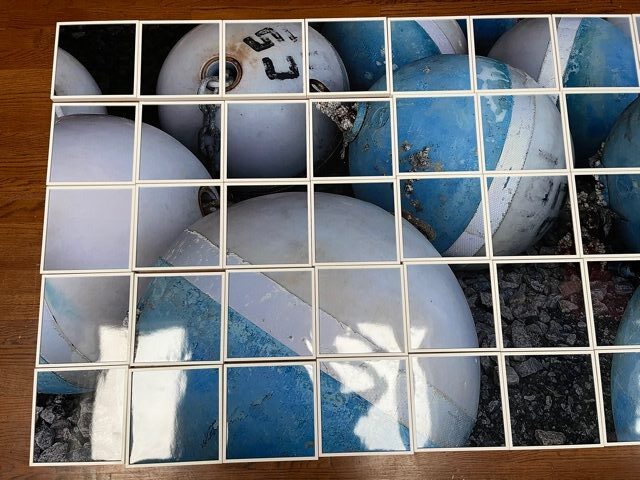 But again, it's imperative that you make sure you go through each step.
How to Hang
Take the time to wash and dry your walls. Take the time to detach the magnetic wall pad from the back of each tile beforehand. Make sure you're applying pressure to the pad for 30 seconds. Make sure you're sticking the center TilePix over the pad to snap it into place. Make sure you're sliding and adjusting to your desired placement. Make sure you're arranging your TilePix with the provided spacer.
The added perk of TilePix is that when you're in a need of a change of scenery, you can just swap out and mix up the TilePix memory walls around your home. It's that easy.
If you're thinking of creating one last minute, too! They've got you covered! You have the ability to pick up smaller TilePix orders at your local Walgreens or we'll FedEx larger orders to you for free. If you're thinking of Father's Day or graduation, this is a great gift you can even get last minute!
Pricing of TilePix
Each TilePix is $14.00, but the great news is that you save with the more you order.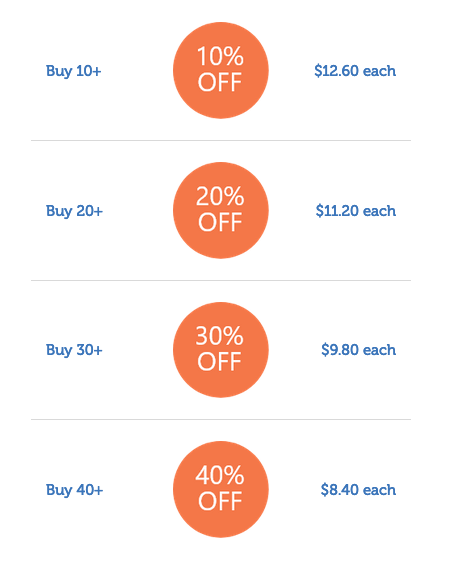 The best part? You get 50% OFF your very first order! Don't miss out on checking out TilePix!! It's awesome and you'll be thrilled you tried it!
*Sponsored post with TilePix.