Looking for the perfect gift for your loved one this Valentine's Day? Look no further than a heart necklace for Valentine's Day! Heart jewelry is always a popular choice for this special day, and it's sure to make your loved one feel special.
Heart Necklace for Valentine's Day
When it comes to finding a Valentine's Day gift for the one you love, a heart pendant necklace never goes out of style. It's a great gift because it's the perfect way to show your love. There are so many wide selections of heart necklaces to choose from, the only problem will be finding the perfect one.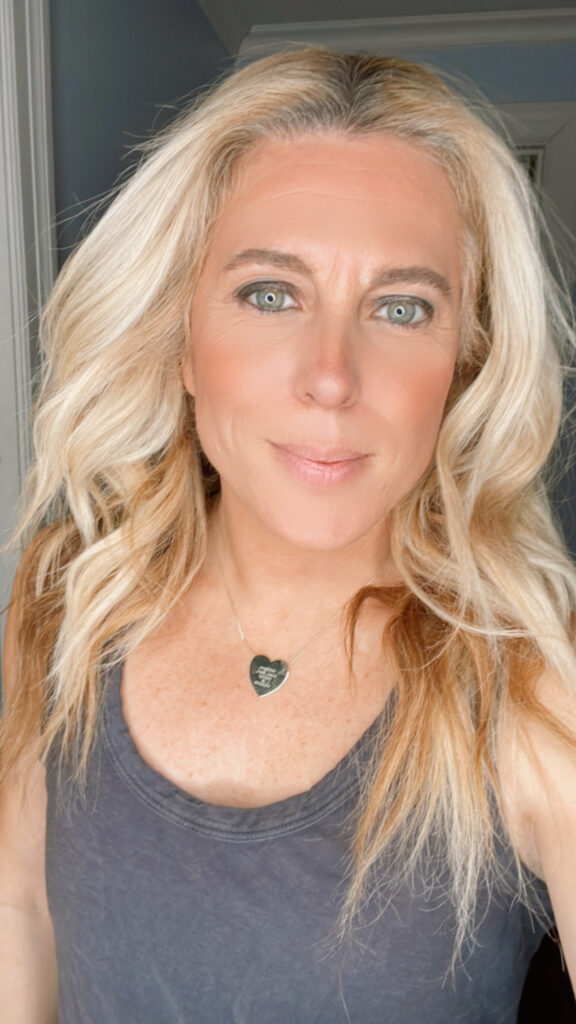 I've always thought that perfect gifts are different for everyone on Valentine's Day, but a heart necklace for Valentine's Day is a perfect gift for anyone. Whether you're looking for something simple and understated or something more extravagant, there is something for everyone.
Heart pendants come in rose gold, gold, sterling silver, diamonds, gemstones, yellow gold, and so many more options. It's all about knowing what will work best for the love in your life. It's always a good idea to share your faves with your love ahead of time or with your best friends so they can put the (ahem) bug in your love's ear.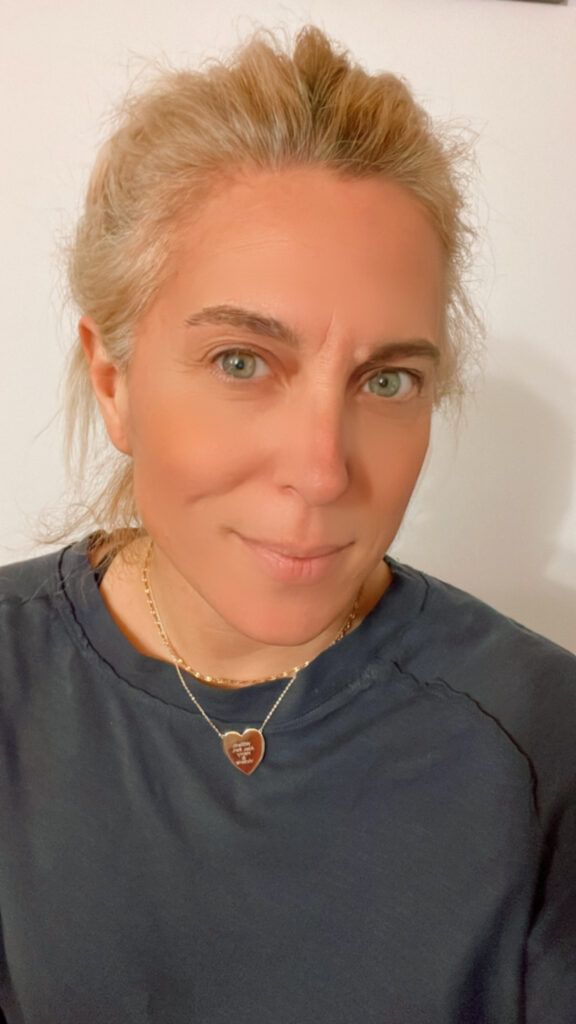 There are also other options if a heart necklace for Valentine's Day isn't your top choice. There are heart pod necklaces, love knots, heart charm bracelets, heart promise rings, a cross necklace and so many more, but this post is going to concentrate on sharing some of the best and most beautiful heart necklaces for v-day gifts.
Valentines jewelry is always a beautiful thing because it's something you won't forget. It's a great way to show your love and it's extra special when you present an unexpected beautiful gift. My love just bought me one for Valentine's Day that I personally love, so I'm excited to share the one that I've been wearing and sporting every single day.
Valentine's Day Necklaces
Here are some options when it comes to finding a Heart Necklace for Valentine's Day. It's a piece of jewelry that is simple, yet one of those most cherished pieces you will own. I love wearing mine.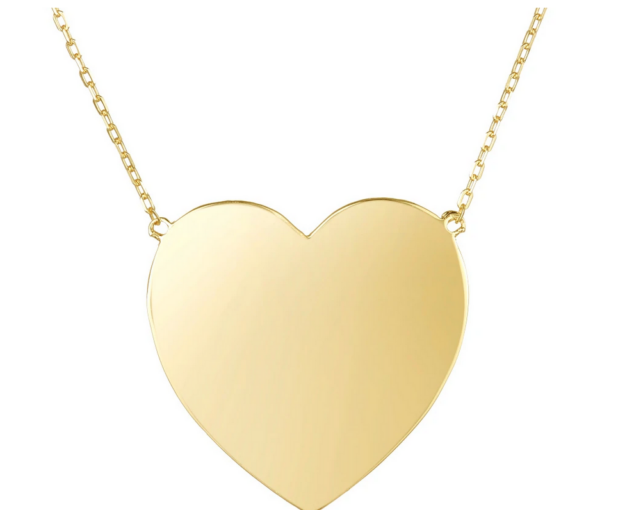 *This is the one I have and I absolutely love it. I wear it every single day and even have my kids' names engraved on it, too. I love that it's a name necklace as well as a heart pendant. When it comes to quality, it's amazing. It's also a perfect necklace to layer with other necklaces. It looks so chic.
The perfect way to say I Love You!
Product Details:
24k Gold Plated Over Brass or Silver Plated Over Brass
The chain is approximately 15" + 3" extender
Pendant is approximately 1" X 1"
Spring Ring Closure
Marc & Marcella x Bloomingdale's Diamond Heart Pendant Necklace in Gold-Plated Sterling Silver, 15″ – 100% Exclusive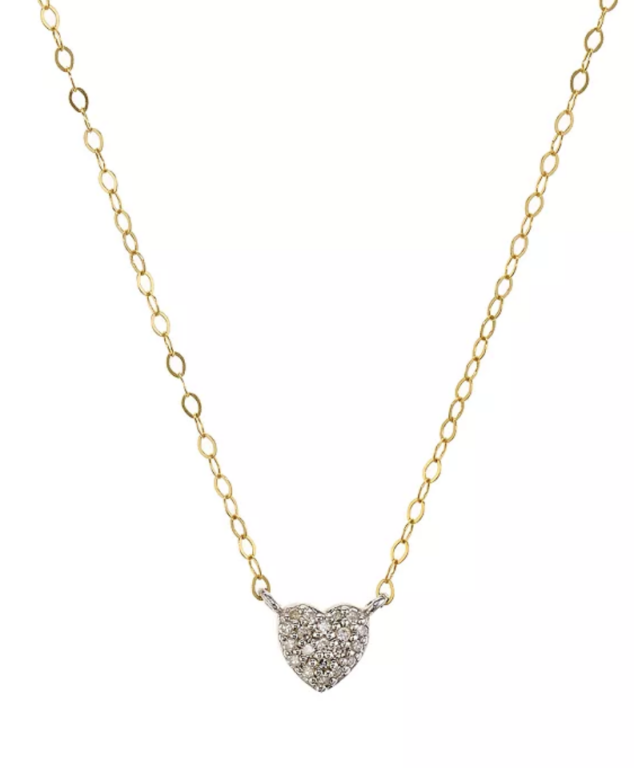 Diamonds: 0.10 ct. t.w.
Gold-plated sterling silver
15″L with 2″ extension
0.3″ pendant drop
Spring ring closure
This is a delicate and elegant-looking necklace.
Swarovski Infinity Double Heart Pendant Necklace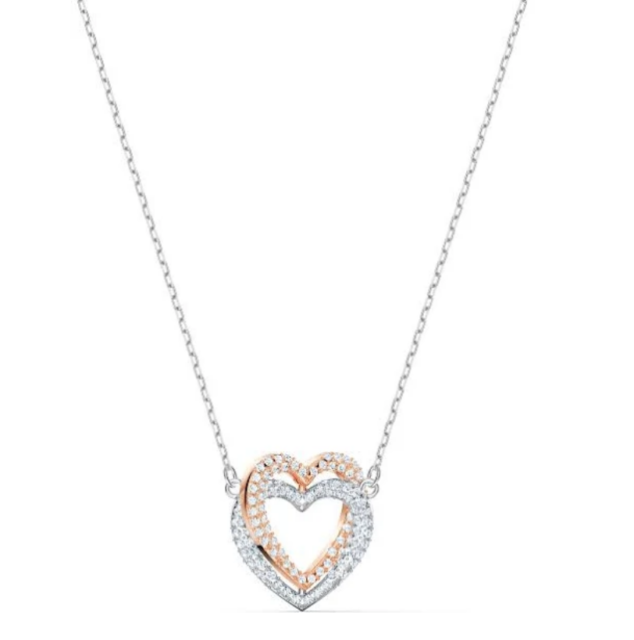 Show that you believe in love by wearing this beautiful necklace featuring two hearts intertwined.
I love that this one is two hearts intertwined. It's a pretty spin on a basic heart pendant.
Ari Heart Multi-Strand Necklace in Gold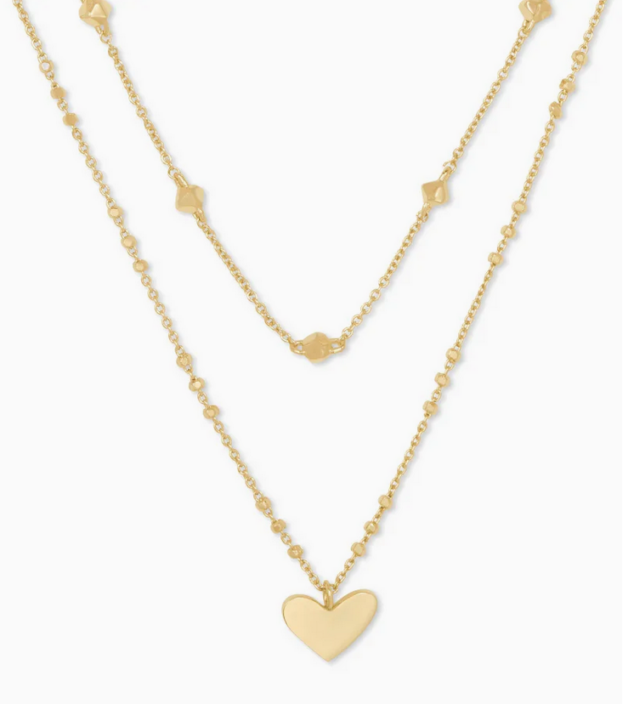 Love to layer? Meet your match in The Ari Heart Multi Strand Necklace in Gold. A beloved shape pairs with a petite chain, hand-picked by our design team, to create an all-new layered look.
Metal
14k Gold Plated Over Brass
Closure
Lobster claw
Size
0.44″ L x 0.33″ W, 16″ L, 14″ L chains + 2″ extender
This is another one of my fave necklaces because of the double layer. It's so pretty and the kind of piece you can dress up and dress down.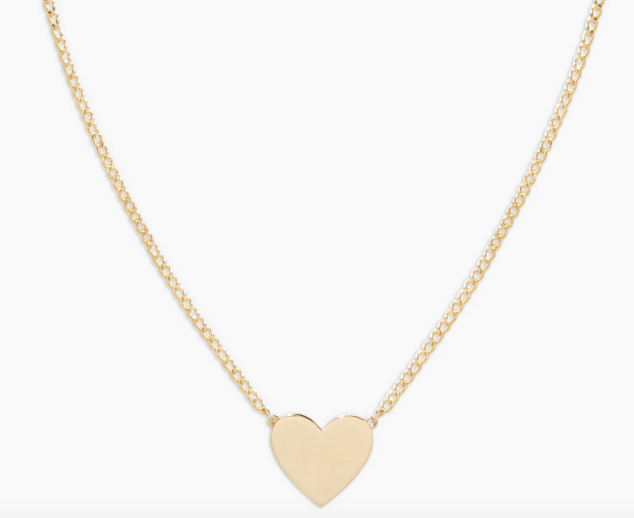 You have a heart of gold in more ways than one. Engrave your Bespoke Wilder Heart Necklace with anything you want to keep close to your heart. A name, date, place — the choice is yours.
Engravable
Total length 17″
Charm is 1/2″ by 7/16″
Spring ring closure
Engraving component 18k gold vermeil
All other hardware 18k gold plated brass
This is about as classic as it gets when it comes to a heart pendant necklace. This is a great option for any age.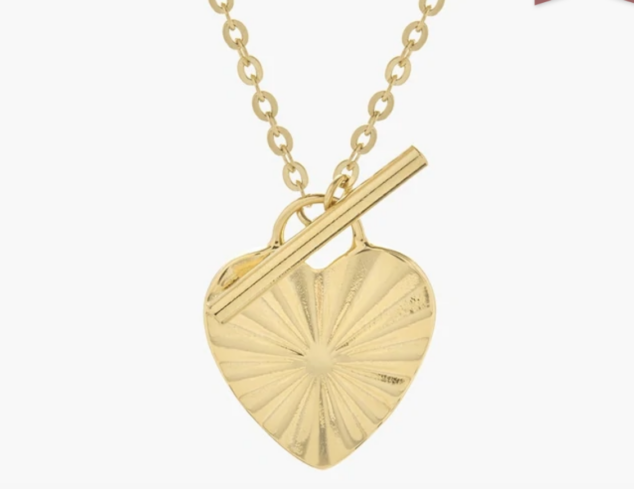 Show some love to our go-to heart pendant necklace. A toggle closure and textured details create a cool necklace that is perfect for rocking on the reg, no matter the destination.
Available in 14k gold plated brass
Pendant size: 3/4″
18″ flat curb chain
Toggle closure
I'm obsessed with a toggle necklace, I just love these and how they look. I love this necklace because it's so chic and trendy. Another great one to layer with other necklaces.
Ari Heart Gold Pendant Necklace in Iridescent Drusy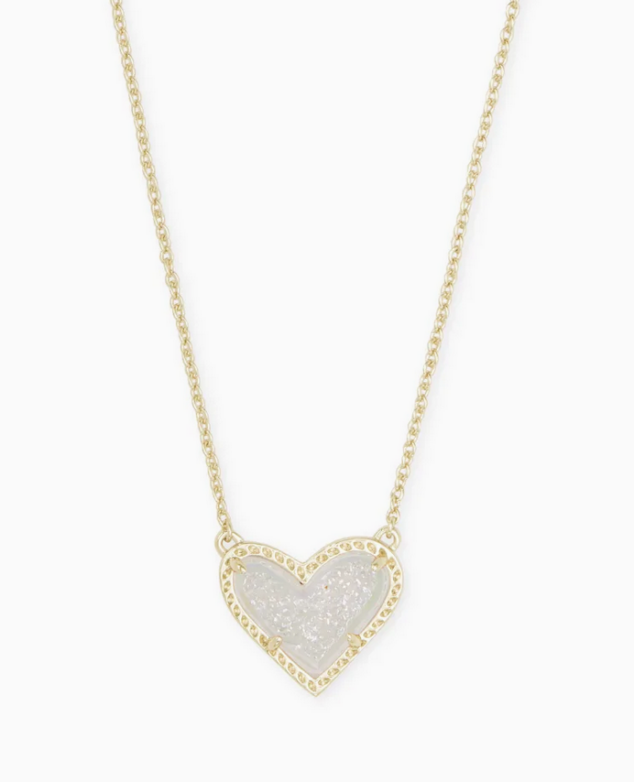 Feminine and classic with an asymmetrical design, the Ari Heart Gold Pendant Necklace in Iridescent Drusy is our new obsession. Layer it or let it shine on its own – either way you'll be hearing "Where'd you get that?" every time you wear this pendant necklace out.
Metal
14k Gold Plated Over Brass
Material
Iridescent Drusy
Closure
Lobster Clasp
Size
0.49″ L x 0.57″ W Pendant On 15″L Chain + 2″ Extender
I love this one so much, it's such a pretty and trendy necklace to wear.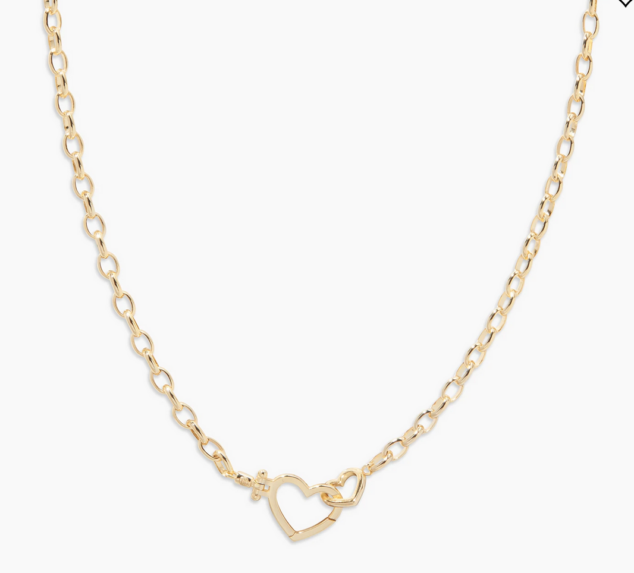 LOVE STORY: show off what you love with an all new heart shaped Parker clasp and new Parker Charms!
How beautifully delicate is this one? I just love how charming and pretty this one is to wear. This is a great one to dress up and dress down, too.
Total length 17″
Links measure 3/16″ by1/8″
Heart hinge closure measures 1/2″
Small heart charm measures 3/8″ by 5/16″
Available in 18k gold plated brass
Keep in mind, too that these are perfect Mother's Day gift ideas, too. If you're also looking for birthdays or special occasions, remember these, too. So if you're looking for a heart necklace for Valentine's Day, these are amazing gift options, but if you miss this holiday, there are plenty of others these would be amazing gifts for, too.
If you're looking for some other options when it comes to personalized jewelry, these are some other ones you should be looking at, too:
Personalized Necklaces for Moms
Monogram Jewelry: My Top Picks
Share with me where you get some of your beautiful pieces of jewelry, I always love sharing them and checking them out!