I'm all about pretty hairstyles for the holiday. We did this adorable and easy Christmas Tree Hairstyle for a party this month and people loved it. It's a simple hairstyle that works on medium to long hair and it's just pretty as can be.
Adorable and Easy Christmas Tree Hairstyle
The secret to this easy Christmas Tree Hairstyle is knowing how to do a pull-through braid. This is the foundation of this hairstyle and makes the whole style come together. If you don't know how to do one, don't worry. I have Instagram videos showing how to easily do one.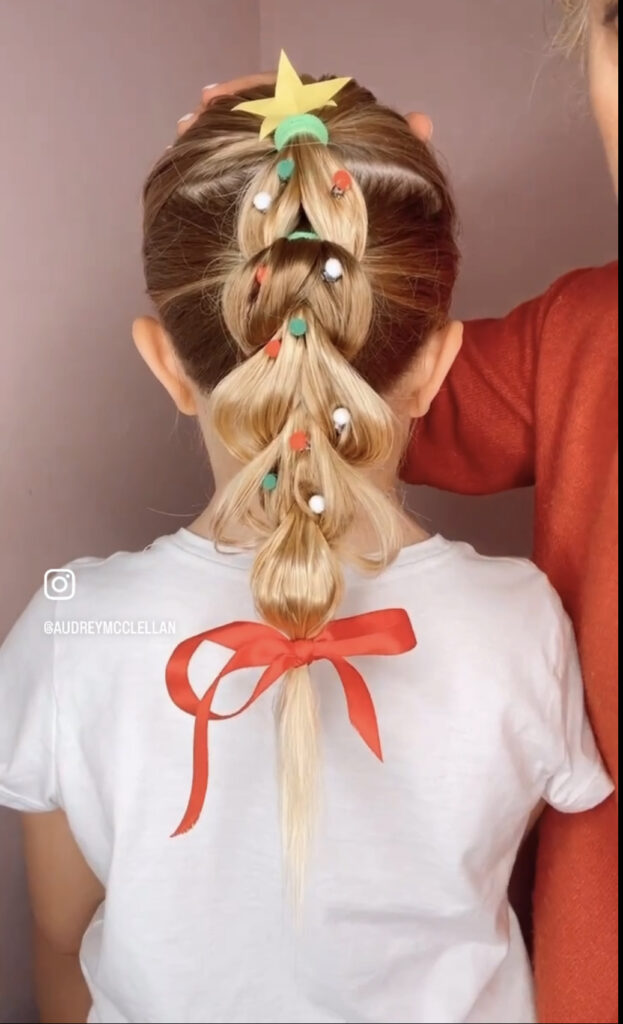 I'm going to share the hair tutorial video below and then walk through the steps beneath it. I promise it's easy once you get moving on it. Again, I can't stress how beautiful it looks when it's complete.
View this post on Instagram
Before you start this hairstyle, there are a few things I do to help make it more festive.
You can easily buy these things, but I didn't have them on hand at home. I grabbed some pom poms that I have from various arts and crafts projects for school, bobby pins, and construction paper and create my own hair accessories.
I glue the pom poms to the ends of the bobby pins.
I create a star out of paper and glue it to a bobby pin.
And then I have my hair accessories!
Tips for this Hairstyle
The one big tip I have for this particular hairstyle is to make sure you slowly pull the section of the pull-through braid. Don't rush this step. You want to make sure that you're creating the shape of a tree, so you go small on top and wider on the bottom.
Happy HOLIDAYS!