Looking for something to do this weekend with the kids? I've got you covered for tomorrow!
This Holiday Season Davio's Foxborough is getting creative with confections during their annual Cookie Decorating Workshop!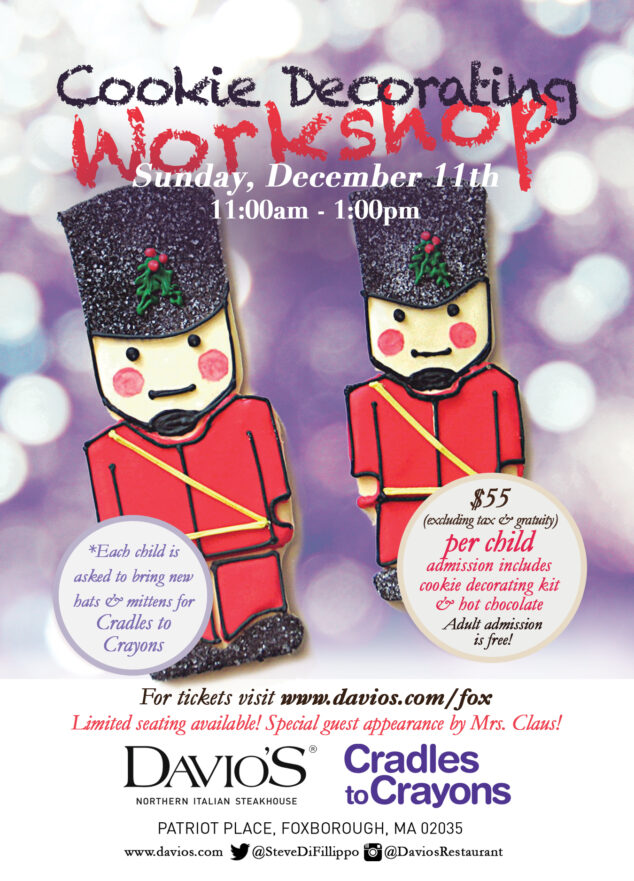 This year, on Sunday, December 11th, Davio's will be hosting a class from 11:00AM to 1:00PM where participants will receive a blank canvas in the form of cookies and a decorating kit with plenty of candy to create their own holiday-inspired treats.
Mrs. Claus will make a special appearance from the North Pole as well thanks to our friends at Patriot Place!
This event is $55 per child (excluding tax & gratuity) and includes a cookie decorating kit and hot chocolate, adult admission is free. In honor of the giving season, they ask that each participating child bring new pairs of hats and mittens to donate to Cradles for Crayons.
HEAD TO: Davio's Northern Italian Steakhouse | Patriot Place | Foxborough, MA, 02035 | 508.339.4810 | www.davios.com/fox