I'm feeling emotional today. I don't know why, but I'm finding it easy to tear up about any little thing. Like this morning, when I saw Brian's Boston Maraton race package. Even though I haven't received mine in the mail yet (it's being re-routed from my NYC address… get on that, USPS!), seeing his race booklet made it really sink in for the first time for me.
I'm running The 2010 Boston Marathon. Boston Marathon #114. In less than 3 weeks.
Tears.
Tears of joy, gratitude, nerves, love… just tears.
I know the same thing is going to happen on race day (and probably a few days before, too, when we go up to Boston for the Expo and I see everything set up for the race). Here are 26.2 reasons (one reason for each mile… plus that last 2/10 of a mile) that race day will likely open the floodgates:
1) Because if someone had told me two years ago that I would be able to run a marathon, I wouldn't have believed them
2) Because, in fact, two years ago at this time, I could hardly even run 2 miles, much less 26.2
3) Because I not only have run a marathon already… I ran two last year
4) Because I qualified for The Boston Marathon in both of those marathons
5) Because I am running this race alongside my brother, Keith, who is running his first marathon
6) Because Keith is running for an incredibly worthy cause, Children's Hospital Boston (he's still looking to reach his goal of $5,000 if you'd be willing to help!)
7) Because I'm also running alonside Brian, who inspires and encourages me not only in running, but in life
8 ) Because it will be 26.2 miles of approximately 500,000 people – many of whom don't even know anyone running – cheering, screaming, clapping, smiling and supporting
9) Because I'll be running alongside nearly 40,000 other runners who set goals to get there, too. I'm just one of many with a dream, and that humbles me
10) Because this will look so nice: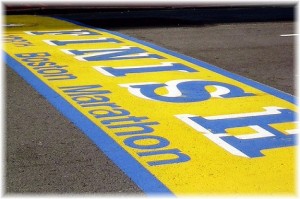 11) Because at some point one or all of the following will be screaming at me: my shins, my IT band, my knee, my ankle… take yer pick
12) Because the race has such a rich history – it began in 1897
13) Because I am a woman, and it was once believed that women couldn't – or shouldn't – run marathons
14) Because, to this point, in 1967, Kathrine Switzer had to register for the Boston Marathon as "K. V. Switzer" just to get a race number (which a race official attempted to rip off, trying to eject her from the race)
15) Because it's in Boston, which is one of the greatest cities in the world, one which I have wonderful memories of from childhood into adulthood
16) Because in the past year, I have met so many wonderful people in the Rhode Island Road Runners group who I never would have met had I not started running. And many of them will be running the marathon, too (for the first, second, third, fourth + time)
17) Because I (think and hope I have matured enough to) have learned that there is always another race… so while of course I want to run a PR for this marathon, if I don't, well… there is always another race
18) Because I know that if I don't PR, and if I don't qualify for The 2011 Boston Marathon during this race, despite the above-mentioned maturity, it will light a fire in me to train better, run better, do better
19) Because I know the day after the race will be torture for my poor thighs
20) Because I am simply grateful I have the ability to run
21) Because when I'm tired and don't think I can take one more step, I will be thinking of my late dog Bismarck, who loved more than anything to run, and is running after tennis balls and squirrels and little white dogs pain-free in heaven
22) Because watching me run was one of the inspirations behind my mom realizing that she could train for – and kick butt in – a half marathon
23) Because the same goes for my sister, too
24) Because so many people in my life have encouraged and supported me and lifted me back up whenever any self-doubts have crept in (like Keith during our 20 mile training run last week, when I just wanted to die the last few miles)
25) Because sometimes it's the little things that get you through the tough times. During one race I ran, an old lady was sitting on her front lawn saying, "Inch by inch, it's a cinch" as we runners went by. And that little phrase from that little old lady has gotten me through more races and training runs – even when I really wanted to give up – than she'll ever know. I know I'll be saying it to myself more than once on April 19
26) Because my parents will be there. Because they wouldn't miss it for the world. Because they will be proud of me. Because they would be proud of me even if I never ran a marathon. 
26.2) Because I'LL BE RUNNING THE BOSTON FREAKING MARATHON!