I'm not a pack-rat. I'm certainly not a hoarder.
But I do (some may even say "unnecessarily") save things.
Take this little number, for example. It's a Martian Cereal Spoon Sitter. He's blue. He's dressed in a molded blue uniform, space helmet and all. His little antennae went missing some time over the 5 or so decades I've been carrying him around. You'll be happy to know that his name, MUNCHY, is branded on his little backside… so you'll be okay with it if I just refer to him as MUNCHY. Right? MUNCHY sits on spoons. Any spoon, actually. You just take him, place him on the narrowest end of the spoon handle and gently slide him up the handle until he is nice and snug, with perfect room for a little hand to hold the spoon comfortably while MUNCHY enjoys the ride. Like this: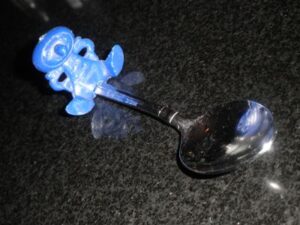 I loved MUNCHY when I was a kid. I must have loved him a lot to make sure he made every move I made, and there were a lot of moves. I think I even remember my brothers having their own Martian Spoon Sitters, too… in red and yellow, if I remember correctly. (I'm pretty sure theirs are long gone.) I don't remember which cereal MUNCHY came from; although, I'll bet the cereal was a very sugary sweet variety. Ah. The 60's.
But anyway.
MUNCHY now sits on a little shelf in my work area. He's right up there with a vintage jar filled with vintage childhood marbles, 2 sets of Babushka Dolls, 2 softballs from when Audrey & Jane were kids, my mother-in-law's vintage tin filled with vintage buttons, 3 antique glass bottles, a beautiful little dish made in Dresen, Germany, a set of twelve 1871 Waverly Sir Walter Scott novels, a tiny "Made in Occupied Japan" tin & velvet pin cushion…
Yes, I save things.
But what brought me to write this post in the first place is because this morning I had 3 of Audrey's 4 boys for an hour or so… they all wanted some of Pop-up's Frosted Flakes (some boomers never leave the 60's)… and they each wanted one of my "special" spoons. Like these: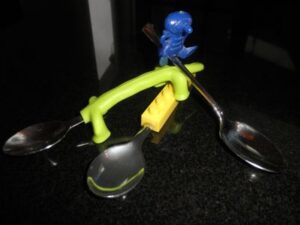 Well, I have only 2 of these spoons. 3 boys. 2 special spoons wasn't gonna cut it. (Or spoon it, as the case may be.) So genius me thought of my little MUNCHY and how awesome this was gonna be. My MUNCHY. From my CHILDHOOD. With my GRANDCHILDREN.
Little problem arose. 3 special spoons. 3 boys. 1 MUNCHY. Oh, my.
I managed to convince the boys to take turns with MUNCHY and all was quite well. They loved MUNCHY. Just like I did. Just like I still do, thank you.
And when our little snack was finished and I was taking MUNCHY off his spoon, I knew full well why I save things.