Happy April! It's officially EARTH MONTH! One of my best friend's shops high and low for "earth friendly" fashions. It's a passion of hers, and she's very committed to it. Knowing I wanted to write about some fashions in honor of Earth Month, I asked her last week where her favorite spot was to go to for some amazing eco-friendly fashions… without hesitation she said, ShopBop.com.
OMG, you knew they had so many eco-friendly fashions!? Let me tell you… it's fabulous! I knew of ShopBop.com, but I never knew they actually had a tab on their site for "Earth Friendly" fashions… making it super easy to head there and do some eco-shopping. I was so impressed to see the array of selections and beauty of the clothing! LOVED IT!
Clothing. Shoes. Jewelry. Handbags. Outerwear. They've got it all!
These are my top April picks at ShopBop.com:
Alex and Ani's Fantasy Necklace: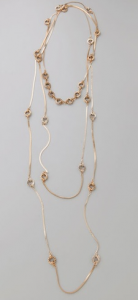 It looks like something you'd get at J.Crew… but this one is old-plated wrap necklace made with recycled metal. I absolutely love, love, love this statement piece.
Oversized Organic Tee by John Patrick: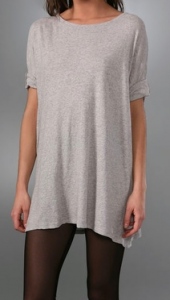 This is the type of tee you could hang around the house in… dress up with some leggings and heels and wear out… or layer over stockings. It's a very versatile piece. Made with 100% organic cotton (which also means ultra soft!).
Re Collection Beaded Tank Top: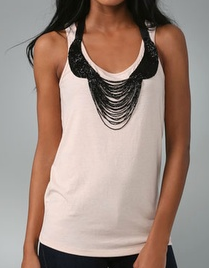 Beaded Tanks and Embellished Tanks are very "hot" right now. I love seeing an eco-friendly version of it. This top is made with 100% recycled materials. (* NOTE: Each Re Collection piece is made from recycled garments. Variations in shading and details, as well as subtle imperfections make each piece unique.)
7 For All Mankind Josefina Organic Slouchy Skinny Jean: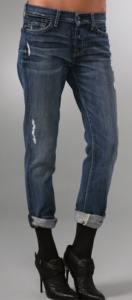 I'm a jean JUNKIE! I live in jeans. I mean, LIVE. IN. THEM. I had no idea 7 For All Mankind made an organic cotton version, I love this! They're made with * 98% organic cotton/2% spandex.