I'm running my first 1/2 marathon in 4 weeks – or exactly… 30 days. The ladies from Eat. Blog. Run. have inspired me… and one of my very good friends Christine Koh has been my ultimate motivator. I see what these ladies are doing, and it drives me to the treadmill or street – every single day.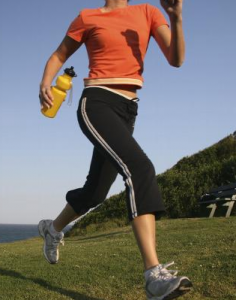 This morning as I was running, I couldn't believe that the "time" is almost here.
These are some of the questions running through my mind about the big day (weird, but true):
– What do I do if I have to pee? Seriously… I hear the "big shots" pee their pants while they run. Um… I'm not a "big shot."
– What do I do if I suddenly have a cramp and have to (gasp) walk? Which will ultimately piss me off to know end. After weeks and weeks of training, I'm banking on a no-cramp-run. Please, GOD!
– What if it rains? I haven't exactly been training in that kind of weather. My basement is cool, clean and I can watch whatever I want on TV. It's a haven to workout in. I'm thinking I need to mix it up a bit over the next 30 days.
– What if my mix "tape" goes awry? I've got my grooving songs all set-up to go! When I ran my last 5K, I don't know how this happened… but my XMAS list got mixed in while I was running. There I am – in 60 degree weather – running to "Silver Bells" and "Here Comes Santa Claus" on the road.
– What do I wear!? Yes, me… the ultimate lover of everything fashion. Maybe that's why I'm asking the question. Being stylish and cute and trendy isn't exactly the most important thing that day… it's being comfortable. (Although, I do want to add some fun colors to my attire so my family can spot me!)
– Can non-running people jump into the race and run with you? I could always call on my sister, brothers and mother to jump in and kick my butt if need be… is that allowed?
So these random things have been crossing my mind. Call me a total-ridiculous-over-thinking-beginner at this running thing. The one thing I am… is motivated to finish… even if I have to crawl. I will finish that race. 4 weeks… and (totally) counting.