I've been planning Getting Gorgeous with Vera Sweeney since February. You know sometimes when they say the "stars aligned"… that was like meeting Vera. I love anyone who can make me laugh. If you know me (really know me), you know I'm not a "serious" person. I'm all about laughing and joking and "enjoying the ride." I had met Vera before at a few blogging events… but really got to know her at the Disney Social Media Moms. Sometimes you just click with people – sort of like you had to have known them in a past life – that was like meeting Vera. We sat together at one of the events laughing and joking and just having a great time.
Getting Gorgeous was born a few weeks later…
We've been so excited while planning it, we hope, hope, hope the everyone who can attend has a great time and really just enjoys a little fashion and beauty for themselves… something us moms don't get too too often.
Yesterday I met Vera in NYC for a few "housekeeping" type chores. I drove into the City… we did lunch and then we got right to our stuff…
But… you know you have a good friend who hugs you while you're in an elevator big enough for 2 people because you're HORRIBLY Claustrophobic! Getting Gorgeous or not… I was scared out of my mind!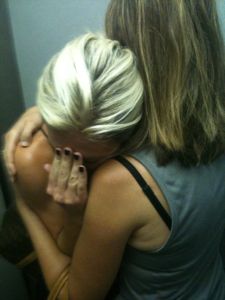 Now that's a GOOD friend!