What? The same dinner on 2 consecutive nights?
Drum roll, please…  YES!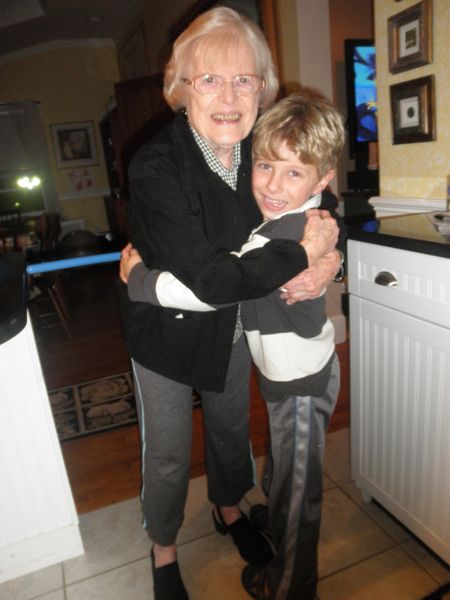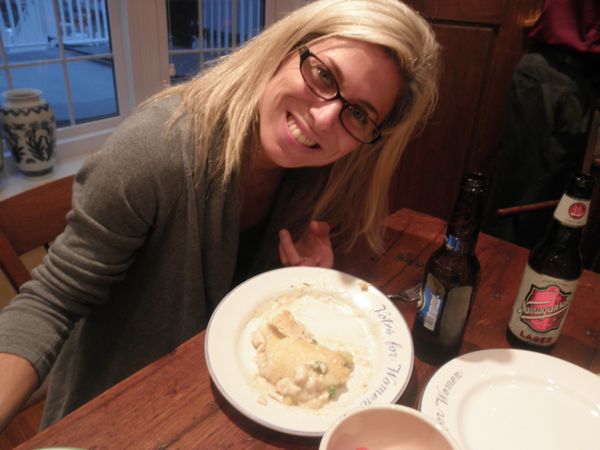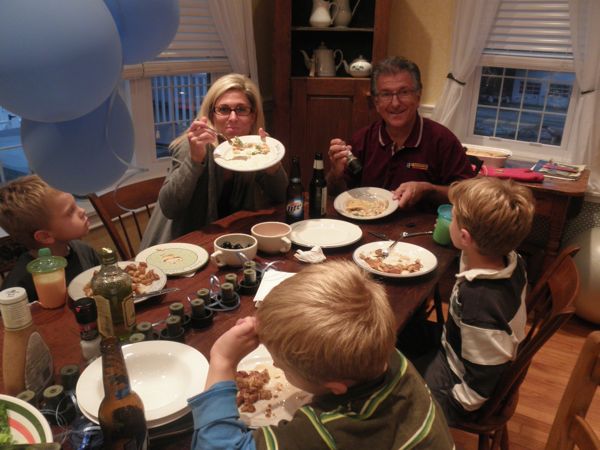 I don't remember ever serving the same dinner 2 nights in a row.  Well, there have been leftovers that've been changed a bit and disguised and served with something else to distract attention.  But a purposeful-start-from-scratch-all-over-again re-do?  No.
Barry and I are a variety kind of couple in a very simple way.  We like seafood.  We like chicken and turkey. We like soups and stews and chilis. We like pasta and Italian and Portuguese dishes.  And we work veggies into each meal.  We love to grill in the spring and summer and bake in the fall and winter.  We love to make large quantities of food because I enjoy having my Mom for dinner or presenting with leftovers at least 3 or 4 times a week… Jane is my leftover queen… and Barry and I love having leftovers for lunch the next day.  Oh, and then there are Audrey's boys… who ask me 100 times per week when I'm making lasagna again.
Yes, we make lots of food.  Happy food.  Comfort food.  This is why I was excited to try the Chicken Pot Pie Pillsbury Crescent Recipe from my dear blogging friend Jennifer.  It sounded easy and delicious and nutritious… and leftover worthy!  It is here that I guess I should say that I need my huge amounts of cooking to be easy.  I don't spend the entire day in the kitchen.  Nope… these days I'm out there running or cycling or swimming and Barry is out there with me.  We're committed to fresh air and exercise, yet still cookin' up a storm in the kitchen.  It just has to be easy.
This past Sunday went something like this.  Barry took an hour morning walk and then headed off to catch up on some work.  I took a 4-hour bike ride and then ran 30 minutes (yes, you read that correctly… I'm training for the Foster Grant Ironman World Championship 70.3 in Clearwater, FL in November!).  We both wanted to watch the Patriots/Bills game on television, so we met back at our house and headed out to the market with our Chicken Pot Pie recipe in hand.  On the way to the market, we stopped to buy corn stalks and pumpkins for our front yard… and the delight of our grandchildren.  Once back, I put the chicken in the oven and we decorated our front yard.  THEN we settled in for the Pats game.  Ah…
When the chicken was done, I went about making the Chicken Pot Pie.  It took all of 10 minutes to prepare.  10 MINUTES.  30 minutes later, I was serving the most flaky-crusted, delectably creamy, piping-hot and bubbly Chicken Pot Pie ever.  We LOVE chicken pot pie, so to be raving about this recipe is honest-to-goodness awesome.  I'll tell you how awesome.  I decided to make it again the NEXT NIGHT.  What?! I knew my Mom was coming for dinner to celebrate the birthdays of both William and Alex with her… so what better meal than Chicken Pot Pie for a bunch of hungry people who also love leftovers?  None!
That's how the same meal was served 2 nights in a row.  Barry loved it.  My Mom loved it.  Audrey loved it.  The kids loved it.  Well, 2-year old Henry insisted on French Toast, and then the other 3 boys wanted French Toast, too… so I guess Chicken Pot Pie with French Toast is kind of unique.
I loved it. I loved the smiles.  I loved the food.  I loved the leftovers.  I loved the ease of it.  I love the cost of 2 complete large Chicken Pot Pies… including the chicken, the Pillsbury Crescents, the frozen veggies, the cream of mushroom soup, the cream of chicken soup… for 2 complete meals and leftovers… under $30.00.
Yep.  I have a new comfort food staple in my home!