I remember when we brought William home from the hospital, the only thing he would fall asleep in was the vibrating Papasan that played music. As every mom will attest, when you find something that works, you go with it. Especially when it comes to a sleeping baby. We probably changed the batteries in that Papasan every 3-4 days. No joke. That was my first glimpse at the MUST NEED BATTERIES AT ALL TIMES part of motherhood.
Fast forward 3 more sons… and 5 1/2 years…
Batteries are still the most important thing that need to be in our house (actually, we have a battery drawer!).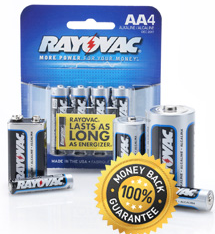 This is the top battery list right now in my home:
1. Wii Controllers
2. Leapsters
3. Remote Control Cars, Airplanes and Trains
4. Kid's "play" Laptop
5. NERF Guns
And honestly… every other toy in my house that has lights, bells, music and whistles! If you're a mom of all boys, you know exactly what I mean! My favorite are the Playskool Helmets that blast through our house. There's never a dull moment, at all.
With the technological leaps since we were kids, nowadays almost everything has a battery in it. Rayovac keeps us covered, immensely. I love Rayovac because they last as long as Duracell and Energizer but cost less. With the amount of batteries we go through, this is VERY important to us. I also like knowing that Rayovac Alkaline Batteries have been made in the USA since 1906, which is pretty cool all within itself. I thoroughly depend on Rayovac to make our lives easier… everything and anything helps!
My go-to from Rayovac for everyday use: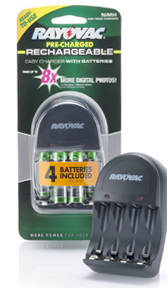 These batteries are pre-charged and ready to power your digital cameras, handheld games and portable media players. And that's with more power, as AA rechargables can take up to 300 photos per charge—that's 8X more than competitors' lithium batteries. You'll charge and reuse these batteries up to 500 times, reducing waste and saving money.
Rayovac makes my life easier! Try them out! Be sure to check out Rayovac and great offers from Rayovac on Facebook!

I am a Rayovac sponsored Blogger.