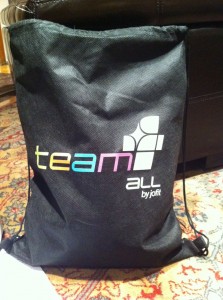 Back in September, I wrote about how I needed a bit of a break from training. I had been competing in race after race, putting in hours upon hours of swimming, biking and running, and at some point it had stopped being fun.
I took some time off, which was great and much-needed, and then gradually started running again in October. In mid-December I officially began my training for the 2011 Boston Marathon.
I worked up to running about 12 miles, but then I started getting hip pain that forced me to put the brakes on my training. I saw an orthopedic surgeon, who ordered an MRI and told me not to run in case I had a stress fracture.
Waiting for authorization for the MRI from my insurance company, and then waiting the results after the MRI, took a few weeks.
In the meantime, my mom and I got word that we had made it to the Team 4all by jofit roster, which we tried out for in January. We were so excited! But I was worried that my spot on the team would be in jeopardy, since I wasn't sure how long it would be before I got the green light to run again.
But the MRI results came in and it was determined that I have a labral tear… which meant I could continue running! The only thing limiting me was my own pain threshold.
So, knowing I wasn't injuring myself further by running, I started easing back into it. First, I walked/ran, and then I was able to run for a few miles without having to walk.
It was a definite change from being able to run 12 miles just a few months ago, but hey, I was out there running, and for that I was happy.
And I have to say, having some rockin' new gear to wear made it even better.
As members of Team 4all, we received some awesome apparel in our welcome package:
The Classic V-Neck Tank
Knit Capris
The Wind Shirt
(not to mention a Flip camera to document everything!)
When we had a webcast conference with 4all founder and CEO Joanne Cloak, she stressed that she wanted to create an athletic brand for all(!) women… not just small women, not just large women. Apparel that not only fits comfortably, but makes women look and feel hot.
I loved that Joanne said that because when I'm working out, that's exactly what I want – functional athletic apparel that I feel sexy in, too.
In the winter months I am all about wearing zip-front jackets on my outdoor runs, and the Thumbs Up Jacket is my new favorite. Its longer cut is not only slimming (yay!), but ensures that it won't ride up when I'm running (double yay!). Plus, the thumb-hole option keeps the sleeves in place and allows me to easily tuck my fingers in when they get chilly.
4all's apparel is definitely made to flatter; the cuts are just fabulous. And I love the fabric; its technology is designed to keep you dry and comfortable, and wick moisture off – which is exactly what you want when you're out there kicking butt. 🙂
I love everything I've seen so far, and I can't wait to keep learning more about this brand.
Stay tuned for some fun videos that my mom and I are going to shoot with our new Flip!
—
Disclosure: As a Team 4all member, I received the apparel pictured above, but all opinions are mine! Photos of the apparel were taken from the 4all website.