With 4 sons… there are just some toys that I know will be a BIG hit for all of them. Anything that has to do with cars, basketball, trucks, football, Indiana Jones, Mario Brothers and STAR WARS!
Star Wars is the biggest hit in my house right now. Every single one of them wants something to do with Star Wars this year from Santa. I have to admit, before I had sons, I had never seen (not even once) a Star Wars movie. I'm now a Star Wars junkie… filled with valuable information and absolutely know that the red light saber belongs to Darth Vader.
So… I was super excited when BJ's Wholesale reached out to me to do a toy review for the holidays. They are offering dozens and dozens of hit toys right now in their stores that are sure to be on your child's holiday list. For us, we have a BJ's Wholesale about 5 miles from our house, so we're pretty much regulars there each week… I love how are offering the hottest toys because it's easy for me and my husband to be there and purchase for the boys! Makes our life easier.
I chose the Meon Glow Wire Star Wars Picture Maker to review with the boys because I knew they'd go CRAZY for the Star Wars theme, but BJ's Wholesale also has Disney Princesses, Disney Fairies Tinker Bell and Disney Pixar Cars 2.

I wasn't sure what to expect because I had never seen or played with any of the Meon Glow Wire Picture Makers before, but they were exceptionally cool!
My oldest son William (7 years old) took the lead with his brother Alex (6 years old), and they started to create these very cool "glowing" pictures. The Pack comes with a 15-Inch Frame with 6 Picture Templates, 11 Feet of Meon Wire and 45 Pegs. I have to say, I was pretty happy with the different templates because the boys actually got to create different things… they weren't left with just one option.
My sons thought it was awesome to transform their fave characters into animated characters! And it was very easy to do… there are really 3 steps:

1) Your child choose the design. We did Darth Vader first.
2) Snap in the pegs by just following the patterns that are already there for you. The good thing is, I had my youngest 2 guys do this to "help" out.
3) Thread in the wires. I thought I was going to have to really help out with this step, but William got the hang of it and was able to do it himself.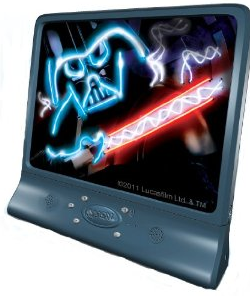 I love this (as a mom) because it's FUN play for the boys. They're using their hands. And they played together… which I loved! Everyone had the same end goal, which was cool to see. Everyone lit up when the picture was done, it was adorable!
I love love love this!!
Also… check out more items at BJ's!