Product Review: The Trash Pack 'Trashies' Garbage Truck – Trash Pack Toys. My sons kept talking about wanting the Trash Pack Toys – Trash Pack Truck after Thanksgiving… truthfully, at first… I had know idea what they were talking about — but all I know is that all of them wanted it! According to a CNBC.com article, the Trash Pack is the number one toy in the boys' collectible category at Toys"R"Us this holiday season. Children can play games with their Trashies like Take out the Trash, Stack the Trash, and more. What makes The Trash Pack even more appealing is the Limited Edition Trashies King Rat, Trash Cat, and Soggy Tomato. A limited amount of these grimy guys can only be found in a selection of packs worldwide!
Trash Pack Toys
So I needed to find out…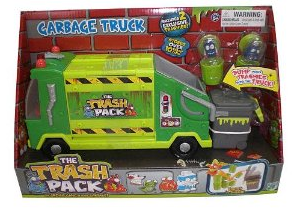 Trash Pack Toys Recap
The Trash Pack Garbage Truck is meant to hold trash. The cool thing is that it's designed to collect the icky characters from the Trash Pack Gross Gang (who my sons told me about!). The Trash Pack Toys – Trashies are the gross figures that each come with a pop-open garbage can. There are hundreds to collect and many different games to play with these squishy little critters. Collect as many as you can and try to find the rare glow in the dark trashies! My sons are all over that!
This is why I getting this for the boys for Christmas – Trash Pack Toys
1) When they were at their cousin's house this past weekend (he has one), they all played with it for over an hour!
2) I really love any toy that can be used over and over again with different kinds of things… it makes it a "brand new" toy over and over again, and I love that.
3) It's such a BOY toy. It's so perfect for my 4 little men, my husband couldn't get over it!
And I'm EXCITED to be giving away a WONDERFUL Trash Pack Toys – TRASH PACK PRIZE PACK GIVEAWAY!! It's a ONE DAY GIVEAWAY!!!
The prize pack would include a Trash Pack Garbage Truck, which is selling out at Toys"R"Us stores nationwide, a Trash Pack Collector's Can and a Limited Edition Trashie. There are three limited edition Trashies in Series 1 of the Trash Pack:
1. King Rat (the rarest Trashie of all – only 100 are in the U.S. market, 1,000 worldwide)
2. Soggy Tomato (only 500 exist in the U.S. – 5,000 in the world)
3. Trash Cat (only 1,000 are available in the U.S. – 10,000 in the world)
Love this and find more over on amazon.