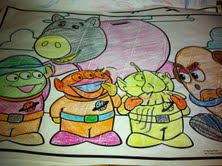 This is a little crayon coloring piece I recently did on a very relaxing afternoon with my 3-year old grandson, Henry… very specific to his color choices.
This is a little conversation I had with Henry's 6-year old brother Alex, and 7-year old brother William, that same afternoon… (and I assure you that the drawing and the conversation connect):
Alex:  (Studying my Disney Princess Half Marathon medal) Grandma, so you didn't come in 1st place in your Disney race.  What place did you come in?
Me:   I came in somewhere in the 5,000's.
Alex:  WHAT?  Isn't that kinda slow?
Me:   Well, not really.  I was happy to run and happy to finish.
Alex: (Not buying it) Can I even count that high?  5,000?
William: (Mr. Mathematics) Grandma, how many people ran in the race?
Me: (Ah, ha.  A voice of reason) Well, 20,000 or so started and about 15,000 officially finished.
William:  So you beat 10,000 people. (Addressing Alex) Grandma beat 10,000 people.  That's pretty good.
Alex: (Shaking his head and continuing to study my medal) This looks like you should have been at least 2nd.  Or 3rd.
Me:    Honey, when you run, you run for yourself.  Thousands and thousands of people run for fun, for exercise, for a challenge.  Super fast people win big races.  I'm not super fast.  But I have fun.  And everyone gets the same awesome medal!

William: (Mr. Logical) Do you run against everyone or do they put you in groups for your age?
Me:    Both.  You run with and against everyone, but the results also tell you how you did compared people around your age.
Alex: (Hopping on this one) Did you win your age?
Me:    Nope.  I came in 89th of 517 women from 55-59 years old.  And I came in 5,598 of 15, 803 runners… if you want to be specific!
William: (Mr. Statistics) That's pretty good because you're 59. (Thinking, thinking) What if you were 60?
Me:    I didn't check that.  But I want you guys to remember that I had fun.  I ran as fast as I could and had fun!
Alex: (Eternally optimistic) So next year you could win?
I was very happy that my 6-year old grandson Alex had such confidence in me.  To be sure.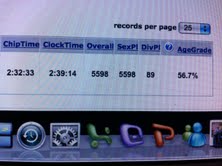 Then Alex turned his attention to the little coloring artwork.
Alex:  Who colored this?
Me:    I did.  Henry told me what colors to use.
Alex:  Hmmmmm.
Me:    Do you like it?
Alex:  Grandma, I have to tell you something…
Me:    Yes?
Alex:  Your coloring is way better than your running.
What was I just saying about confidence in me?
And that's that.