Tiny Homes for Boomers… is it for us?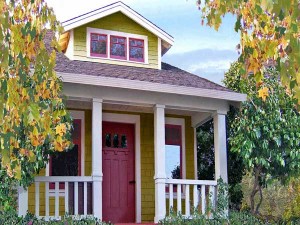 I can picture the conversation among Keith, Adam, Audrey, Jane with Barry and me going something like this:
ME: (with blueprints in hand)  So. Dad and I are thinking of building a Tiny Home in one of your back yards.
Stunned silence on 4 faces.
BARRY: (unrolling blueprints)  We saw a segment on the Today Show about housing options for Boomers.  Very interesting and intriguing.  There's the Senior Co-housing Communal living experience…
ME: … but that's not for us.  Too 1960's.
BARRY: Or living abroad.  Belize has some nice beaches for swimming, snorkeling, that kind of thing.  Mom could train for her triathlons and we could do some jungle-treks on weekends.  Only a few hours from here by plane.
ME: But we thought about having to buy all that jungle gear.  And fins.
BARRY: And there's always the living on a Cruise Ship option…
ME: I mean, you've got your food, your maid service, your entertainment AND you see the world!
BARRY: But we like land.
ME: Or the RV option. Cruising the open roads, stopping wherever we want…
BARRY: But with gas prices?  Not anytime soon.
ME: So.  The Tiny Home option.  (grinning) Sounds perfect, doesn't it?
KEITH: (oldest child spokesperson) So… what exactly is a Tiny Home?
BARRY: See for yourself.  (pointing at blueprints) About 400 or so square feet of living space…
ME: (hardly containing my excitement) Intimate.  Self-contained.  SO AFFORDABLE.  (pointing at blueprints) Here's the kitchen, the bathroom, living room/bedroom.  They're nicknamed Granny Pods!  Isn't that adorable?  Granny Pods!  And we will see the kids every day… breakfast, lunch and dinner!  And snacks!
BARRY: The plans don't show exterior colors or details because we need to know in whose back yard our Tiny Home in going.
ADAM: (venturing there) So.  In whose back yard are you thinking?
ME: Well, we know it's going to be difficult to choose.  And we certainly don't want to hurt anyone's feelings…
ALL KIDS: (simultaneously) No.  No.
We can work it out.
No.  No.
With zoning.
And permits.
Legal issues.
The neighbors…
Plumbing.
Oh, septic system. Heck.
Noise ordinances.
Trees. Bird poop, you know.
Squirrels.
RACCOONS.
Oh, and the ants..
Spiders, too. EEk.
Terrible internet access. Yeah. Too bad.
Facing South. Oh, too bad.
East.
North.
West.
Northwest.
Earthworms.
Awful snowplowing. Truly.

ADAM: (spreading arms, breaking confusion) Audrey, aren't you closest to the highway.  For ease of getting around?
AUDREY: But Keith, Adam and Jane… (knitting brow) don't you think your dogs would be very good, you know, protection for Mom and Dad in your back yards?
KEITH: Audrey and Adam… your back yards are nice and open.  I have that big old fence.  (shrugging) No view.
JANE: (shaking head) Oh, it's too bad that Brian and I own a 2-family home.  You know, with tenants and all, parking could be a problem.
ALL KIDS: (simultaneously) But what a novel idea.
So cute.
Yeah. Yeah.
Granny Pod…
So cute.
Adorable plans, by the way.
Looks like a Doll House.
So cute.
Yeah. Yeah.
KEITH: Unfortunately…
ADAM: Unfortunately…
AUDREY: Unfortunately…
JANE: Unfortunately…
BARRY: Aw, we knew it would be difficult to choose and that you'd all feel obligated to give someone else a chance…
ME: (unrolling more blueprints) … so we have plans for one in EACH back yard!  A Granny Pod at each pad!  Oh, now isn't this just the BEST news ever!?
*********************************************************************************
This is ME speaking.
A Granny Pod?
Some day.
Maybe.
But today…
Honey, book the Cruise!