The magic in little gifts from grandkids…
My desk sits in front of a window that overlooks my little town with all of its swirling sights, sounds, scents…
And magically changing seasons.
I have my own little window to the world.
In winter, I can see the masts of the sailboats in our harbor just down the hill a bit.  In spring, I have a bird's eye view of our giant maple tree buds as they begin their blooming-to-summer fullness.  In summer, I throw open my window and feel the delicious harbor breezes that make their way up the great hill.  In the fall, I am witness to a kaleidoscope of New England colors that entertain the child still in me.
I always have something sitting on the windowsill of this special window… a make-shift vase of fresh flowers or small branches from a colorful tree, a tiny sparkling Christmas tree or a very special memento…
… like this one –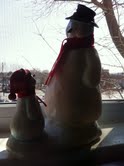 This is a gently smiling Snowman, or Snow-Pop-up, with a cute little Snow-Boy… a "documented" gift to Pop-up from Audrey's "boys" back in 2006 when there were 2 boys and 1 on the way…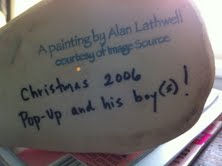 Now there are 4 boys… William, Alexander, Benjamin & Henry.  Beautiful boys.  Fun boys.  Curious boys.  Boys who love to build Snowmen and Snow-Boys.
Just like the lovely, gentle ones that sit on my windowsill and bring such joy to our winter days.
But it's MARCH, and my windows are wide open and the sun is melting warm in this delightful, surprising, record-melting Rhode Island warmth.
I'm thinking incongruous.
But it's MARCH, and March and even April have been known to bring everything from dusting snow-fall to full-blown blizzards to Rhode Island.
Decisions.  Decisions.
But ya know what?  It IS March.  It IS New England.  And I just plain LOVE looking at these little Snow-Faces smiling at each other and standing together on my window to the world…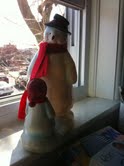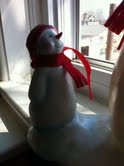 I don't think it's time, yet.
There's still a little magic of winter left here.
And there's forever magic in little gifts from grandkids…