My Grandson Benjamin turns 5 today… !
It seems like yesterday that I held my beautiful Benjamin the very first time…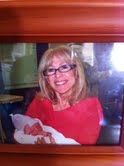 And 5 years later, my world has been blessed to beyond forever with the great love Benjamin has brought…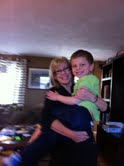 Audrey calls Benjamin "Baby Angel"…
She always has, since the day he was born.
And you know what?
Benjamin calls himself Baby Angel, too!
Benjamin came to bless us, and the universe, 5 years ago this morning.  He came from some beautiful place of heart-melting smiles and sweetness and light and laughter and curiosity and caring.  He is enveloped with angels… lots and lots of them.
Ben's place in his little family is very interesting.  He is the younger brother of William and Alex, who were 2 1/2 and 1 1/2 respectively, when Ben arrived.
Little did anyone know on Ben's birthday that he would become a big brother to another brother, Henry, who arrived just 14 months later!
All of these brothers have given Ben constant playmates, friends, supervisors, heroes, teachers, cohorts, comrades & companions.  All of these brothers have created attachments, fellowships, harmonies, warmth, communications & competitions that have shaped the baby, the boy and the man to come.
Ben is a lucky, lucky, blessed, blessed boy.
He is happy when jumping, playing, pretending, imaging he's Spider-Man, Batman, Indiana Jones, Luigi or an Angry Bird…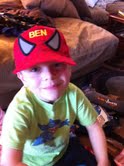 He's happy when tossing a tennis ball to Auntie Jane's pups.
He's happy when hugging his beloved stuffed animals…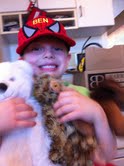 He's happy when he eats… and he will try, literally, any food.  Yesterday, it was blackberries!
He's happy when helping me in my gardens.
He's happy when playing Webkinz.
He's happy when cleaning my windows.  Seriously!
He's happy when drawing or coloring or studying one of his "learning books" or listening to a story.
He's a HAPPY boy, a HAPPY brother, a HAPPY son and a HAPPY grandson!
Ben's HAPPY.  He was born HAPPY.
Yes, Ben is surrounded, enveloped, hugged, loved and watched over with angels.  Lots and lots of them!
Today is Baby Angel's Birthday!  And it's a glorious day to celebrate this most wonderful, wonderful, wonderful boy!
HAPPY BIRTHDAY, MY BEAUTIFUL, BEAUTIFUL BENJAMIN… our Baby Angel forever!