Oh, Gaiam TV, where have you been all my life?
Don't worry, you don't have to answer that. We've found each other now and that's all that matters.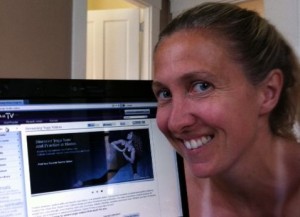 Okay, before this post starts to sound weird (I hope we're not at that point already?), let me explain: I've had the chance to try out Gaiam TV for a couple of weeks, and I am hooked.
It's like a dream come true for anyone who is looking to fit yoga, pilates and fitness classes into their busy schedules. (That would be me!)
Gaiam TV allows you to stream these classes – as well as thousands of inspirational documentaries, personal growth and health and wellness videos – online, on-demand, right from the comfort of your own home. Or your hotel room. Or wherever you want to log in and work out! (I was on vacation when I started using Gaiam TV, so it was an awesome way to get in some workouts in our hotel room. You know, between lying out by the pool and walking the beach.)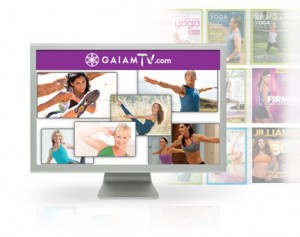 Look, I love the gym I belong to. The staff is friendly, it's clean and it has great classes. But sometimes, even if I have the motivation to go the gym, I don't have the time to go.
So Gaiam TV is perfect because it allows me to get a great workout into no matter how much (or little) time I have: 10 minutes, 30 minutes, 45 minutes or more – I can narrow my search for exercise videos that suit my time constraints. I can also narrow my search by fitness level, workout type, style and instructor. So many options. (Oh, and other users can rate and comment on the videos, too, so you get an idea of what to expect before you even try a workout!)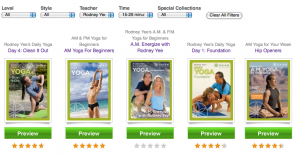 I've been loving my AM Yoga workouts with Rodney Yee. Gaiam TV offers a great selection of his videos, so my yoga workouts can vary each morning. It's a great way to wake myself up, get centered and get my day started – all in less than 30 minutes, without leaving home.
I also love the Jillian Michaels videos. I had only ever done one of her videos prior to this, so I was psyched to try more of her intense workouts! I'm loving them.
When I was in college I had a huge library of workout videos. They were great to have, allowed me to work out in my apartment and kept me in shape – but they took up a lot of room (remember VHS tapes!?). Plus, putting that workout library together was kind of expensive. I had to purchase all the videos separately. And to be honest, after awhile the workouts became a stale. So I'd have to go out and purchase more.
That's what I love most about Gaiam TV – the subscription fee is extremely reasonable at $9.95 per month, which allows subscribers to stream unlimited content. You have access to thousands of videos that takes up NO space in your home!
Plus, Gaiam TV offers a FREE 10-day trial to prospective subscribers. And when you do sign up (because trust me, you'll love it), there are no strings attached; there is no commitment and members can cancel at anytime.
I told you it's like a dream come true.

I strongly encourage you to check out Gaiam TV for yourself! Try the online yoga, Pilates and cardio classes with top instructors like Rodney Yee, Seane Corn, Jillian Michaels, Mari Winsor and Kathryn Budig. Streaming capabilities for Gaiam TV include personal computers, iPads and smartphones, so you can literally take your workouts anywhere.
I'd love to hear what you think of it!
—
Disclosure: This post is sponsored by Gaiam TV.  I also received a free trial of Gaiam TV to facilitate this review.  All opinions are my own.