A Laundry memory trigger that waited 50 years…
It's amazing to think that we all have memory triggers in our minds that may be sparked at any moment by some sense or other.
I had a fireworks trigger yesterday morning about someone I hadn't thought about in 50 years with something as seemingly simple as a washer/dryer delivery.
This is how it happened.
Barry and I left an easy, functional, awesome stacking washer/dryer system tucked inside an upstairs closet of the home we recently sold.  With the closet door, I could open it to a world of laundry or shut it from a world of laundry.
At our new home, the rusty, old, dirty stored-in-the-cellar washer/dryer that came with the house quickly became one of these:  Barry, uh-uh. No way. 
Barry's response went something like this:  OK, Honey.  Whatever you want.    Why not use them for a year until we renovate the kitchen and master bedroom.  Notice that this wasn't a question, as in Honey, why not use them for a year until we renovate the kitchen and master bedroom?
Let me just say here that I love doing laundry.  I really enjoy it.  I love the smells, the gratification, the finished product of it all.
I am the laundry person in our home.  My Dad, the Navy-man, taught me how to fold perfect sheets and towels when I was a very little girl, and I've transferred those lessons into all of my laundry.  I've transferred those space-saving, neat lessons into every linen closet, clothes closet, drawer, gym bag and even into packed suitcases when we travel.  I can pack anything neatly and efficiently.
Especially clean laundry.
But what I don't want to do as I near 60 is carry loads of laundry, tramp up and down old cellar stairs to and from a big, old dusty cellar… to and from a rusty, old, dirty washer and dryer.
I convinced Barry to purchase a new washer/dryer system (my Mother's Day gift!) that we could use now and then transfer to an upstairs space when we do our renovations in a year or so.  That's when I heard the musical:  OK, Honey.  Whatever you want.
The problem became:  Where do we put the washer/dryer for the time being?
Answer:  On our back porch!  Ah, ha!  Our little back porch is heated, it has a beautiful view of the back yard and bay as far as the eye can see (nice while folding laundry in all 4 seasons, I'm thinking), it has plumbing capabilities (little tip from our neighbor) from the owners prior to the people from whom we bought the house AND how easy is it to have the grandkids (or us, for that matter) kick off some dirty, sandy, salty, sweaty-from-playing-in-the-great-outdoors clothes right there at the back door?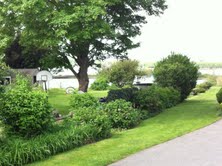 At first, Barry was all like… but it's the back porch… and we might want to sit out there… and it will be so visible…
But I was all like… Honey, I'm the one who does the laundry!
So how does all this laundry, back porch talk tie into my fireworks of memories from 50+ years ago?
Early yesterday morning, the washer and dryer were delivered.  (I think the delivery guys were thrilled that the first stop of the day required only up a few steps onto a back porch.)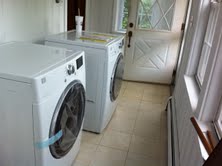 They set the beauties down, gave us the set-up for the stacking component, counted hoses, etc., completed the paperwork and took off.
I stood on our back porch, admiring our brand-new digital masterpieces when all of a sudden came a picture in my mind from 50 years ago of my grandmother's farm in Michigan… and it's little side porch… with my Dad's Aunt Martha standing on that little side porch… washing laundry and wringing it through the wringer-thing.  I could see sheets and white shirts and Aunt Martha's wrinkled hands nimbly taking wonderful care of the laundry.  I could see Aunt Martha's little white cap and her white apron.  The porch was up a few steps, just like mine, and the wind carried that laundry as she snapped it, wrung it, snapped it, hung it… over and over and over again.  I could see Aunt Martha's eyes… twinkling… old… she never said much because she spoke very little English… mostly Polish… but she loved her laundry.  I think she must have loved standing up those few steps and seeing the farm land as far as the eye could see, the wind, the scents, the gratification, the finished product of it all…
I sensed it then.  I know it now.
It was then that I knew how much I will love doing laundry on our tiny back porch.
This back porch is scheduled at some time or another to become part of a bigger, modern kitchen… but I'm already thinking that I may not want to move my washer/dryer stacking system upstairs.
I may want it built into its own closet in our new kitchen, right where it is now…. in honor of Aunt Martha, who came to visit me yesterday with the most delightful childhood memories of my visits to Grandma's farm.
And wonderful memories of laundry.
(I'm just smiling at what Aunt Martha would think of this!?)…