How to survive for 4 weeks with 1 bed, 1 card table, 1 computer and 2 folding chairs…
Tomorrow will be 4 weeks to the day we closed on our new home on Hope Street.
Barry and I knew we had lots of work to do with the house.  As I've mentioned before, we bought A VIEW WITH A HOUSE…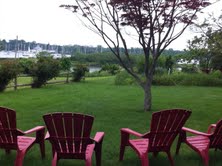 So how do a couple 'a senior citizens live for 4 weeks on Hope Street with all the priming, caulking, light sanding (the two most dirty, evil words in the English language), carpentry repairs, floor stripping and floor coatings going on?
We spend a lot of time outdoors.  Grilling.  Enjoying the bike path. Strolling the 5 minute walk to our little New England town to the right and our beautiful Colt State Park to the left. Playing with grandkids.  And granddogs.  Enjoying the lovely garden surprises and, of course, the view…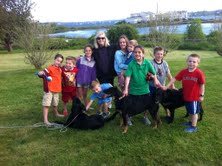 And inside, Barry and I have become unwitting minimalists.
We've spent 4 weeks moving 1 bed, 1 card table, 1 computer and 2 folding chairs from room to room to room as the work progresses…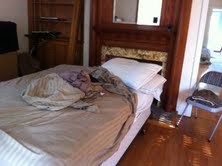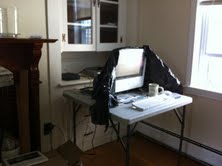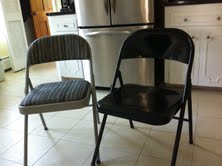 We have a garage filled with our furnishings, our clothing, our "things."
But we are surviving quite nicely… kind of like camping.  Inside.
It's interesting to discover how very little we need to be happy.
But all-out, down-home, senior citizen comfort?
Now that's a house of a different color!
(Uh, oh. That just reminded me of the exterior work slated for the Fall)…