My sons spend their summers in and by the pool. We belong to a local swim club and we literally spend the mornings and afternoons poolside. My kids are little fish!
I'm ALWAYS on the lookout and hunt for fabulous beach towels. I'm looking for the best quality possible. My sons are using towels every single day, and I'm washing beach towels every other day. I need towels that are going to hold up to the test of time (and BOYS!).
Recently I was introduced to Terry Rich Australia.
I'm obsessed. Their towels are absolutely (positively) amazing.
Since the weather's been pool and beach ready lately, I've had my Terry Rich towels in use for the last 2 weeks. And I'm not just talking a regular towel, I'm talking a Beach Robe. (Alex is in fashion heaven!)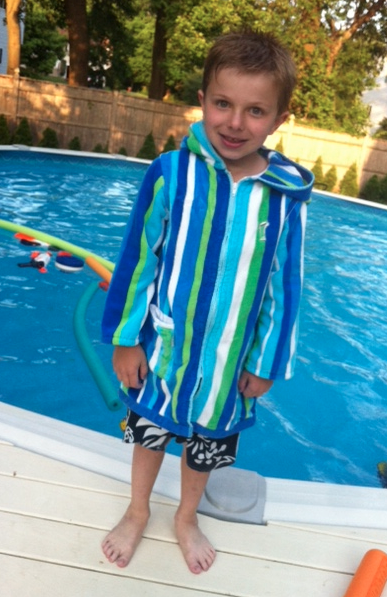 True luxury for your little one.
Alex put this on after his first "summer" swim and was in love! It was super duper warm and kept him covered until he was ready to hop back into the pool! I personally love the hoodie and zip-up, it really kept Alexander dry and it stayed in place! I didn't have to worry about his towel falling down as he walked around. It's perfect for kids (and moms!). The towel is high quality, Terry Rich is a premium Australian beach towel & resort wear label with a reputation for striking design and superior quality.
Not to mention, the designs they offer are fabulous! You can easily pick your child out in a busy crowd.
And that's not all… there's even beach towels for mamas (and dads!), too!