I LOVE Robert Verdi and he always has the most fabulous ideas for Mother's Day GIFTS!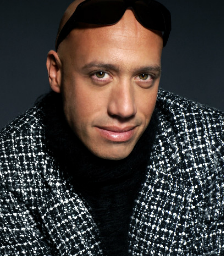 I'm excited to share Robert's top picks for 2012!!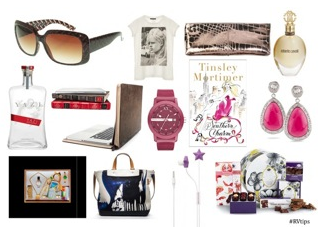 Glamorous Mom – HSN Robert Verdi's "Peggy" Mod Squared-Shape Sunglasses, $25

o Make mom feel like a movie star with Robert Verdi's exclusive sunglasses line for HSN!
o Available at: HSN
Hip Mom – Maje BB 1970 B&W Brigitte Bardot Tee, $165
o Give Mom a limited edition gift that is as hip as she is. This Maje BB 1970 B&W Brigitte Bardot Tee is the best of five special tees from the limited-edition Capsule Collection: Brigette Bardot that pays homage to the fashion legend, each featuring an iconic Bardot photograph.
o Available at: Maje
Classic Mom – Ted Rossi Faux Cigarette Clutch in Bronze Croc, $220
o Give mom a gift that will set her apart at her next soiree. The quality and ultra-luxurious exotic skins are timeless but are fused with touches of metal and loads of bling making it a must-have this spring.
o Available at: Ted Rossi

Sophisticated Mom – Coty Roberto Cavalli Fragrance, $65 – 1.7oz, $85 – 2.5oz
o Roberto Cavalli taps into what a makes a woman feel sexy with notes of pink peppercorn, orange flower absolute, and roasted tonic beans.
o Available at: Macy's
Jet Setting Mom – Miriam Salat Petite Pink Nugget Earrings, $165
o Miriam Salat's fashion jewelry gives expression to the sensibilities of Moms who, like herself, embrace life to the fullest. This is perfect trend-setting gift for Mom to show off her adventurous and free spirited side, her richness of life and its many hues.
o Available at: Miriam Salat
Gourmand Mom – Vosges Chocolate La Petite Hatbox Pour la Mere, $98
o Forget the typical bouquet of flowers for Mother's Day. Vosges is spicing up tradition with a limited-edition hatbox with the most comforting tastes of spring- such a sweet way to celebrate your mom.
o Available at: Vosges Chocolate
Fun-loving Mom – Marc by Marc Jacobs Star Earbuds in Purple, $38
o Whether mom is music-loving maven, a design denizen or simply likes to relax and let loose, this the perfect cool, subtle accessory for her! The Star-shaped earbud from Marc Jacobs shows off her fun side with a practical yet whimsical approach to the classic earbud.
o Available at: Marc Jacobs

Discerning Mom – Coach James Nares Tote, $798
o For the mom who loves art or loves to make a bold statement, this numbered, limited edition luxurious tote bag by James Nares for Coach is the perfect gift!
o Available at: Coach
Artsy Mom – 20X200 Art Accessories in Tray, from the series In Case it Rains in Heaven by Kurt Tong- Courtesy of Kurt Tong
o I've picked a piece from the artist Kurt Tong for Mother's Day that features a painting with key items from a woman's life.
o Available at: 20X200

The Life of the Party Mom – Yazi Ginger Vodka, $30
o Sweet. Spicy. Yes. Created especially for women, Yazi contains four different species of ginger, an ancient aphrodisiac, along with lemon, orange, cayenne and red pepper, giving it a distinctive sweet yet spicy flavor.
o Available at: Your Local Liquor Store
Tech-Savvy Mom- BookBook Hardback Leather Case for MacBook Pro in Classic Black or Vibrant Red, $79.99-$99.99
o Each piece is an original, just like her. Each BookBook is a vintage work of art built to protect modern day Macs and a beautiful addition to her coffee table.
o Available at: Twelve South

Sporty Mom- A|X Armani Exchange Pink Pop Watch, $100
o This watch gives a feminine and fashion-forward edge to the mom who loves a more sporty look.
o Available at: A|X
Book Worm Mom- Southern Charm: A Novel by Tinsley Mortimer, $16.16
o A modern Manhattan fairy tale with the sparkle of a champagne cocktail, Tinsley Mortimer's debut novel provides a delicious peek into her world of society, fashion, and big-city fame.
o Available at: Amazon