My daughter Audrey has been posting an everyday Resolution during the month of June, inspired by P&G's Everyday Resolution campaign.
It's fun and amazing to see what Audrey's thinking… what's being created in her mind and in real life with the focus P&G has created.
(I'm doing this, too!)
But one Everyday Resolution of Audrey's, the one on June 4th,  brought back a lifetime of memories.  This Resolution is to read to her 4 little boys every single night.
My most lovely memories of my childhood are of my Mom reading to me and my brothers every single night.  My Dad was in the Navy, and often "out-to-sea" for months at a time.  We all missed him terribly… but that reading time, that special, special, calm, beautiful time each evening when we would gather around my Mom and hear her voice and stories coming alive, alive… there is no price to put on it.  I'm all grown-up and a Grandma now, but I can still feel my Mom's arms and hear her voice reading story after story, making everything OK.
This reading time set my lifelong love of reading in motion, and I would go on to become an English Teacher and Reading Teacher/Specialist that spanned a 30 year career.
I read to my children, too.  Every single night.  I loved the special, special, calm, beautiful time each evening when I would take my kids on journeys and adventures with words, pictures… and with my hugging arms and my voice.
I want to share one of my most precious photos, a photo of me reading to mesmerized Audrey, the night before my youngest baby, Jane, was born…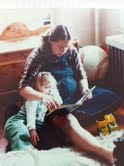 All 4 of our children love to read.
All 9 of our grandchildren love to read and be read to.
I thank my beautiful daughter Audrey for bringing these memories back, and I thank P&G for the great focus, inspiration and memory-shakers of Everyday Resolutions!
I'm excited to see what June brings for all of the Resolutions published and posted, for all of the people who participate…