31 Days. 31 Flowers. Teaching kids about Dianthus…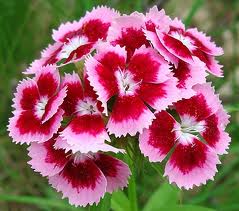 Literature and legends bloom with FLOWERS, from lovely little nursery rhymes to sophisticated epic poetry and myths.  Knowing the names of flowers, the references to flowers, the symbols of flowers, the language of flowers gives kids a blooming head start in understanding literature and enhancing literacy.
Each day in May, a FLOWER will be presented here at 31 Days.  31 Flowers – 31 Ways to engage your kids in literature, literacy and life in just a few moments a day.  Enjoy!
The DIANTHUS – the name derived from the Greek word for Jupiter Flower, or Flower of the Gods, the Dianthus is commonly known to gardeners as the species of Sweet William, Maiden Pink, Pinks or Carnation, although there are more than 300 species in the Dianthus genus.
The Dianthus is a delightful and welcomed flower in gardens for its colors and forms. Its 5-petaled flowers range from pale pink to dark rose, but some species are white, lavender, crimson and even yellow. The Dianthus ranges in size from the petit 6-inch edging plant to border specimens as tall as 3 feet.
The Dianthus may be the reason we have the color pink, as Pinks was the general name of the species Dianthus of the family Caryophyllaceae. As early as the 16th century, the Dianthus was called Pinkes or Pynkes. The delightful shades of the Dianthus inspired a color name, which is very fun and interesting!
Another interesting Dianthus or Pinks tidbit comes in the form of the verb to pink or pinking… the term used for decorated edges in a scalloped, flounced, ribboned or frilled design. The edges of the Dianthus petals are delicately pinked. The tool name pinking shears comes from the pinked flower design.
Head outside with your kids and discover the wonders of the Dianthus, or bring some inside. Carnations are an easy and perfect way to do this. Show your kids the delicate pinked edges of the petals and explain the meaning of the word…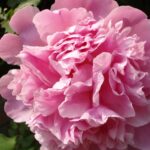 Enjoy the Flower of the Gods today!