The importance of Self-Care while Caregiving a loved one…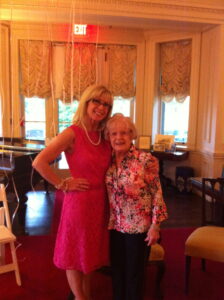 May is is Women's Health Month.  It's a time, a reminder if you will, for women to take the real time necessary to advocate for themselves.  It's a time to have, or schedule, routine screenings that keep women up-to-date on health and wellness concerns, and/or to schedule an appointment to speak to a primary care provider or physician/specialist if anything seems amiss.  It's May 30th today, so schedule appointments now and grab next year's May calendar to remind yourself to begin the round again next year!
For me, as a Caregiver to my 88-year old Mom, Women's Health Month takes on even more significance because my Mom depends upon a healthy me to take good care of her. I am a member of AARP's Blogger Kitchen Cabinet and rely a great deal on AARP's Caregiving Resource for information, advice and assistance on physical and emotional health topics that keep me keeping care of me in all aspects of my Caregiving:
From a personal perspective, I have found that May is a perfect month of "wellness" for both my Mom and me.  I use Mother's Day as my cue that my calendar is filled for the next couple of months with Preventative Health appointments; our annual mammograms, dermatology screenings, gynecological appointments, a trip to our dentist, and an appointment with my Mom's Audiologist and Optometrist. I also schedule a May/June primary care appointment for both my Mom and me to address any other health issues/concerns.  We have the same primary care physician, which gives him great familiarity when I have concerns regarding my Mom's health; and also gives him a frame of reference when I need someone to talk to regarding my Caregiving.
I often combine these appointment days with lunch outings/ice cream treats and toss in a visit with my children/grandchildren and a maybe even manicure, pedicure or both. These days bring both my Mom and me peace of mind in the health arena, but more important, a profound sense of companionship. This emotional joy is a huge part of my own Self-Care.
I am very fortunate that my Mom, even at 88 years old, understands the physical and emotional needs of exercise.  Exercise is as important in Self-Care as preventative health. There is not a time in my life that my Mom hasn't expounded the benefits of exercise. She is my role model.  She has always told me stories of her own Dad, a Boston Firefighter, who brought my Mom and her siblings to playground running races.  She played basketball as a young girl, even though she never reached 5′.  My Mom was the Mom who jumped rope, hula-hooped, bowled, loved to dance and baked cookies and passed out Kool-aid to me and neighborhood kids. In her early senior years, she learned to golf.  When health issues side-lined her activities, my Mom began a daily walking regimen (indoor, now) and weekly weight-lifting chair exercises at her local senior center.  My Mom knows that exercise is a life-saver on every level of its meaning.
Because my Mom knows the benefits of exercise, she was all-in when I began to run five years ago, just around the time she needed me as her primary Caregiver. Then I began to swim; and cycle, complete in triathlons, and train for a marathon.  My Mom is not only all-in, but she asks me every single day what I've done in my various exercise/training endeavors.  I cannot stress enough the value, the de-stressing, the importance of exercise, as both care recipent and Caregiver.
I do approach my Mom's Caregiving in a very positive way, but I also have a husband, 4 kids, 4 in-law kids, 9, soon to be 10, grandkids and friends whom I love and love to be with.  In order to stay positive and organized, I give myself permission to use what I call these 10 AARP Caregiving Rules to keeping my own Care at a positive level:
1. Put my physical needs first – eating healthy, exercising, getting enough sleep
2. Connect with family and friends – getting together with my kids/grandkids/friends keeps Caregiving isolation at bay and reduces stress; my Mom is often an integral part of these get-togethers
3. Ask for help – recruiting my kids to help in their grandmother's care; checking in with visits, helping with chores, making phone calls, and sending the much-loved mail!
4. Call on community resources – setting up senior services such as van transportation to the senior center/supermarket/hair appointments; keeping my Mom vitally independent and giving me time to myself
5. Take a break – taking weekend or short vacations with my husband; lining up people/services to check in on my Mom. I know my Mom gets nervous when I am out-of-town, so the plans must be organized and precise
6. Dealing with Caregiving feelings – having a professional with whom to share the emotions of watching a loved one age, and share feelings of stress and sometimes helplessness; in my case, our family physician
7. Find time to relax – doing what I enjoy individually; gardening, running, swimming, cycling, reading, writing, blogging to recharge my "batteries"
8. Get organized – for me, keeping a meticulously organized calendar, with notations/phone numbers/contacts for every appointment, event of my Mom's activities and needs
9. Just say no – learning that NO means "I cannot commit" to something and being guiltless and done; this took time for me to learn and I'm still learning
10. Stay positive – knowing that I am doing everything I can do in the care of my elderly Mom, rather than dwelling on what someone else is not doing or lamenting what more I think I can do; emotional contentment
________________________________________
Getting back to May, Women's Health Month, it's the perfect time for Caregivers to reflect on our emotional and physical health and to make plans to address what's working and what's not; to awaken a sense that our own needs compliment our Caregiving in wonderful, important ways.  It's organizational. It's a renewal, like Spring.  It takes care of the present and gives us things to look forward to; in my family, 4 generations of women-to-be…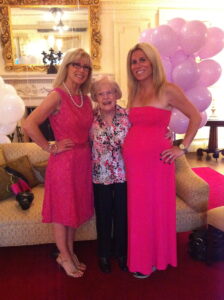 ________________________________________
As a Caregiver, I turn to AARP.org/Caregiving for every question I have in the care of my Mom, from daily care, housing options and legal advice to medical features, a Caregiving community and the important topic of caring for the caregiver.  Those of us who Caregive are not alone, even though it may sometimes seem so; and sometimes the best days turn in a heartbeat to the most challenging days.  AARP has provided us with a strong, vibrant community of experts for all of our Caregiving days, as well as those of us trying our best at common sense… with lots of welcomed help and advice.
Sharon Couto is a member of AARP's Blogger Kitchen Cabinet on #caregiving, #caresupport, #carekc issues. All opinions are her own.