Late last year construction started on what had previously been a donut shop nearby. We were curious to find out what it was going to be. Before long the sign went up, boloco – globally inspired burritos. What? There's a burrito place across the street, clearly this was an antagonistic shot across the bow. Can't wait to try this place!
I finally got my chance this Spring. We just finished the boys baseball game and were headed over to a friends to enjoy a day in the pool, when they called to ask what we wanted for lunch from boloco.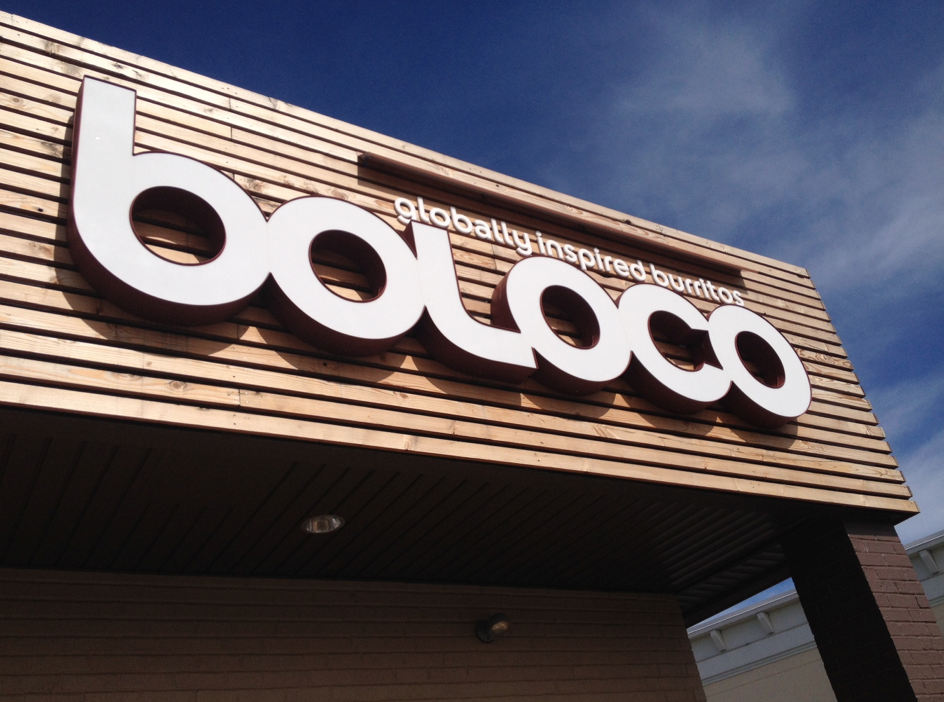 "Uhm, a burrito!"
"What kind"
"Chicken."
"But what kind?
"What are you talking about, it's a burrito!"
"They have Buffalo, Teriyaki, Classic Mexican, Tikka Masala, Bangkok Thai, Cajun, The Summer and Memphis BBQ."
"Serious? I love this place!"
I had the Bangkok Thai that day and fell in love.
Needless to say I was excited when I was sent a gift card and asked to do a review. Free boloco? Anytime!
I knew boloco used humanely raised, antibiotic and hormone free meats, but didn't know much else. I assumed the name was some sort of play on the crazy burrito. Very surprised it meant Boston Local Co. I had no idea it was a Boston based company (formerly Under Wraps).
Even better than that, this is our location! "The world's first unverified burrito Drive-Thru opened as part of our 22nd location in April in Warwick, Rhode Island – that's nearby Providence (although in Rhode Island, everything is near Providence). Because it was the world's first burrito Drive-Thru, it's also the world's fastest burrito drive-thru with the world's greatest drive-thru customer service. It's also the world's most accurate burrito drive-thru. It pretty much is the best at everything as far as burrito drive-thrus go… "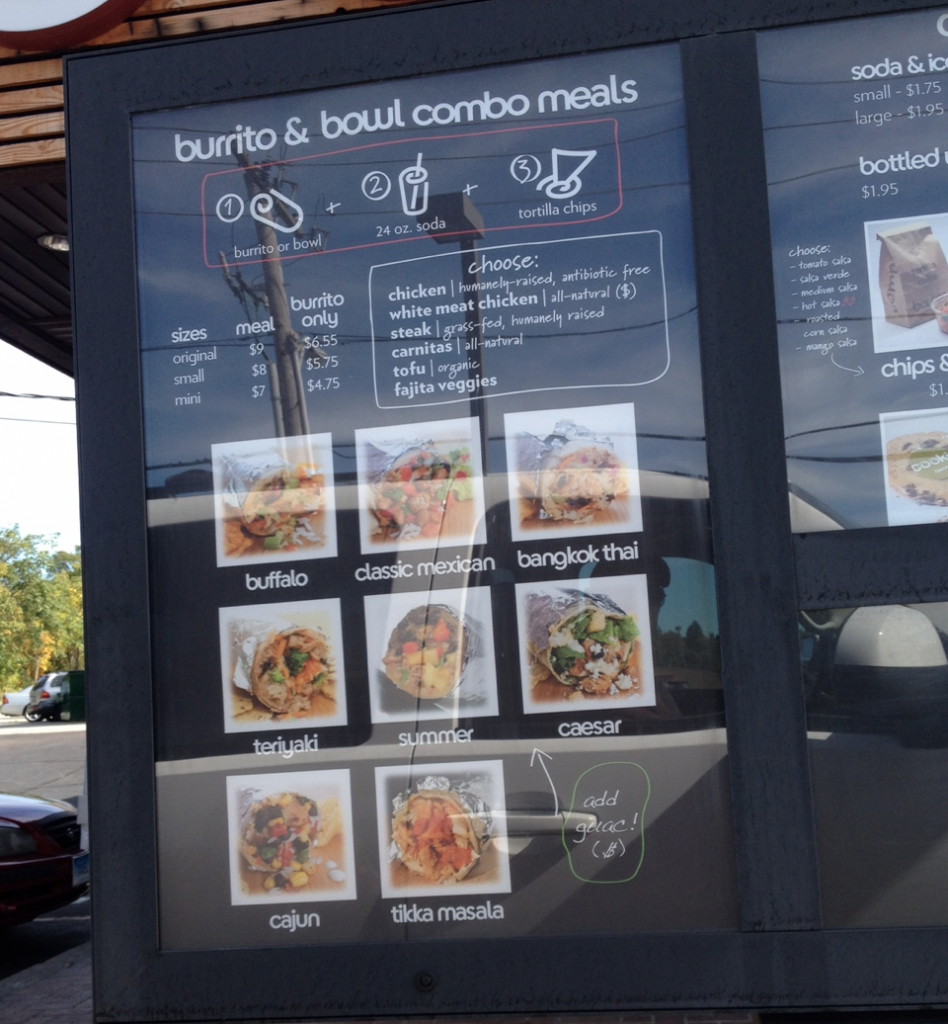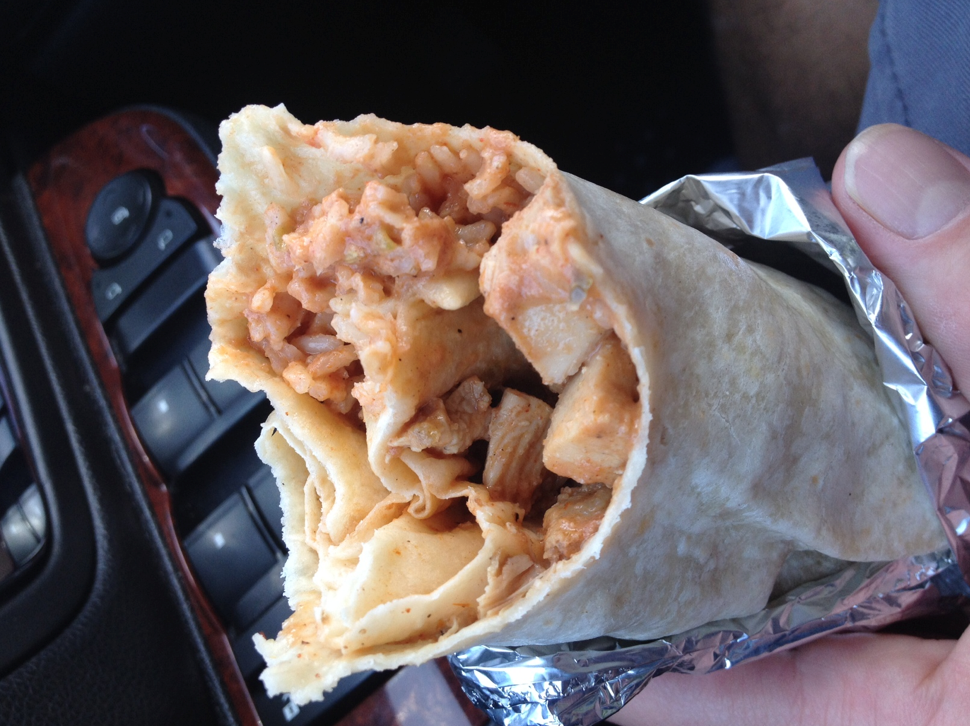 That being said, I've never actually been inside! I also learned that boloco that "When we choose a location, we know what was there before we were. So do others. People have memories. Why ask people to forget? Instead, why not work with the materials and natural character of the people and businesses who came before us? Why not share the past by revealing and often uncovering the unique, core aspects of all of our restaurant spaces… old brick, original flooring, decorated columns, and detailed ceilings. Even our Sean Boyce artwork often merges the past and present of each individual location. And what about when we have to add? Well, you'll probably be pleased with the kinds of materials we choose. Materials that fit the neighborhood. That match the flavor of the community. Because there are some pretty amazing ways to make the past a part of what we offer today."
Now I want to go inside.
I was also surprised to find out that boloco also uses another local company, Nasoya, from Ayer, Massachusetts, for all its organic, non-GMO tofu.  Here's a link to a video in which the CIA (Culinary Investigation Assignment) gets a behind the scenes look at how their tofu is made.
[youtube]http://www.youtube.com/watch?v=B3YEzcDZ3js[/youtube]
You'll also see links to other CIA videos exploring how other ingredients are raised.
Good thing it's almost lunch, because that made me really hungry!