31 December Days. 31 Books. Today, let's make room for woodland creatures in The Mitten… Reading books around the holidays is always a special way to settle in, settle down, settle up the day. Each of 31 Days in December, I will be recommending a picture book to read to/with your kids of any age. Remember that the older kids love to settle in with you, with a book, too. It re-creates memories and creates new memories. Each book I recommend is one I've read over and over and over again with my kids and/or now with my grandkids. I guarantee the magical.
The Mitten
The Mitten ~ by Alvin Tresselt and illustrated by Yaroslava –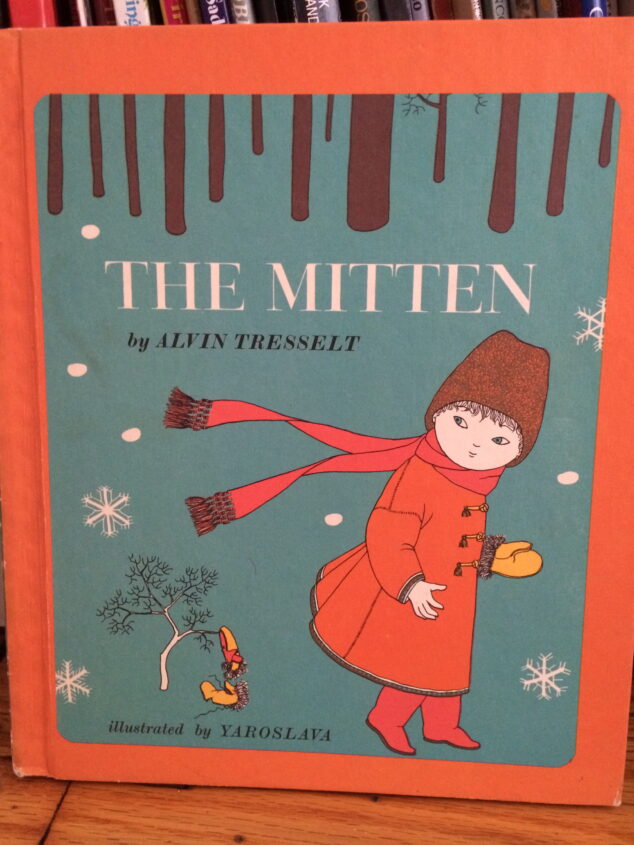 It's is a charming re-telling of a Ukrainian folktale about a boy's lost mitten deep in the woods on a very cold winter day.  The warm mitten is very inviting to woodland creatures, small to large, who wiggle and squeeze and maneuver into that child's mitten – including a mouse, frog, owl, rabbit, fox and then some. How is this possible? This is what makes this story such a delight to read. But what happens when a little cricket wants a spot in that cozy mitten, too?
It's up to your kids (and you) to determine the truth of the fate of the boy's mitten.
This is story is an easy one – Children's picture book about a lost mitten.
A wonderful December stop with your kids is your local library or bookstore… maybe check out the habits and habitats of woodland animals and bring along your mittens!

See Sharon's other book reviews!
****************************************************************************
Sharon Couto graduated from Rhode Island College with a degree in Education/English and holds a Master's Degree in K-12 Reading/Education from Boston University. Sharon was a high school English Teacher & Reading Specialist for 30 years. She has 4 adult children, 4 in-law children and 11 beautiful grandchildren. Promoting Literacy is Sharon's mission.
Reading aloud to your kids & grandkids is a wonderful and proven way to improve vocabulary and increase reading comprehension and thinking skills by connecting directly with a book… its words, its story, its message, its magic. The more books in early childhood, the greater the chances of reading success. Enjoy!