I'm all about trying to find the best things for the summer. What to Wear in Summer is one of my favorite topics to discuss because it's such a wonderful way to express your summer love and your summer fashion vibe! I love to add new items in each summer because it's just a great way to expand your wardrobe! It's all about making sure you know what you need and what you will get a ton of use out of during the summer. I mean – who wants to waste money for the sake of wasting money? Not me!! I'm excited to share with you some summer fashion advice: 5 Things You Need for Summer! I hope you book mark this post to check out every summer!
What to Wear in Summer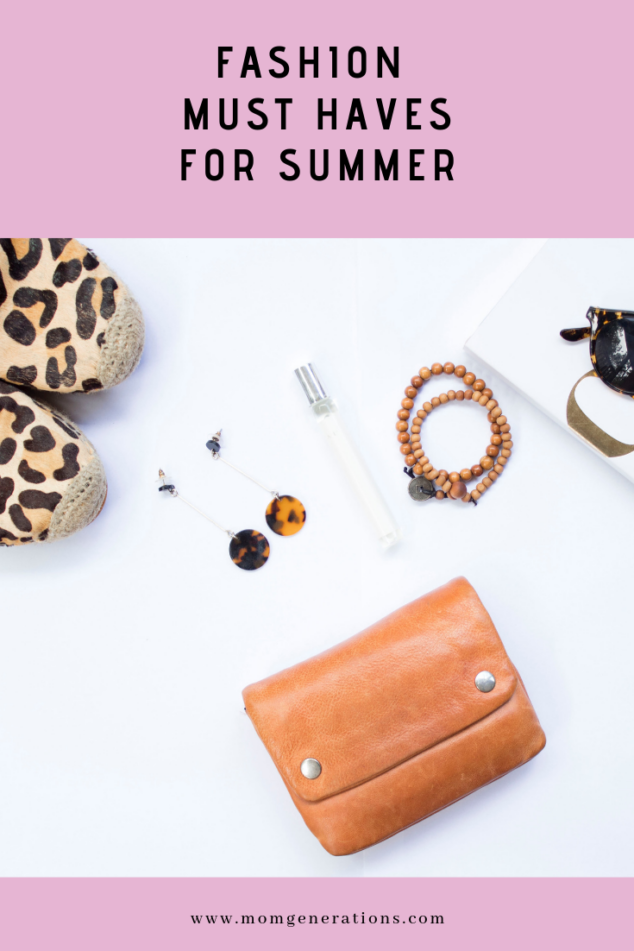 So What to Wear in Summer? Are you someone who has a ton of things already for the summer months ahead? Or are you someone who needs a ton? I'm somewhere in between. I always feel like a need a HUGE summer refresh every single summer. I like to know that I can rely on some items every single year, but also need some new ones, too! I'm all about trying to make it work for my budget and see what I can to do stretch it far!!
I don't know about how it is where you are, but in Rhode Island… it's been hot! Real hot and I love it! We had such a tough winter with freezing conditions and tons of snow. To be able to enjoy 80 degree weather right now, it's a true treat! I'm enjoying the warm weather, so when it comes to What to Wear in Summer – I'm all about making sure they're items are are breathable and cool!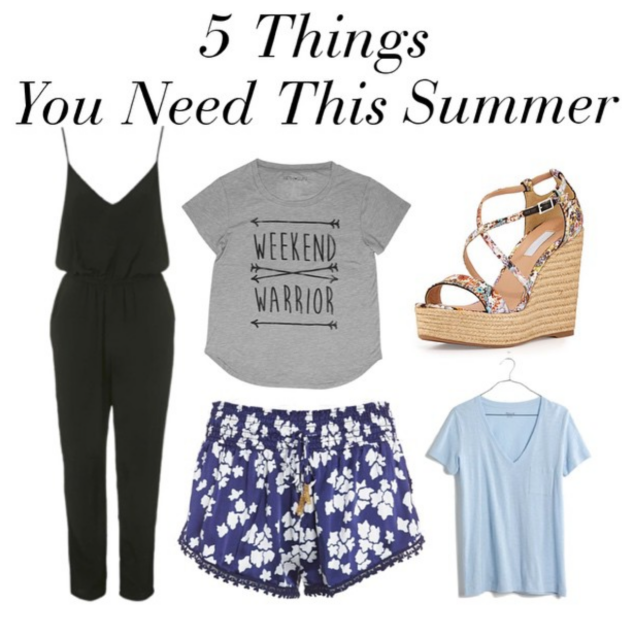 Since summer is right around the corner, I thought it would be fun to share today 5 Things You Need for Summer on the fashion front! That's right – What to Wear in Summer – is easy! You just need to know what you need! I'm not 18 years old anymore, so believe me… it's all about finding some fun summer clothing, but also clothing that is appropriate. I know crop-tops most likely aren't my thing (not that they really ever were, but I did try them!).
My Summer Top 5:
1. Jumpsuit
2. Graphic Tees
3. Denim/Printed Shorts
4. Slub Tees
5. Floral Wedges/Heels/Flats
Let's kick it off with the JUMPSUIT. I was thoroughly against jumpsuits for the longest time! I'm 5 feet, so I kept thinking that ONLY 6 foot models could pull a jumpsuit off. I was wrong. I was wrong BIG TIME. Let JUMPSUITS be your summer best friend when it's time to dress up or look fashionably fabulous for an event.
I have a few faves right now… one from Sears and one from J.Crew.
OK, ladies… graphic tees! I'm obsessed with graphic tees. They are so much fun and truly, you can find just about anything on a tee – or make one yourself! Some great places to find some awesome graphic tees are H&M, Forever 21 and American Eagle. Don't laugh… I know those are "younger" places to shop, but I'm telling you – they are awesome places to find some beautiful tees and some fun ones! I love to pair with a blazer or a denim jacket and skirts/capris. You can actually dress up some tees, which is a fun thing to be able to do!
Some of my faves… check out ILY Couture!
Denim Shorts are a must have for the summer this year! I'm not kidding, wherever I go, I'm finding fabulous denim shorts. But here's the thing, too! You can MAKE THEM ON YOUR OWN, too! Find denim shorts that work with your body type! You can find them anywhere right now – J.Crew, J.Jill, GAP, Old Navy, ETC!!
I'm kind of obsessed with these J.Crew denim shorts right now, too.
Now we're moving along to SLUB TEES! I became obsessed with slub tees a few summers ago and just love them. They are comfy. They are cozy. They are perfection. It's just a fashionable spin on a "basic tee."
My fave slub tees are from J.Jill – they have sun-bleached ones that are amazing!
And last up – floral shoes! Here's the thing… if you want to add some new styles into your show closet this summer, go for a print and go for a floral print! Florals are so pretty and classy and elegant. I am truly loving the added fun of floral into my shoes this spring and summer! I'm all about florals for 4th of July outfits, too! And don't discount a fab floral print with a white summer dress! Shoes will POP!
My FAVE pair right now from are Rack Room Shoes – Zigi Soho Calista Women's Shoe… love them!
So hopefully this will help you out when you're looking what to wear in summer!! If you need anything else, let me know!!