The 4th of July is tomorrow! I'm going to be decking it from head to toe today through Sunday when it comes to red, white and blue style! Our small New England state is a HOT BED for 4th of July parades and festivities. I have to say, it's really fun to live somewhere where people party and celebrate the 4th ALL MONTH LONG! 🙂 I'm sharing some of my fave 4th of July Women's Outfits for the festive holiday!
4th of July Women's Outfits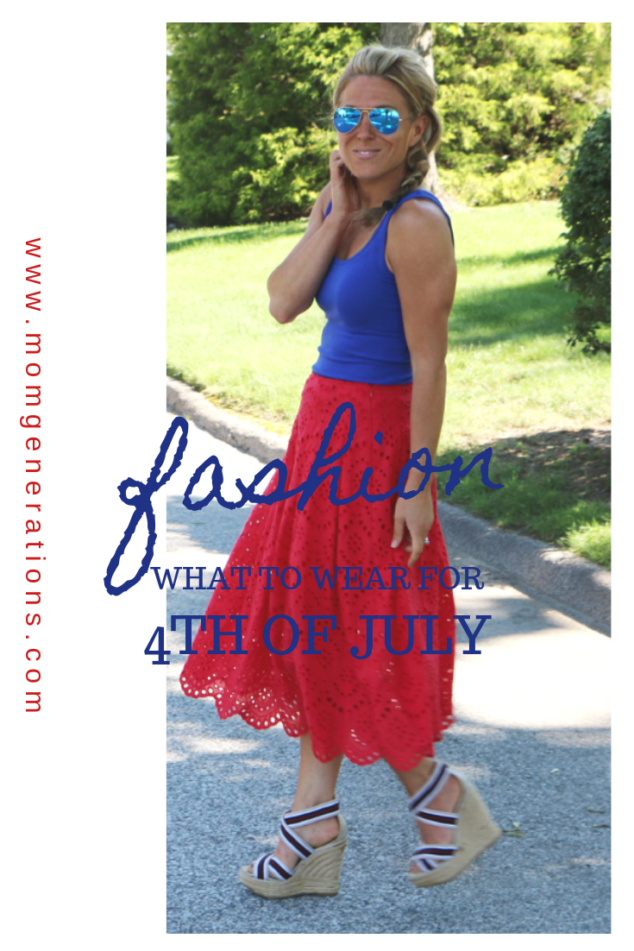 We all know that the 4th of July is about 3 colors – red, white and blue. You want to make sure you're wearing your colors proud and loud, but you don't have to skim on the fashion sense. I wanted to wear something pretty and classic today, so I opted for my new red skirt from ZARA and styled from there. I'm truly obsessed with this skirt and have worn in so many times for 4th of July Women's Outfit ideas in various ways.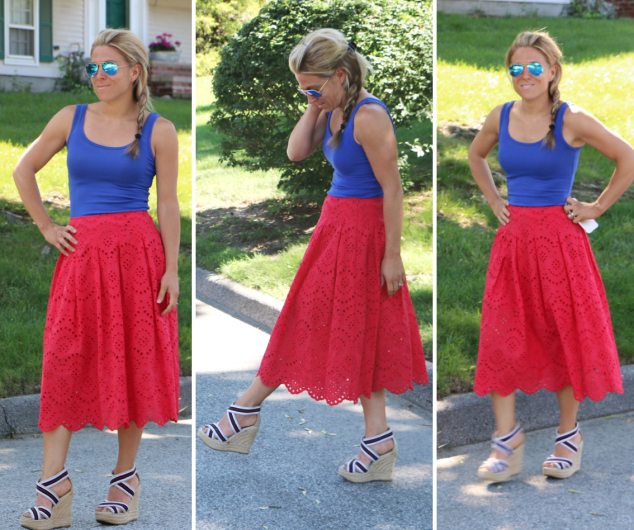 When it comes to putting together the perfect 4th of July Women's Outfits, you want to make sure you're feeling what you're wearing. You want to like it, that's super important!  I'm obsessed with espadrilles in the summer, so I'll wear a pair whenever I get the chance to! I felt my red, white and blue ones were CALLING my name this morning! Not to mention my bold blue tank! It was an easy look to pop together!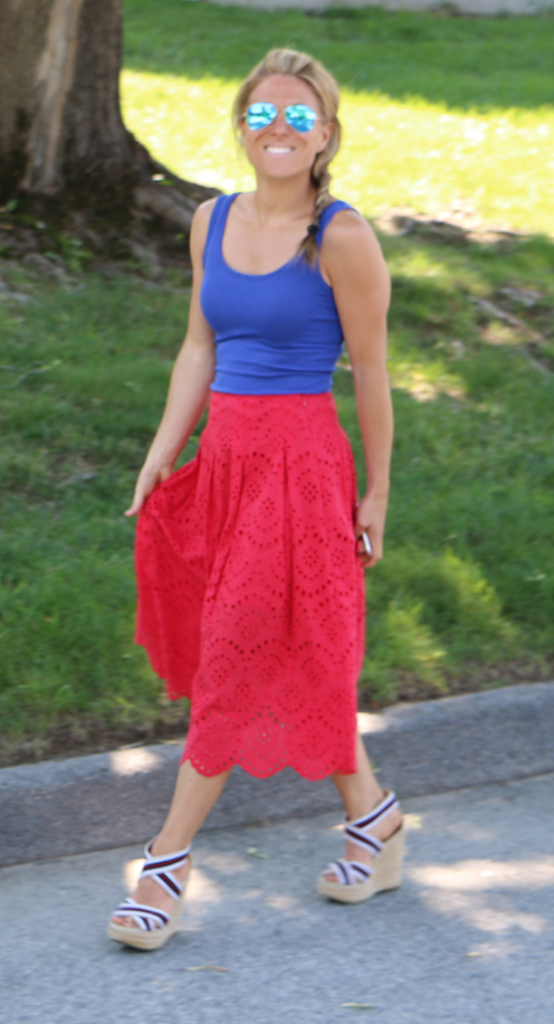 I even get my baby girl in on the action, too! She's my #1 go to accessory for all of my perfect 4th of July Women's Outfits! I'm joking, but seriously if you have a little one who loves to dress up, too make sure you're bringing in the red, white and blue, too! It's easy to do and a wonderful and fun way to make the holiday even more exciting! It's all about celebrating the magnificent 4th, so embrace it!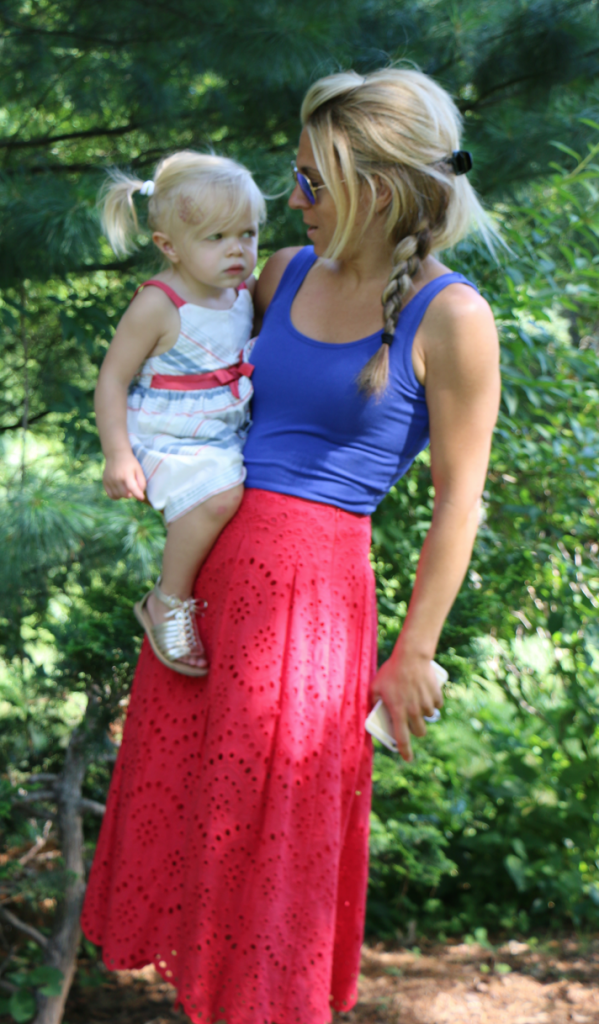 I also love that this is an easy summer look that can be worn over and over throughout the summer. It's just elegant and really sweet and a cute look for dinner, a date or an event. It's a simple summer style that never, ever goes out of style and there's something really refreshing and cool about a go to look like this for the summer. 4th of July Women's Outfits are just great looks to toss together!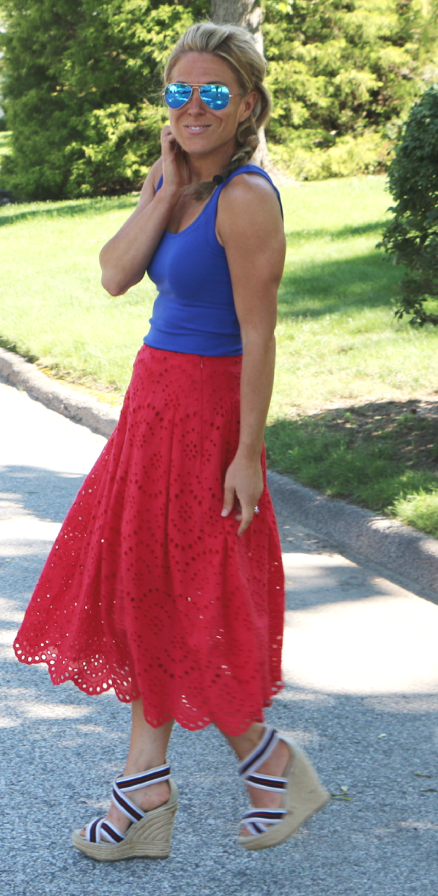 Not to mention, I was chasing my little girl this morning outside – so this longer skirt made it easy to chase her! My littlest fashionista rocking her red, white and blue for the big day! Love how she looks so cute in this dress! It was the perfect choice for her! Her hair is killing me, too!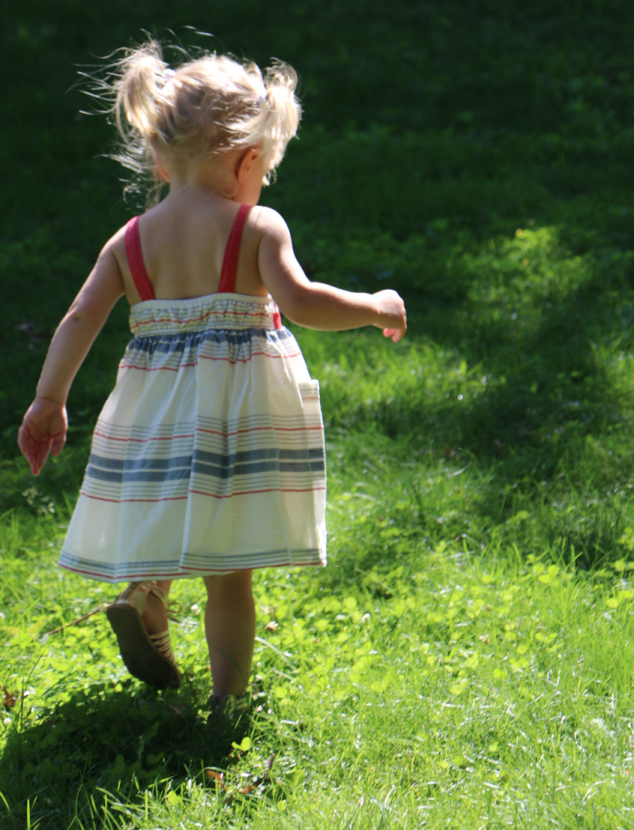 Get the look:
Skirt – ZARA
Tank – T.J.Maxx
Shoes – DSW
Check out some of my other 4th of July content:
Check out our YouTube Channel where we share lots of 4th of July content, too!