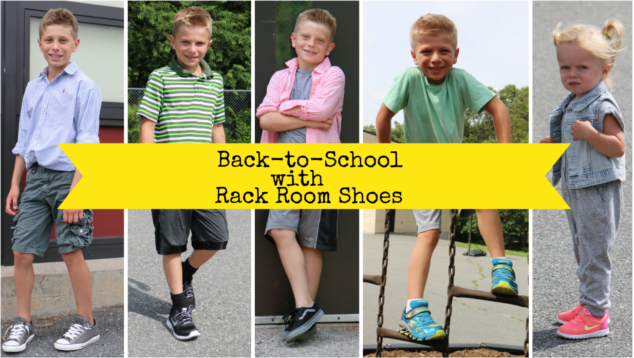 Believe it or not, back-to-school time prep is already here! With all 5 of my kids heading off to school this year (Victoria will be in preschool!), I've been a busy mom getting into the swing of things with my back-to-school shopping. There's so much to get for them – supplies for their desks, backpacks, lunch packs, books – and my personal favorite clothing, shoes and accessories! As a mom fashionista, I LOVE shopping for clothes and shoes for back-to-school time! I'm not kidding, I actually get excited about finding key fashion items for them and making sure they fit perfectly for their style and each of their personal likes and interests.
When it comes to SHOES for back-to-school time, I need to make sure I have each child covered perfectly. They all have different styles, so for me, it's fun to be able to find the ideal shoe for each of them. They are ALL extremely active, so I have always gravitated towards sneakers for back-to-school time because it just works for them. I love finding selections for them at Rack Room Shoes because they offer on-trend footwear for the family through a wide selection of nationally recognized and private brands of great shoes for men, women and children. My sons want certain brands when it comes to their shoes, so I LOVE that I can buy them ALL in one-place online (or if I want, in-store). Not to mention, the prices are PHENOMENAL. Rack Room Shoes is known for their everyday "Buy One, Get One 50% Off" promotion on all styles – for me – this is just the BEST! Since I'm always buying 4+ pairs, this works to my advantage amazingly!
I thought it would be fun to let each of my children pick out a pair of shoes for back-to-school from Rack Room Shoes and actually bring them to their school for some fashion photos! It's funny, I've never seen them all so excited to head to school! We had the full grounds to ourselves! I loved doing this with them because they really each selected a pair of shoes from Rack Room Shoes that reflected them. OK… I picked out Victoria's pair, but the rest? It was ALL them!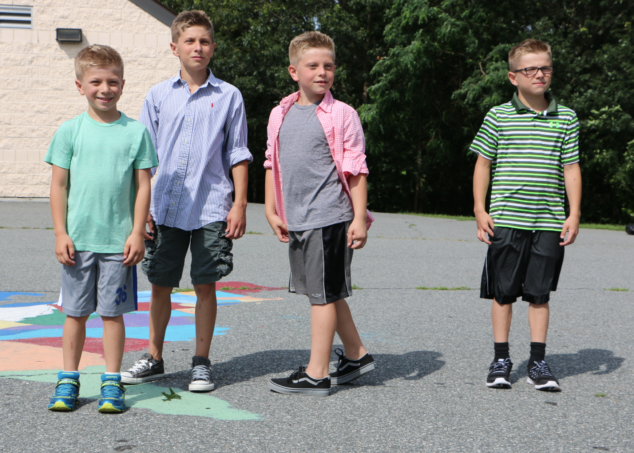 We had a blast heading to their school to take some photos with their shoes!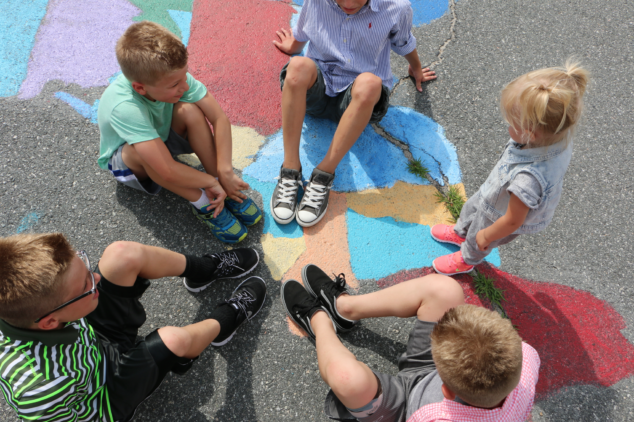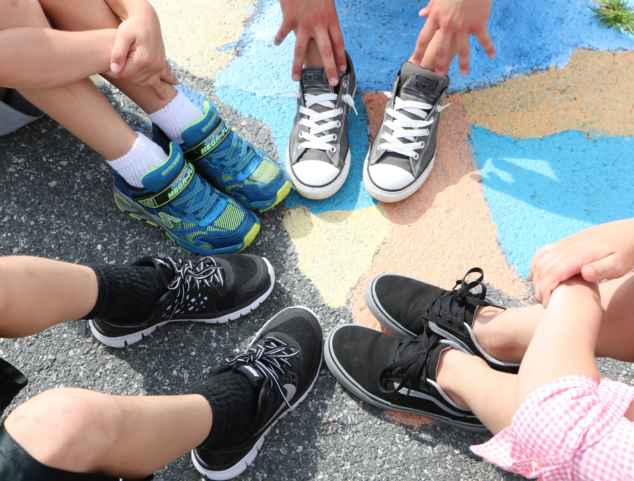 Let me bring you through each child!
I'll start with my oldest guy William, heading into 5th grade!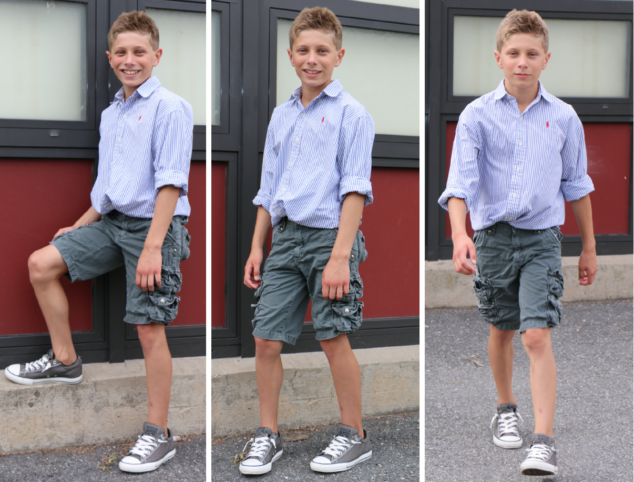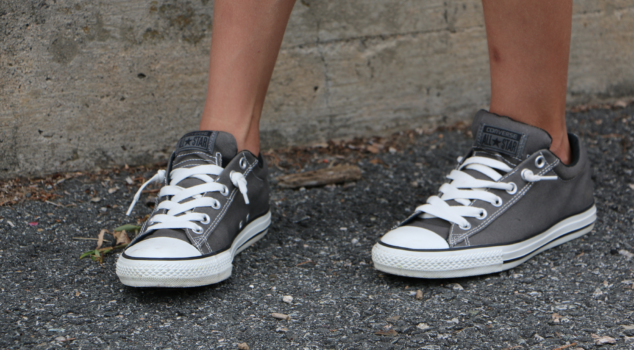 William picked out these ultra-cool Converse Chucks! I LOVED them… I mean, LOVED them! These are William to a "T!" What I love about Converse Chucks is that they are classic and timeless. They can be worn with ANYTHING. Since William loves to wear button downs to school with jeans and/or cargos, I knew these were the perfect choice for him! Now these are the Chuck Taylor® All Star® Street boys' shoe from Converse®. They feature a low-cut silhouette and a lightweight canvas construction for cool style. It was funny, William said to me, "Wow, Mom! I don't even have to tie them! They can just slip on and I can go!" Oh, yes… the beauty of Chucks! I joked with him that every kid needs a pair of Chucks. It's just a staple at some point in your life.
Next up? My big guy Alex heading into 4th grade next year!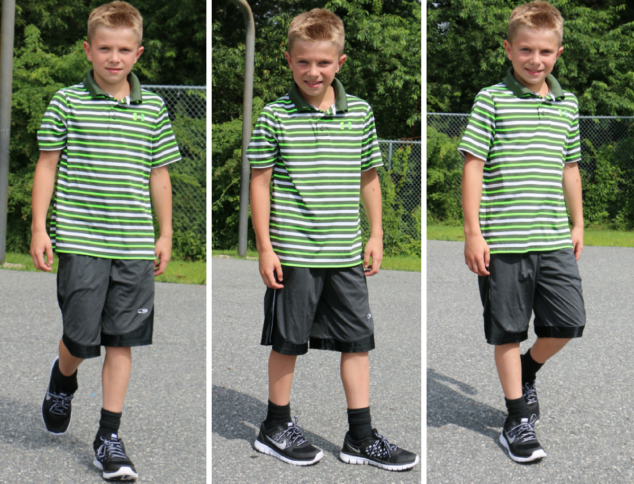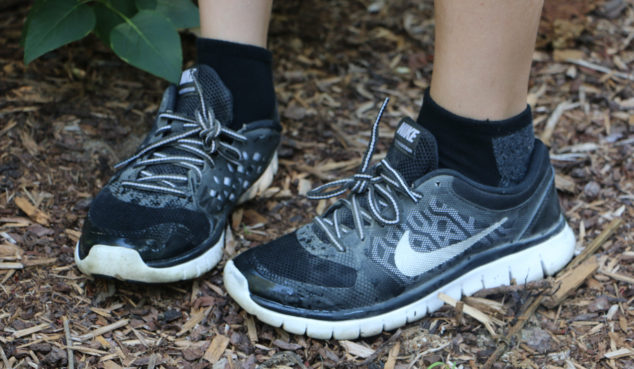 Alex is my ultra-athletic guy. He's ALWAYS running, jumping, playing – ALWAYS in motion. He's ALWAYS begging me for new running sneakers, so that was what he picked out immediately! He's obsessed with the Steelers, so he wanted to get a black pair. He chose the NIKE FLEX 2015 RUN – perfect for Alex and his back-to-school needs! They offer for Alex's feet – flexibility and well-ventilated comfort. NIKE used Breathe Tech construction fuses foam and mesh to keep things light, while the outsole's flex grooves help the foot move the way it was meant to. It's a win-win for an active boy! I love that Rack Room Shoes offers these GREAT brands for my children. This is what they want and I'm able to get it for them. I love that.
Next up – my Benjamin who will be heading to 3rd grade next year!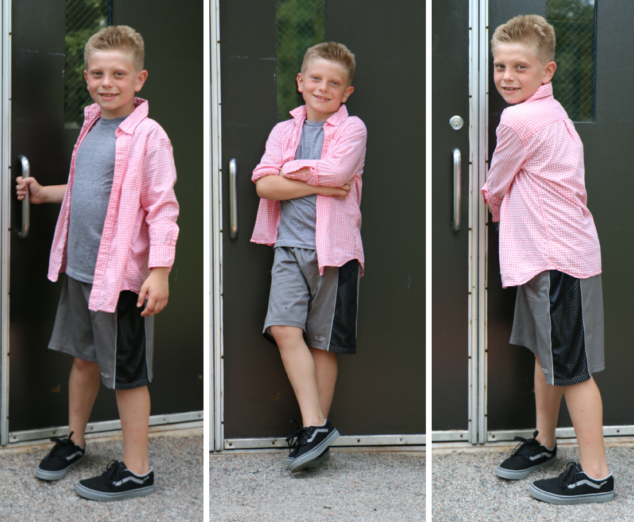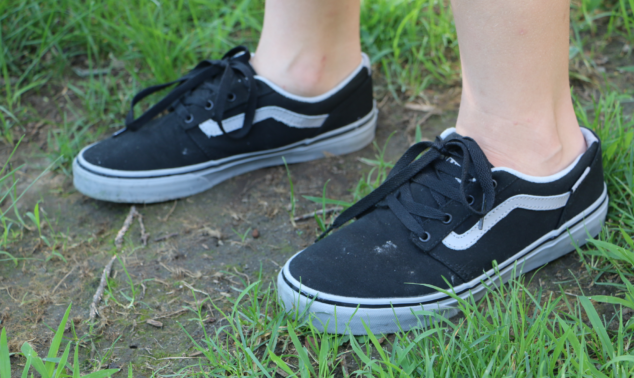 Ben wanted VANS. That was basically his ONLY requirement. A couple of his buddies have VANS and he's always thought they were really cool, so that was what he picked out for himself – VANS Chapman Stripe. I'm telling you – he picked a pair that look like his style to a "T!" He's a very relaxed and laid-back kid… the VANS he got, they go with all of his clothing! I love how VANS easily and seamlessly complement a classic-cool style with these laid-back Chapman Stripe boys' shoe by Vans. Simple lines, lightweight canvas and a low-profile design combine to create its easygoing good looks. Hey, that's my BEN! He's my good-looking, easy-going boy! I love it!
My Henry… my baby boy who will be entering 2nd GRADE couldn't wait to pick out some back-to-school shoes!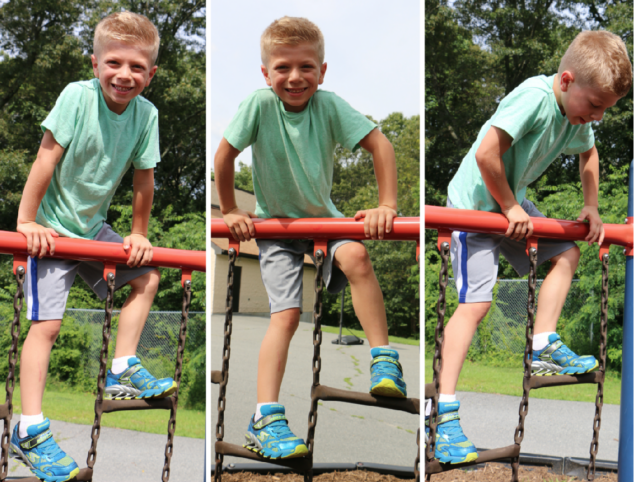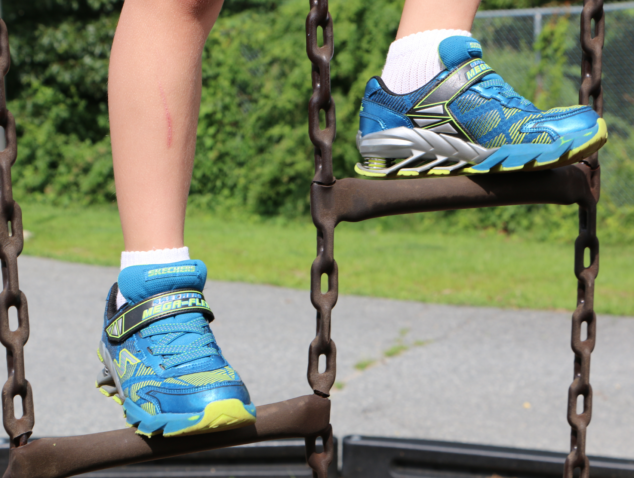 Henry chose SKECHERS MEGA BLADE from Rack Room Shoes. He FELL IN LOVE with them, like any 7 year old boy would! He thought they were really cool looking and couldn't WAIT to wear them the second they arrived at our door! I love that he can really love in them. Henry's a non-stop active kid, too – recess for him is all about climbing and chasing and playing with his buddies on the playground. I love that these SKECHERS are going to give him the support that his feet need and still be comfortable. He can show off his super-sporty swag! The Mega Blade boys' shoe by Skechers was made for conquering the playground with its sturdy sole and Mega-Flex technology. Absolutely LOVE for him!
And Victoria! She will be going to a little preschool class this year. I can't believe it. She's 2! My baby girl is 2 and we're prepping for back-to-school with her. My heart.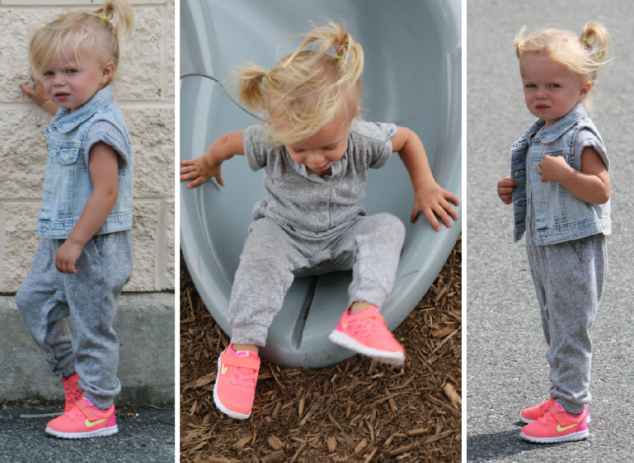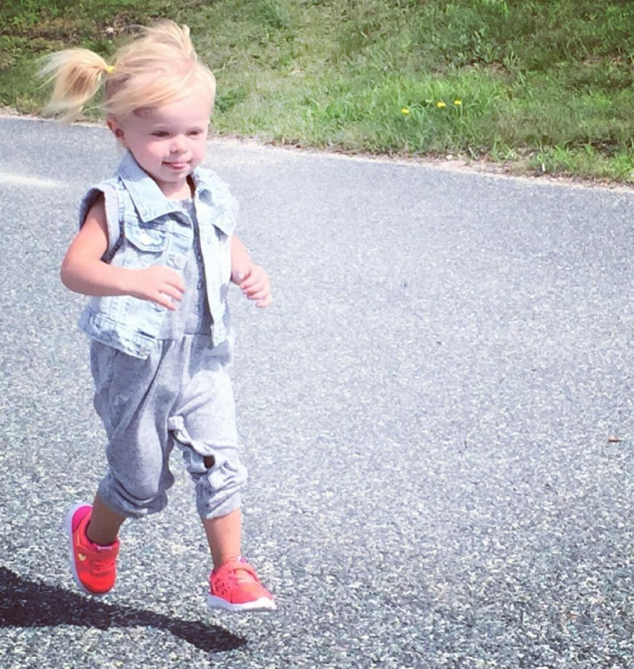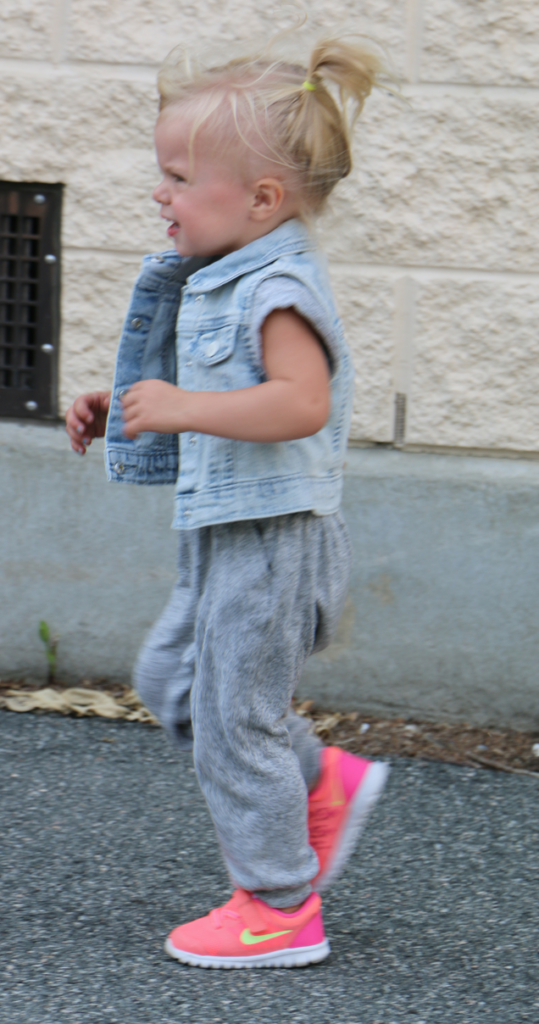 If you watch my videos you know – Victoria NEVER sits still. She's a mover, she's a shaker, she's just our little ball of energy. She needed a pair of sneakers to go along with this personality – but sneakers that will truly hold up to the energy of Victoria! 🙂 I found them at Rack Room Shoes – just like big bro Alex – NIKE FLEX 2015 RUN for infants! They are made for future track stars can start finding their fast feet in the Flex Run girls' shoe by Nike. This pint-sized sneak looks just like an adult trainer with its sporty lines, Swoosh® logo and flexible outsole. LOVE them!
This back-to-school season, I have additional and special reason for buying shoes for the kids at Rack Room Shoes, they are raising funds for families in need through their annual Shoes That Fit campaign to provide new shoes to at-risk children to start the school year.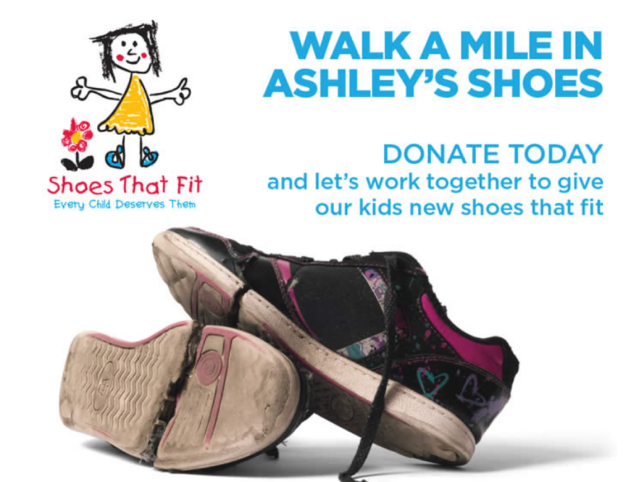 Every year, children head back to school with ill-fitting or damaged shoes because they don't have any other option. Even worse, some children aren't able to attend school because they have no shoes at all – this program combats that issue. Over the last two years, Rack Room Shoes has donated more than $1 million to Shoes That Fit through the annual fundraiser.  The best part is that 100% of the donations will be distributed in the local area where the shoes were purchased and local school liaisons will identify children needing new footwear in the area and supply them with new shoes. For me, one of the special things is that all of the donations benefit students right in your community. How amazing is that? To amplify the impact of customer donations, Rack Room Shoes has committed to match 100% of all donations raised, up to $300,000. Rack Room Shoes makes it easy for shoppers to make a difference in their communities by allowing customers to donate to Shoes That Fit at the register upon check out in-store, or online at http://www.rackroomshoes.com/content/shoesThatFit.html. As you can imagine, this made shoe shopping with the kids at Rack Room Shoes just that much more meaningful… just knowing what they are doing for so many children out there. It's incredible.
Enjoy your Back-to-School shopping with Rack Room Shoes! You'll find everything you need!

Disclosure: This is a sponsored posting, all opinions are 100% my own.