Motorola Video Baby Monitor is something that I was told to look into ASAP for my Victoria! I'm looking for the very best items to have for my baby. It's something that's important to me and something that I really want to make sure I do research on. Since I travel so much for work, I want the BEST monitor out there! The Motorola Video Baby Monitor was recommended as one of the best, so of course – I went to check it out!But first – let me start from the beginning!
Motorola Video Baby Monitor
When I was pregnant with my oldest son William back in 2004, baby monitors were ALL about the sound. I would sit in our living room (which was like 5 feet from William's crib) with the baby monitor to my ear. I didn't want to MISS one movement and I didn't want to miss him if he needed me. That baby monitor was attached to me like my phone is attached to me now. It was the ONLY way I felt peaceful at night… knowing my William was safe and sound in a beautiful and deep sleep.
I actually remember wanting to get a video baby monitor, but there were only a couple available at that time and they were really difficult to get. I kept saying to my husband, the second we CAN get a video baby monitor, I want to get one! Well, the day finally did come and it completely changed everything for me.
Throughout the last 11 years, technology has completely changed when it comes to baby monitors. With William… it was pretty cut and dry, but now with my Victoria, it's a WHOLE NEW WORLD and it's amazing! Motorola has always been a wonderful choice for me because I've had such amazing luck with their products. They have the mind of a mom and dad as they're creating, and I love that about them. They know exactly what a mom and dad is going to want and what is going to best serve their needs.
For me, it's all about SEEING, not just HEARING.
Motorola Video Baby Monitor gives that to me, even when I'm not home! They are that advanced and that amazing. Here's the thing, when Victoria was born, I knew I couldn't stop working, I needed to keep up with my schedule. It would kill me to the core leaving her as a baby because I knew she was out last and I wanted to savior every little last drop! When I found out that I could get a baby monitor that had a Wi-Fi camera, I was amazed! I could still watch my little angel sleep, even when I wasn't home. And most of all – I could just check on her whenever I wanted to throughout the night. Talk about amazing.
I'm asked ALL the time from moms-to-be and just moms in general of young children to recommend a wonderful baby monitor… I'm excited to share 2 of my suggestions today and you can REALLY see just how far technology has come since I had my 1st baby back in 2004!
Motorola Video Baby Monitor
1st up!! The Wi-Fi Video Baby Monitor Camera from Motorola, a monitor from anywhere.
So what's so amazing about this one?
Easy.
The Motorola Video Baby Monitor – MBP85CONNECT by Motorola is a HD Wi-Fi video camera, which allows you turn your internet connected smartphone or tablet into a full featured baby video monitor camera allowing you to keep an eye on your baby from anywhere.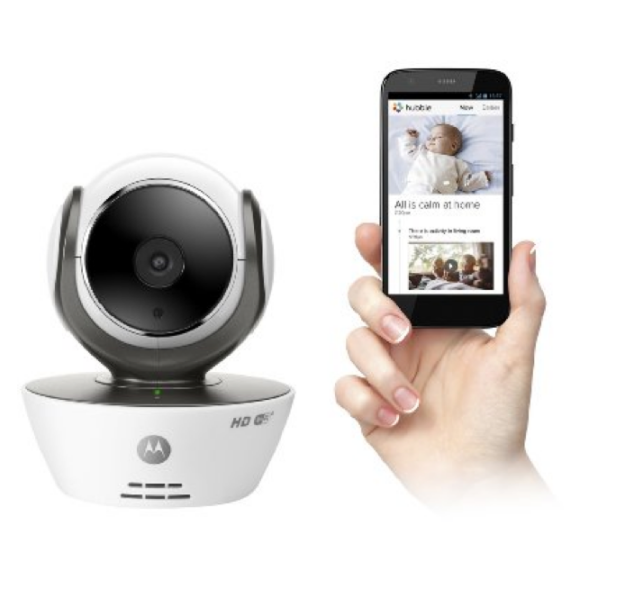 Motorola's MBP85CONNECT includes digital pan, tilt and zoom function, infrared night vision and two-way communication function which allows you to know what's going on at any time and to communicate with your child. Motorola cameras with Wi-Fi connectivity operate via a secure clouds service called Hubble. The Hubble app features free streaming and smart notifications to your smartphone, tablet or PC. Real-time motion, sound and temperature alerts give you peace of mind, wherever you are.
Motorola Video Baby Monitor features:
1. HD Wi-Fi video baby monitor
2. Keep an eye on things while away on compatible smartphones, tablets and computers
3. Free Hubble app on your compatible viewing device
4. Digital pan, tilt and zoom function
5. Infrared night vision
6. 2-way communication function
7. Operates via a secure clouds service called Hubble
8. Hubble app features free streaming and smart notifications to your smartphone, tablet or PC
9. Real-time motion, sound, and temperature alerts
**And!!! You gotta check out HUBBLE!!! Free sound, motion and temp notifications. Also!! Remote HD video streaming on compatible devices!! Check out the easy set-up with the FREE Hubble Viewing App!!**
I mean, you really can't ask for more. This is like the gold ring of monitors!!
It does EVERYTHING I want it to do.
And my next suggestion from Motorola Video Baby Monitor… The Motorola MBP854CONNECT Digital Video Baby Monitor with Wi-Fi Internet Viewing! It's the monitor at home or from anywhere!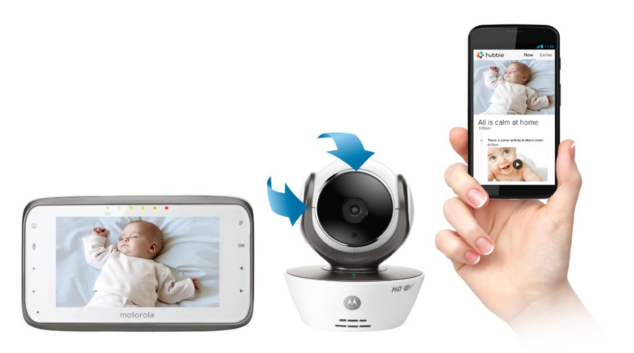 The MBP854CONNECT is a remote wireless baby monitor by Motorola that enables you to always keep an eye on things both while at home on the parent unit and away on compatible smartphones, tablets, and computers. The crystal clear two-way communication feature allows you to communicate without being in the same room. The Free Hubble app on your compatible viewing device allows you to receive sound, motion, and temperature notifications to our compatible viewing device so you're sure to always stay connected to what's going on. This video monitor showcases a very large 4.3-inch full color LCD screen, remote pan, tilt, and zoom functionality and infrared night vision for keeping an eye on your little one in very low light levels.
Again, another one of my LOVES!! ANYWHERE!!! You can view ANYWHERE!!!
These features on the Motorola Video Baby Monitor just incredible.
I always say to my husband, you can't put a price on peace of mind. This is exactly what I need and what I want for my family. I actually set one up in the boys room, too – they all share a room – and I can keep an eye on them throughout the night when I'm away, too!
I mean, there's so many uses for these!!
I love it!!
So moms and dads out there, if you're looking – definitely check these out!!!!!
See these Baby Items for YOUR Baby!
Amazon has these available, too!
Disclosure: I'm working with Motorola Video Baby Monitor throughout the year. All opinions are 100% my own.