My husband grew up OBSESSED with watching wrestling. For me and my husband – it was all about Hulk Hogan when we were kids. I actually remember my brothers watching wrestling all the time when they were young, too. It's just a total BOY thing to do. When I saw the WWE Superstar Ring Builder – I just knew this has their name on it.
WWE Superstar Ring Builder
My sons… well, the apple doesn't fall far from the tree. They have a blast watching the WWE and also creating "fights" with the figures that they have at home. My sons love the ROCK. To them, that's their true "superhero" in the WWE world. There are SO MANY wonderful toys for kids out there from the WWE. It's truly amazing to see the options and the new ones that are out and such a HUGE HIT for kids.
My boys were recently sent to WWE toys – WWE Superstar Ring Builder and Create-A-Wrestler. I'm not kidding, they put the Ring Builder together with my husband and had a BLAST creating the "perfect" ring. They all decided on how it was going to look and I think it came out awesome! I can't believe we hadn't heard of this before!
Now I can write about the WWE Superstar Ring Builder till the cows come home, but come watch it!! I made a review!!
WWE Superstar Ring Builder VIDEO REVIEW
Before I chat about each toy, check out their (The McClelland Boys!) video!
Let me start with the Ring Builder!
Features WWE Superstar Ring Builder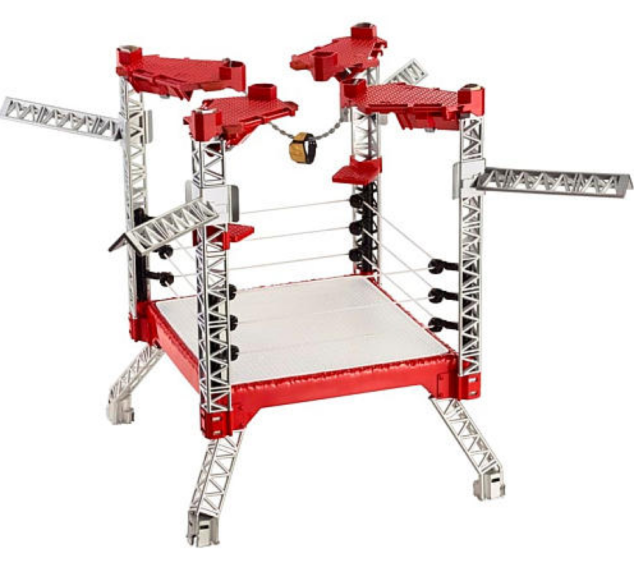 With the Build the WWE™ Ring you can build the ring you always dreamed of with yourself or your friends (in our case, brothers!). It really is the ultimate stage for your wrestlers, the place where all the action happens. You can easily mix-and-match more than 30 parts-turnbuckles, ropes, mats, and more-to create a ring that's never been seen before. There are literally 20+ ways in which how you can create your ring! Tear it down, rebuild and start the action all over again. Best part, I feel the price is extremely reasonable for $39.99. You're getting so much use out of this with being able to transform it into different creations!
Now onto the WWE Superstar Ring Builder
My sons had so much fun creating their GLADIATOR! The Create A WWE Superstar Starter Pack lets kids mix and match body parts and battle gear to build a completely unique WWE Superstar. Mix and match parts to build your very own one-of-a-kind Superstar and get it ring ready with a variety of gear. Show off your customized creation or challenge an existing 6-inch WWE Superstar to the ultimate showdown against a rival he's never faced before. It's easy to for kids to build the WWE Superstar they've always dreamed of seeing in the ring! These retail for $19.99.
As you can tell, my sons LOVED these toys. Great for the holidays coming up for the WWE lovers in your life!
Disclosure: These toys were sent to us for review, all opinions are 100% our own.