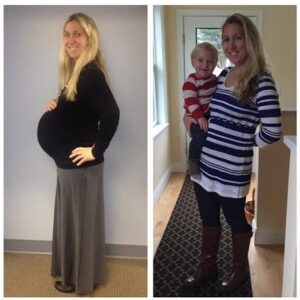 Currently 13 weeks into my second pregnancy, I am clearly the authority on comparing one pregnancy to the next. I kid! But seriously, I can't help but compare my pregnancy with almost-2-year-old Brian to this pregnancy with due-in-May-2016 Baby Girl. Of course there are similarities – they are both magical and exciting and miraculous and scary all at once… but there are also many differences between this pregnancy and my first one. Here are my top 5:
1) No Rest For The Weary. If I felt sick or exhausted during my first pregnancy, I could usually sit down and rest a bit – put my feet up on the couch, watch some television, maybe even take a nap. But now I have a toddler to chase after, so those options are pretty much non-existent this time around. If I feel sick, I have to just power through the nausea. Or sometimes, boot and rally. If I'm tired, I just lie to myself and say I'll nap when Brian naps. The reality is, when he naps I'm like a tornado trying to get work done. Come to think of it, I can't remember the last time I actually sat down on the couch without feeling like I was shirking at least 648 responsibilities.
2) It Really Does Go Faster The Second Time Around. I'm one week away from my second trimester, and it's incredible how quickly this second pregnancy is going. I can't believe it, but I've actually even lost track of the weeks at times. That NEVER would have happened during my first pregnancy; I knew how far along I was at all times, down to the minute. It's not that it's not important to me this time around, it's just that I have a million other things to keep track of that the weeks sometimes get lost in the shuffle.
3) Opinions On Gender: Everybody's Got One. During my first pregnancy, before I had found out Brian's gender, everyone said, "A healthy baby is all that matters!" But before I found out that I was carrying a baby girl this time around, everyone seemed to have a gender agenda. I'd hear a lot of, "I hope you have a girl so you have one of each!" – but also a lot of, "Boys rule! Brothers are the best! I hope it's a boy!" I would just remind people that it has to be either a boy or a girl, and that I really had no choice in the matter!
4) You're On The Hook For All Your Loot! With my first pregnancy I definitely had sticker shock about everything baby – "You mean I need all this stuff!? I better hit the lottery!" But everyone assured me that my shower would take care of a lot of the bigger ticket items. And they were right. This time around, I still need all of that stuff – but there's no shower to look forward to to ease my spending worries! Of course we saved a lot of things Brian outgrew in case we had more children, but we will still need a lot of new baby gear. Plus, since we're having a girl this time around, we can't use ALL of Brian's hand-me-downs. I better start hitting up those scratch tickets!
5) You Know What's Coming. With my first pregnancy, everything was a mystery. I was pretty sure I would love being a mom, but I really had no idea what to expect. And going through labor and giving birth!? Was it really as painful and terrifying as I thought it would be? This time around, I know for sure that no matter how tough labor is, what's waiting on the other side for me is the most incredible gift in the world. I also know that I will be rocking mesh underwear loaded with ice packs for a few weeks… which isn't quite as incredible, but totally worth it to experience the miracle of motherhood.