Here are 50 Things To Do In November that celebrate everything that is Fall! No matter where you live these ideas will get you excited about the holidays!
50 Things To Do in November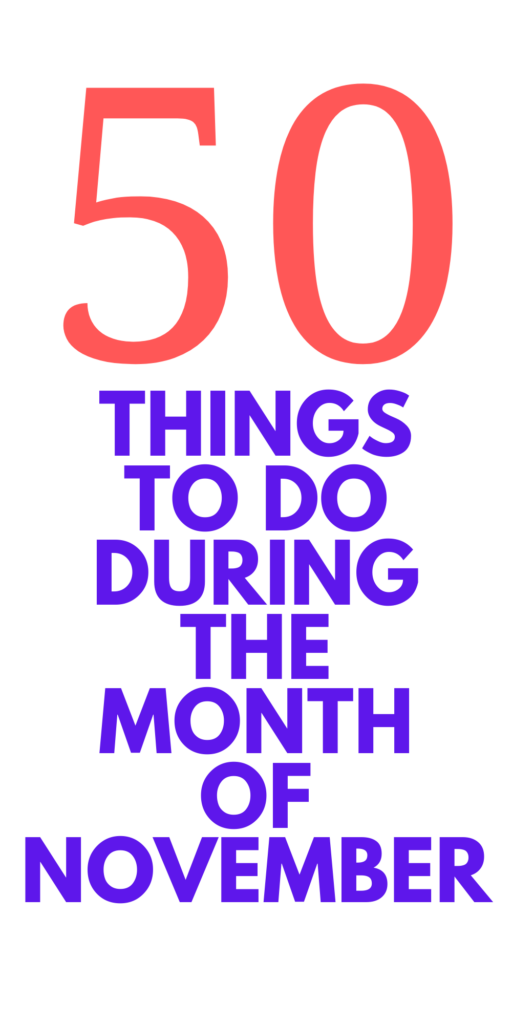 I've always loved November. My sister's birthday is November 4th, so I always remember a celebration of November throughout my childhood. I just loved knowing that the holidays were right around the corner.
I love Thanksgiving and turkey and potatoes and veggies and all that! Now that I'm a mother, I see my sons getting that same love of November and that excites me, too.
But – November. What else to do in November?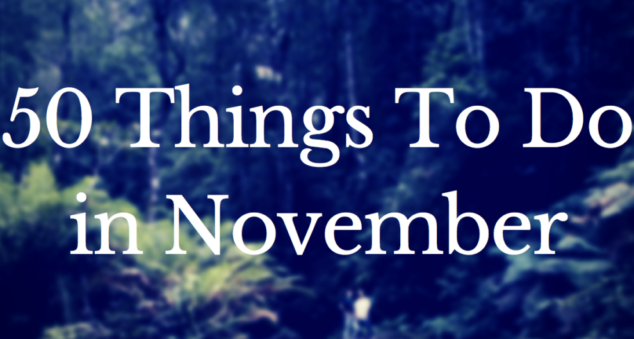 Here are 50 Things to Do in November… not all, just pick and choose what works best for you and your family!
1. Hayrides
2. Pumpkin Painting (you can still have pumpkin fun!)
3. Raking Leaves and making piles
4. Apple Pie Baking – or make these Apple Pie Rice Krispie Treats
5. Nature Walks
6. Apple Picking (almost over!)
7. Donate your Halloween candy
8. Donate Halloween costumes
9. OR/ Put Halloween Costumes in Play-time Bin
10. Clean the gutters
11. Thanksgiving Day crafts
12. Plan FUN Thanksgiving Day menu
13. Switch out summer clothes for fall/winter clothes (if haven't done already!)
14. Buy new cozy sweaters for you and the family (at least one!)
15. DVR all your favorite new shows
16. Volunteer this season, so important
17. Get ready for Black Friday
18. Get ready for Cyber Monday
19. Create your GIFT list for the holidays
20. Make a Pumpkin Pie
21. Try Making Cranberry Sauce
22. Light a YUMMY Fall-scented Candle in your House
23. Set-up Dates Nights for you and your LOVE – get babysitters lined up
24. Girl's November Weekend
25. Make sure your Doctor Appointments are up to date!
26. If you pot to do, FLU SHOTS!
27. Buy Canned Goods to Donate
28. Host a Family Dinner
29. Make Turkey Sugar Cookies
30. Try and make ONE Free Family Weekend in November
31. Create a Thankful List with your Family
32. Make a NEW November Calendar for the Family
33. Buy COZY Jammies for November
34. Start Getting Holiday Plans in DEC in place
35. Think about Holiday Cards
36. Get Family Photo
37. Start a FUN Puzzle for Everyone to help out with
38. Do something NICE for someone in your life
39. Clean the cushions on your couch
40. Stock up on cough/cold medicine
41. Make sure your child's holiday lists are created
42. Buy some Thanksgiving Day Books for kids (the story behind it)
43. Turkey Trot 5K
44. Football Game Time! Get all game schedules down!
45. Sleep Late One Morning (get this straight ahead of time with spouse!)
46. Subscribe to your FAVE stores emails for deals/coupons
47. Grocery Shop on SATURDAY to free your Sundays
48. Menu Out Dinner each night
49. Write Thankful Notes in your child's lunch
50. Pajama Weekends (if you can with the family!)
I hope you have some fun with this list of things to do in November. It's that middle month between Halloween and Christmas, so it's time to enjoy this one and really take it in. Make sure you embrace the season and find as many ways to be thankful. I even have created a THANKFUL printable for people to have some fun with, too right now.
Don't forget to follow me on Instagram to see what kinds of things we're doing this November!