Editing your life.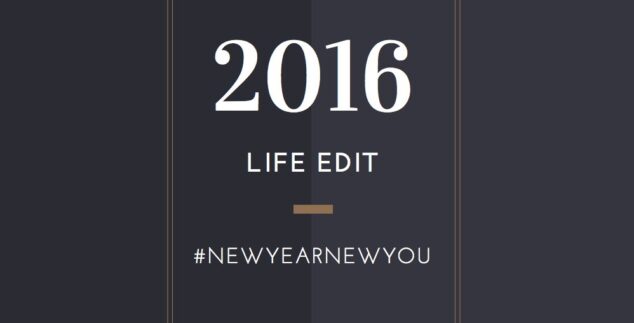 It's something that's important and healthy to do. I've always tried to "edit" down the things in my life when I can. When the toy room is getting out of hand, I edit it down by donating what the kids don't use. When my office is getting out of control, I edit it down by getting rid of the stuff I don't need. When the closets and dressers in our house are too much, I edit them down my giving stuff away to family/friends to donating to the local shelter. Editing is something I truly always stay up on and make sure I do throughout the year to keep (my) our home life sane.
Well… in 2016, I'm going to be doing a little different kind of editing. I'm editing the emotional and mental things in my life that don't bring me peace and/or happiness.
1. Negativity. In all of its forms, it's yucky. Whether we like it or not, we ALL have people in our life who are negative. Some people are family, so you truly can't just cut them out – but you can limit your time with them. I just don't want the negativity around me or my family. Negativity seeps into your mind, body and soul and it's just not healthy or good for anyone.
2. The non-supporters. It's crazy, but what sometimes hurts the most is when people in your life aren't supportive of you. It's been a tough lesson to digest and to realize, but some people just don't always want the best for you and it hurts (and it stinks) to come to that realization. Like with negative people, I can't actually cut these people out of my life, but I can limit my time with them. It's sad to saw this, but I say a lot of this in my life throughout this past year and it really hurt me to the core. I work really hard and I love what I do… to see people just be rude about it, it goes to the heart.
3. Facebook. I've been meaning to do this for the LONGEST time and I just have never had the chance to actually sit and do it. I'm going to edit down my personal friend list on Facebook. When I first went on Facebook, I would literally just accept anyone who wanted to "friend" me. Obviously throughout the years, I've gotten better at that, but there's still people I'm friends with who I don't know personally or (in all honesty) know at all! I've seen so many people do this lately, but it's time to bring Facebook back to the friend part. If we're friends, we're friends. If we aren't friends, then – well, we aren't friends. LOL!
4. Committees/Boards/Groups. This was something I started to do a few months ago and it felt freeing. As a mom, business woman, Rhode Island resident… there are opportunities to join groups and boards and committees. Many times I accept – without hesitation – and regret that I did so soon after. My life right now is crazy busy with trying to manage and run a household of 7 AND run my own business. When I have free time, I love to spend it with my family and dear friends. I found myself getting sick to my stomach all last year when I had meetings to be at when I just didn't have the time to be doing at them. It was crazy! I had to step down and/or decline (which was tough for me to do because I like being part of things) from a few certain things because of the time factor. I know everyone is busy, but everyone handles their own BUSY in different ways. I needed to be free from certain things so I could be with my family. The best part – I was sick to my stomach to be honest with people – but everyone took it perfectly and understood. I know going forward to edit the "extra" out of my life that I just can't fit.
5. The unnecessary stuff. I'm laughing as I write this because really – what is the "unesscessary" stuff?
It could literally mean anything. I want to keep things in my life simple and minimalistic. I don't want to have a lot of stuff in my house, especially stuff that I (we) don't need. I'm in the process of trying to go from room to room to room and edit the things out that aren't used or don't have any additional uses for us. I hope that makes sense! I just don't want stuff in my house for stuff's sake. And one thing that I always do, I always make "bags" for people in my life because I think that they may need it or use it later on. But here's the thing – I don't see these people often enough to "save" these bags! LOL, it drives my husband crazy. So this year – if it's not being used – clothes/household items/school items/books/etc – and I'm not seeing THAT someone I think it would be good for in the next week, I'm donating it. Easy, peasy.
OK, my 2016 edit list.
Sometimes it feels good just to get it down on paper! 🙂
What will you edit this year!?