My son Alexander is 12 months and 3 days younger than his older brother William. Being just 12 months apart, many people throughout their lives have loved to compare the two of them. Fortunately it's nothing that bothers them, but as their mom – I'm always aware and always on guard for them.
My oldest son William fell in love with swimming when he was 5 years old. He was definitely a little fish and a natural swimmer from Day 1. Since William loved to swim, we thought it would be easy for us to get Alexander into swimming, too. It was sometimes difficult to be on the pool deck because may people were so focused on his brother William, not really giving Alexander the chance to prove what he could do. Along with my husband, we were always Alexander's biggest cheerleaders. What I've always loved about my Alexander is that he's always been his oldest brother's biggest cheerleader, happier for him than sometimes William gets for himself. That's always made me so proud of Alexander. He's just a good kid.
Last year Alexander just really started to come out of nowhere. He got stronger in the water. He dropped time. He started winning races he had never won before. He started to become a little swimming force. It was been amazing seeing him just become what I always knew he could… and it warms my heart.
I recently sat down with Alexander and watched the trailer for the movie Eddie the Eagle.
Honestly, it made me cry.
As a mom… it touched my heart because to see a child chase a dream and just go after it, it's priceless. I watched that trailer as a mother and I saw a spark in my Alexander's eyes. He saw Eddie chase a dream and not let anyone tell him no. There's a power in that for a child. There's a beauty and a passion in seeing that kind of determination and devotion and dedication.
I asked Alexander what his BIG DREAM would be… he said making the New England Zones Swim Team this year.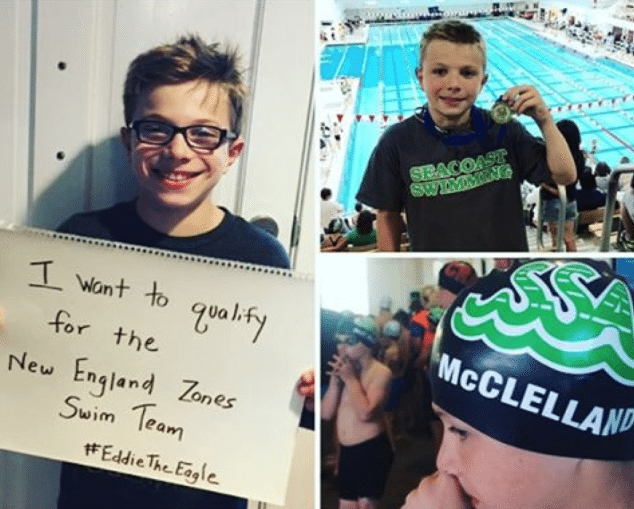 The times are tough to get and it's very competitive, but I know he can do it. He just needs to believe in himself and just let it happen. It's about never giving up… and that's the beautiful message in the new movie ‪#‎EddieTheEagle‬ coming to theaters this weekend! Make sure you see it with your child and find their next BIG DREAM!!‬