Living in New England and traveling to Vermont many times as a child/teen/young adult, I've known about Green Mountain Coffee® for as long as I can remember. Founded in 1981 in Vermont, Green Mountain Coffee® has grown from a local coffee shop to America's #1 Single Serve Coffee Brand. It truly is an incredible story. I was just in Burlington, Vermont with my family this past winter and it was wonderful to see the hometown love and pride of Green Mountain Coffee®.
What makes Green Mountain Coffee® so special and so delicious is that they carefully source the world's best coffee, using only the top 10% of coffee beans in the world in their 50 distinct coffee varieties. They take the time to make sure they're delivering their customers the best cup of coffee they can. Most people kick off their day with a cup of coffee, it's that first go-to in the morning, so you want to get it right. It's how you start off a great day!
What I personally love is that they have become one of the largest roasters of Fair Trade Certified™ coffee. For me and my husband, this speaks volumes about a company. For those not familiar, Fair Trade means a better cup of coffee for consumers and a better quality of life for farmers. By purchasing coffee through Fair Trade and supporting strong grower associations, Green Mountain Coffee® can help networks of small farmers improve their business practices, gain access to the global marketplace, and receive higher payment for their coffee. This is really remarkable for them to do and continue to be passionate about.
As a coffee lover, I appreciate a great cup of coffee and I always know I'm going to get that when I brew a cup of Green Mountain Coffee®. I love believing in a brand and I love knowing that I'm always going to be satisfied. Coffee really does help run my mornings with my 5 kids, so for me – it's a personal and emotional connection, too.
In celebration of bringing the best tasting coffee to consumers everywhere for 35 years, Green Mountain Coffee® has just unveiled their new "What If" campaign which is offering consumers the chance to discover their new favorite cup of coffee. If you've never tried Green Mountain Coffee®, now's your chance!!
The "What If" campaign offers consumers the chance to discover their new favorite cup of coffee for free.
Yes, free.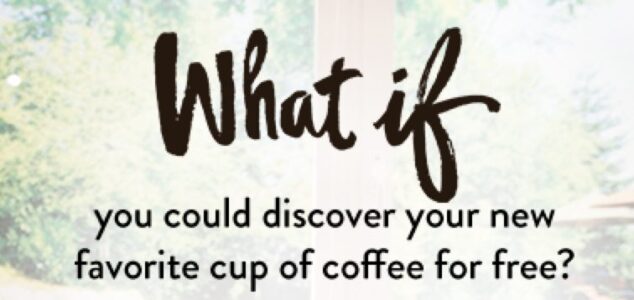 Over the next several weeks the brand will be distributing thousands of free Green Mountain Coffee® samples mailed directly to coffee lovers' homes. Pretty amazing, right!!?? You will have the chance in your own space to try the deliciousness of the coffee and really see and taste the Green Mountain Coffee® difference.
Share with me, what's your favorite Green Mountain Coffee beverage?
Disclosure: This is a sponsored posting with Green Mountain Coffee®. All opinions are 100% my own.