Can you believe we're already talking Back-to-School?
This year I have ALL of my kids heading to school…William into 7th grade, Alex into 6th grade, Ben into 5th grade, Henry into 4th grade and Victoria into pre-K! This back-to-school season is a REALLY BIG DEAL for our family because this year we're in a new school district since we moved this summer. My kids will truly be experiencing a new back-to-school this year. I'm excited and nervous for them both at the same time, but I know it will be great!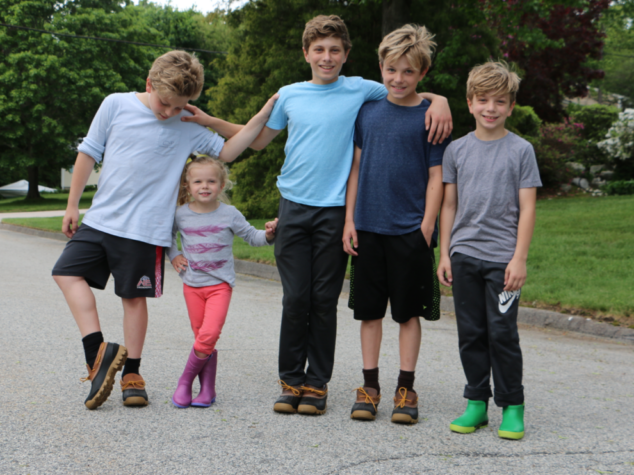 As you can imagine, prepping for back-to-school (especially for our family) starts EARLY! I don't want to be rushing around with just a couple days before the start of school trying to get everything that we need. I want to make sure everything is checked off my list in an organized and systematic way. After talking with tons of others moms and dads, I know I'm not alone in this back-to-school goal!
I'm thrilled to share that I'll be hosting a Twitter Party with STAPLES tonight (July 19th!) getting YOU ready and geared up for back-to-school time with Staples! We all want to prepare for back-to-school time like pros, so it's time to start getting ourselves in that mindset now! I can't wait to share some tips and advice as to how to get yourself (I mean, your kids!) ready for the BIG first day!
What will we be dishing about tonight?
I'll be sharing some of Staples's back-to-school deals and new offers, including the current backpack deal going on! Believe me, you don't want to miss this one! We'll be having a great conversation with how we all can start preparing NOW! I love working with Staples this back-to-school season because they have always been a longtime supporter of education and are an invaluable resource for schools, teachers, students and parents. As a daughter of 2 retired school teachers, I applaud Staples for giving back and doing so much for our classrooms throughout the country!
And if you haven't already heard, Staples and Lady Gaga understand the importance of supporting teachers and students, so they have partnered to support education and create positive classroom experiences this year! Staples donated $1 million apiece to DonorsChoose.org and Born This Way Foundation to support classrooms nationwide and to empower the nation's youth to spread kindness. These organizations recognize the correlation between kindness and overall well-being among students and how that makes kindness education a necessity.
Simply amazing!
Love for you to join me TONIGHT!
Details:
Host: @AudreyMcClellan
Brand: @Staples
Time 7-8pm (ET)
Hashtag: #StaplesBTS
PRIZES THROUGHOUT THE PARTY!
Woohoo!
Disclosure: This is a sponsored partnership. All opinions and 100% my own.