I'm all about a connected home, it is after all where the future continuously is going (and fast!). Even since I was a little girl watching The Jetsons, I've been fascinated with futuristic things and how life can be made easier for people. It's always been something I've been interested in and wanted to bring into my own life. Having a connected home with Amazon Voice is something that is very appealing to me because as a digital mom, I love bringing in technology and seeing what it can do for me and my family. I'm excited to share my Amazon Voice experience.
If you're like me or wanting to be more technology savvy at home in getting yourself connected, I've got a product for you to check out (and fast!).
Amazon Voice Products
Say hello to Amazon Echo Dot. This is a game-changer.
Why Amazon Voice?
It's simple, you can add Alexa to ANY room! And believe me, you're going to love Alexa!
Amazon Echo Dot allows you to control most electric devices through voice activation in your home. It's unreal and very Jetson to have right in your home.  The Amazon Echo Dot device turns any home into a smart home with the Alexa app on a smartphone or tablet, it's that easy.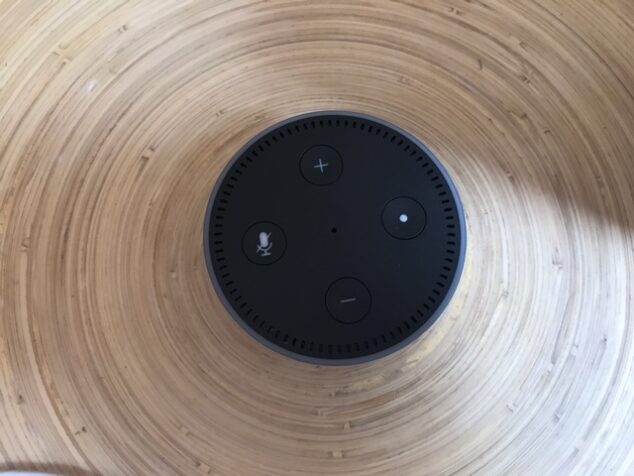 What are some of its features of Amazon Voice?
Uses the Alexa Voice Service to play music, provide information, read the news, set alarms, control smart home devices, and more using just your voice
Connects to speakers over Bluetooth or with the included audio cable to play music from Prime Music, Spotify, Pandora, iHeartRadio, and TuneIn
Includes a built-in speaker so it can work on its own as a smart alarm clock in the bedroom, an assistant in the kitchen, or anywhere you might want a voice-controlled computer
Hears you from across the room with far-field voice recognition, even while music is playing
Controls smart home devices like lights, switches, thermostats, and more with compatible connected devices from WeMo, Philips Hue, Samsung SmartThings, Nest, ecobee, and others
Always getting smarter and adding new features and skills
It's always fun to blog about cool products, but the best is actually seeing them in action. We have had our Amazon Echo Dot set-up for a couple of weeks now in our new house! We love it because it's like we've always had "her" (Alexa) right here with us! From finding out the weather in the morning, to putting on some cool music jams in the afternoon… she's here.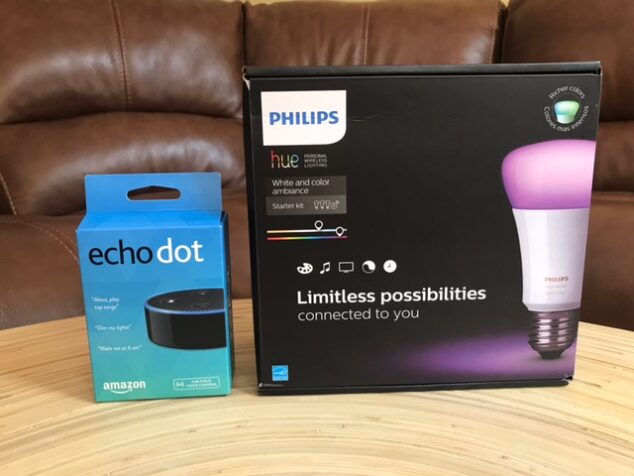 Amazon Voice
But the BEST is when you can sync up smart home devices with your Amazon Voice with Amazon Echo Dot, too! This is what my kids love and go super, duper crazy over when we sync things in our house up! Since I'm ALWAYS telling my kids to turn off the lights, I thought it would be fun to show how you can sync your lighting with the Echo Dot.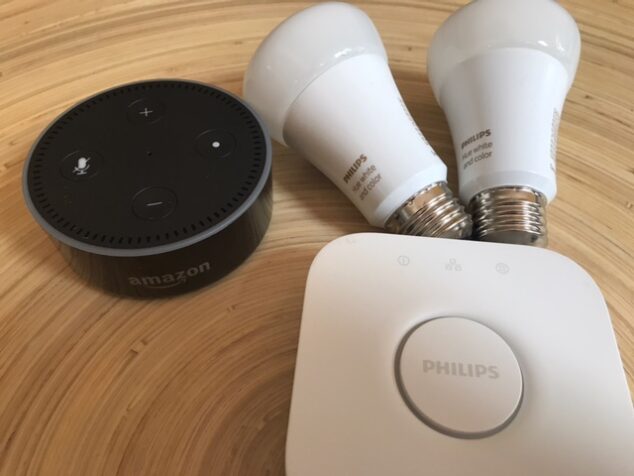 Best Buy sent along Philips Hue Smart Lighting System to sync up with my Echo Dot! Philips Hue enables you to wirelessly control the lights of your home. It can welcome you home, wake you up, get you energized, make you feel safe and much more.
Check out how much fun we're having with them!
Video showcasing Amazon Voice
Set-up was pretty easy, we just followed the directions that we located in the boxes and did what we were told to do! Easy, peasy!
Bring your home into the Connected Home world, you'll be glad you did!!
Thanks, Best Buy!
Follow Best Buy on SOCIAL:
Twitter  |   Facebook  |   Facebook  |  Instagram  |   YouTube
*Sponsored blog post. All opinions are 100% my own.