It's my Daily Mom Style! I have to say, all summer I kept saying to my husband that once the boys were back to school I was going to concentrate on my mom fashion style posts again! This summer chasing the 5 kids around, truth be told I was in the same shorts and bathing suit every single day. My fashion was pretty much the same day in and day out… it was all about working by the pool and watching the kids.
Now that school has started, I can play with my clothes and have some true fashion fun again!
Day 2 morning rush is in the books! I'm all about making my fashion easy, but chic this Fall. Off to the bus stop this morning with my boys and I wanted to wear something other than my robe with pajamas! LOL! I'm in love with graphic tees – always have been and always will be – so I grabbed my quintessential RI tee that says: "Coffee Milk" and my fave ripped up jeans! These jeans are button fly and super, duper comfy!
Since it was chilly this morning here in Rhode Island, I need a top layer! Jackets aren't even unpacked yet, not that I even want to wear one in the summer (because it IS still summer!)… so I grabbed my new
J.Jill Space Dye Yarn Topper
!  Talk about a perfect go-to item that make you feel chic and stylish!  Not to mention… my boys thought I looked "cool," so that's all that mattered to me today!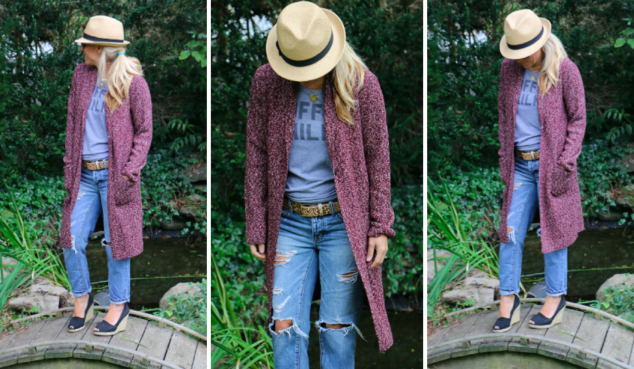 When I came home, I thought it would be fun to mix and match some layers! I grabbed the other J.Jill topper that they sent me that's the
Long Double Faced Cardi in black/camel! This is beyond comfy and totally doable with so may different looks!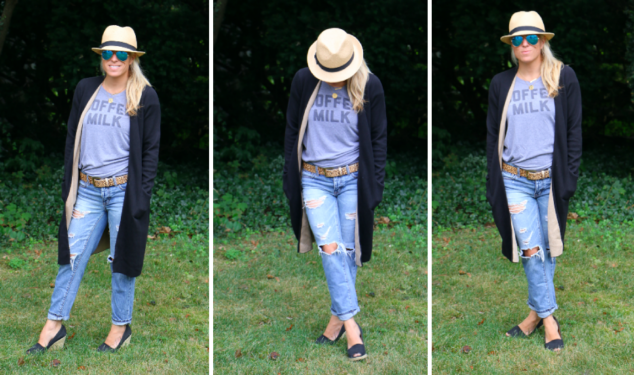 And… I found this adorable white blazer at a local shop in my new town! It's cute, right? I thought it would be fun to dress up the look a bit with this blazer! I'm digging the white, it's usually a color I wouldn't purchase in a blazer… but I thought it would be fun to try it!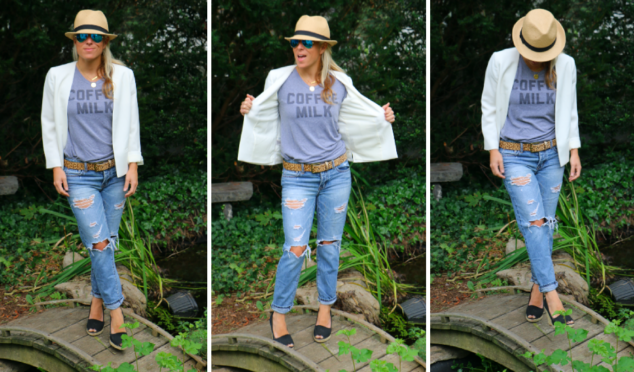 Just your morning Tuesday style!
Disclosure: J.Jill sent these sweater toppers for me to review.