101 Fall Activities to Do with your Kids! Are you ready!? Fall is (almost) here! Fall is my favorite time of year to do activities with the kids because there's SO MUCH to do!! When I was a little kid my mom would come up with Fall Adventures on the weekends and it was always so much fun to see what we would do!
Every weekend it was something different and it was always exciting for us as kids! I want to do that for my kids, especially with them getting older – it's even more important to me to do as much as I can with them as possible!
Fall Activities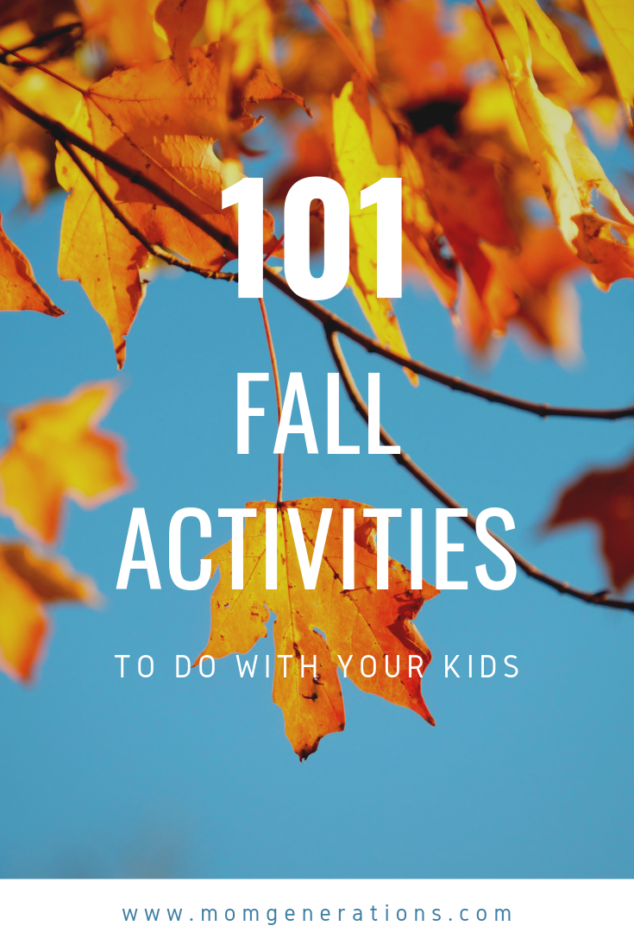 Every year I love to create a major bucket list of things to do in the Fall with my family. It's not always easy coming up with a ton of things, but I made it my mission to list out 101 things! I know that not all of these will be able to do, but I'll feel happy if I can get through a good bunch!
I thought it would be fun to share 101 Fall Activities to Do with your Kids with YOU! Print this list out and starting crossing things out as you go! I'd love to see what you can get through and also anything that I may have missed, too!
Ready?
101 Fall Activities to Do with your Kids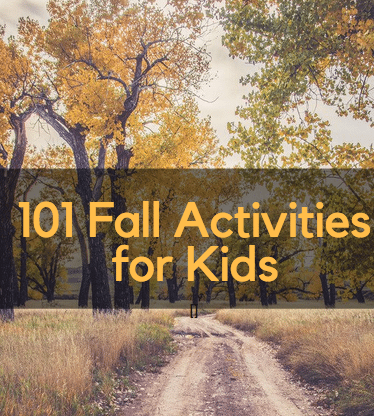 Please know that these are not in any specific order! I just wanted to create a full list for you.
Head to a Pumpkin Patch
Apple Picking
Nature Hikes
Decorate your House with Halloween Decorations
Visit a local Nursery
Go on a Hayride
Host a Football Party
Family Road Races
Jump in Giant Leaf Piles
Scavenger Hunts throughout your Neighborhood
Host a Halloween Party at your house
Join a Library Reading Club
Drive around to see the beautiful foliage
Decorate Pumpkins
Make your own Halloween Costumes
Bake a Pumpkin Pie
Enjoy some Hot Apple Cider
Visit a local School Fall Fair
Family Yard Sale
Weekend trip to a fun Fall destination (New Hampshire is one near us!)
Weekend of DIY Crafts
Find a spooky Haunted House to visit
Camping in the woods
Head to a Corn Maze
Switch over your Summer to Fall wardobes
Shopping trip for cozy sweaters
Fall Cleaning Weekend with the whole family
Hot Air Balloon Ride
Donation weekend with your family (find items to donate)
Neighborhood Block Party
Bike rides
Make an Apple Pie
Weekend Fall Sports (or sign up for some with your family!)
Carve Pumpkins
Play some spooky Halloween movies (Friday movie nights!)
Picnic in the park
Build a scarecrow
Start a Back to School time Journal
Bake Pumpkin Seeds
Find perfect apples to bring in to your child's teachers
Start preparing for Thanksgiving
Decorate your nails with some Fall designs (leaves, football, pumpkins, etc)
Fall haircut time
Halloween Crafts
Thanksgiving Crafts
Make delicious Apple Crisp
Buy a new bedspread for the Fall/Winter for your room
Morning walks before school
Try a new fun Fall makeup color with your daughter(s)
Create a Fall breakfast weekend menu
Visit a local Barn
Buy some Fall books for your home library to read before bed
Frame some old Fall/Halloween/Thanksgiving photos for your home
Bark tree Rubbings
Gravestone Rubbings
Visit the beach in the Fall
Sleep late one weekend morning
Sleepover in the living room with the kids
Cheer on the sports team at your local high school
Playdate with friends at a local playground
No technology weekend
Creating your own personal artwork for the walls
Work on a family calendar together
Read a book together every night as a family (regardless of age)
Breakfast for dinner once a week
Enjoy some outside dining before the nights get too cold
Host a meet-up with school friends after school at the playground
Walk to school one morning (*depending upon distance)
Morning yoga with your kids
Fall treats in lunchboxes as surprises
Learn to Knit
Donate unused jackets, coats and scarves
Pinecone crafts
Create a cozy reading nook in your house
Make turkey crafts
Invite your family over for a delicious Fall meal (for no reason!)
Decorate with beautiful mums
Have some fun with hay stalks in front of your house
Take some gorgeous Fall photos
Head to a local theatre
Playground fun on the weekend
Fishing trip
Visit Caverns
Build a tree house with your family
Make a birdhouse
Family soccer games in the evening
Join a Fall Baseball League
Volunteer at a local shelter with your family
Try to tie-dye items
Make a neighborhood obstacle course
Chalk sketches in your driveway
Peruse some Halloween shops
Visit Salem, MA (if you live close or research about it)
Fall boat ride
Bob for apples with your kids
Start a grateful journal – every morning share what you're grateful for
Make a living room fort with blankets
Update your photo albums
Dance party in the kitchen with the windows open
Fall swimming lessons
Cookout in the backyard
Make sure you check out this post too for the winter!