My son Alex begged me last year before school started for contacts. He's worn glasses since 1st grade and he really, really wanted a change. He was starting to get annoyed with glasses because there were tough to wear when he played sports (especially when he swims!) and they were beginning to leave marks on the tip of his nose. I could tell he was getting more and more frustrated. I finally gave him permission last summer and I have to be honest with you, contacts changed his life.
He LOVED them immediately!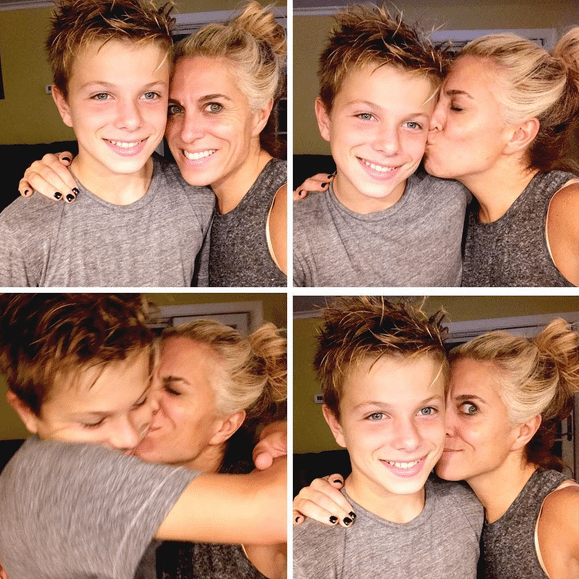 After sharing Alex's story on the blog I got tons of feedback from moms and dads asking me about contact lens advice… "How does he like them?"… "How is he doing with the maintenance of them?"… "Are they easy for him to get in and out?"… and many, many more!
Contact Lens Advice to Stay Safe
I was thrilled to connect with the American Optometric Association (AOA) and get some contact lens advice and tips from them. I feel that contacts are truly a wonderful option for kids and adults alike, so I'm happy to share this important information with you!
What are common eye injuries associated with contact lens use?
According to the Centers for Disease Control and Prevention (CDC), "there were an estimated 988,000 visits to doctor's offices, outpatient clinics, and emergency departments for eye infections and contact lens-related injuries in 2014." From eye-eating amoebas to keratitis (aka an eye infection) it's enough to make any parent cringe in horror. Fortunately, these cases are rare but it's still important to keep an eye on your child's lenses.
Is there any contact lens advice to help my child to avoid these sort of eye injuries?
Luckily, there are some very basic good habits you and your child can adopt when it comes to contact lens safety and care.
Encourage your child to give the contacts a rest every once in a while! It's important to alternate between glasses and contacts to ensure you're giving your eyes a chance to rest. Over-wearing your lenses can cause permanent eye damage from bacterial infections and oxygen deprivation. Yikes! A rule of thumb – contact lenses are like underwear so you don't want to over-wear.
Don't let your child sleep in their contacts! If the contacts are not approved for continuous overnight use, sleeping in lenses does increase the risk of an eye infection. Fifty-nine percent of those interviewed for The American Optometric Association's 2015 American Eye-Q® consumer survey admitted to wearing disposable contact lenses longer than the suggested duration. This bad habit can cause permanent eye damage from bacterial infections and oxygen deprivation. If your child typically falls asleep with his/her lenses in, talk to the optometrist during the next appointment about extended use lenses.
Sharing is caring but not when it comes to contact lenses. When you share contacts, you share a lot more than just a lens, such as eye germs and bacteria. Even if their friend says it's cool, make sure your child knows that sharing contacts is a big no-no.
Remind your child to clean and rinse lenses with proper solutions, not tap water. Contact solutions remove mucus, secretions, films or deposits that can build up during wearing and lead to bacterial growth if not removed properly. Encourage your child to use a multi-purpose solution each night to keep contacts fresh.
Be a good role model. If you are a contact lenses wearer, show your child the right way to do it by exercising good contact hygiene and seeing your doctor of optometry on an annual basis. Your child will mimic your good behavior.
My child is nervous about putting in his/her contacts, or losing them behind his/her eye! What should I do?
Although using contact lenses for the first few times can be a little scary, remember practice makes perfect! If you or your child is nervous about contact lens wear, your local doctor of optometry can help to walk you through the process of handling the lenses. Using a mirror often helps patients see what works best for them.
Also, good news: contact lenses cannot get lost behind the eye! Sometimes rubbing your eyes can cause a contact to move around on your eyeball, but a membrane—the conjunctiva—that covers the entire eye will prevent it from getting "lost". If the lens has moved and is not visible, stay calm and put in a few drops of saline solution to moisten the eye and look to the side and lift your lid. When you see the lens, use the tip of your finger to move it down. If this keeps happening, make an appointment with your eye doctor to check the fit of your lenses.
Is there any other contact lens advice I can use to protect my child's vision?
Book your child's appointment with his or her optometrist every year! Did you know that American Optometric Association's (AOA) recommendation on comprehensive eye exams has recently changed? According to the AOA's new evidence-based guideline, children ages six to 18 years should receive a regular, in-person, comprehensive eye exam before entering the first grade and annually thereafter. You can find a doctor of optometry here to schedule an appointment and talk to your doctor about finding the right brand and fit for their eyes and answer any questions you or he/she may have about contacts or contacts care. 
My child was offered a routine vision screening at school and our pediatrician's office; isn't that enough?
No. In their initial stages, many vision and eye health conditions lack obvious signs or symptoms. Doctors of optometry cannot rely on performing routine vision screenings to catch most vision problems. In fact, these tests fail to reveal a wide variety of eye and overall health conditions that a doctor of optometry can only catch through a comprehensive eye exam can catch. Even if problems are detected, 61 percent of those children with a problem will not receive appropriate follow-up from a doctor of optometry. Evidence demonstrates that the best course of action is following an annual eye exam schedule.
Comprehensive eye exams go beyond vision screenings offered at school or in a pediatrician's office. A doctor of optometry is part of a child's healthcare team and can diagnose and treat eye conditions that may affect overall health, such as glaucoma, brain damage, and head trauma.