Best Day Ever Strategies for Moms? Looking to have the best day ever? How about looking to just have a great day? Sound good? I think that these are strategies that every person (not just moms) should be trying to work into their lives. It's something that I feel really helps get you in the mindset to crush your day! I'm so excited to share these because I'm all about supporting each other and doing what we can to spread the word about giving yourself the best day ever!
Best Day Ever Strategies for Moms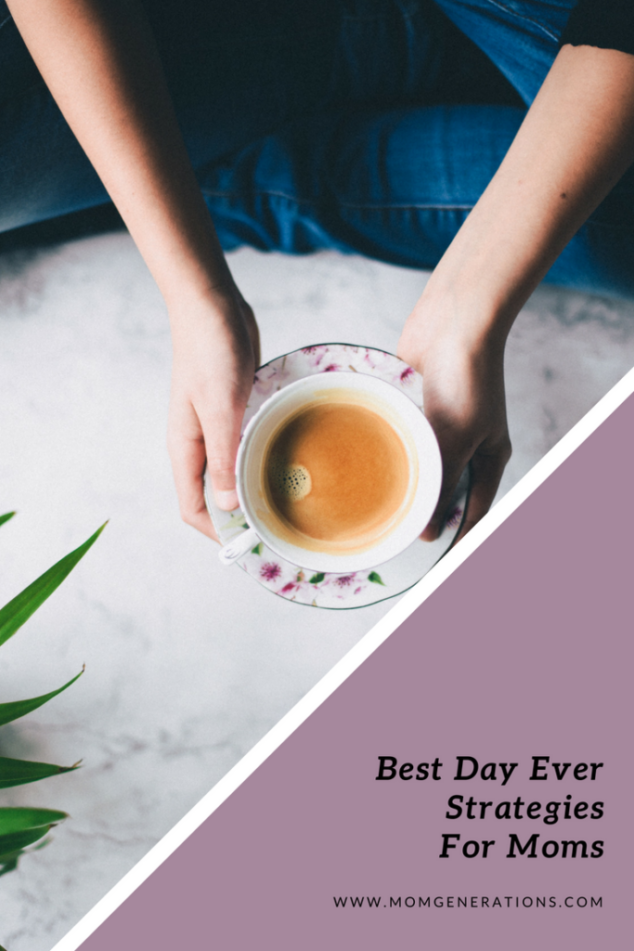 I vowed this new school year that I wouldn't be crazy and chaotic and busy in the morning like a dog chasing after a bone. I have failed miserably at that vow! The mornings are NUTS in the McClelland house! There are 5 kids running around. 3 different school drop-offs. 5 different backpacks to pack. 5 different lunches to make. 5 kids to make sure have all brushed their teeth, done their hair and dressed (as nice as can be!) for school. It can be a little nutty – as one can only imagine!
So far 2018 hasn't given our family the best days ever. We've all been hit with this awful cold or flu going around, it's just horrible! First my husband, then my daughter, then ME and now 3 of my sons! It's been  real tough trying to get everyone better because once someone turns the corner, another one goes down! It's gotten me a little defeated, but I'm determined to have the best days ahead! I thought it would only make sense today to share some strategies that I am and will continue to implement as the days go by this year! Having the best day ever changes everything! Even waking up determined to have the best day ever helps!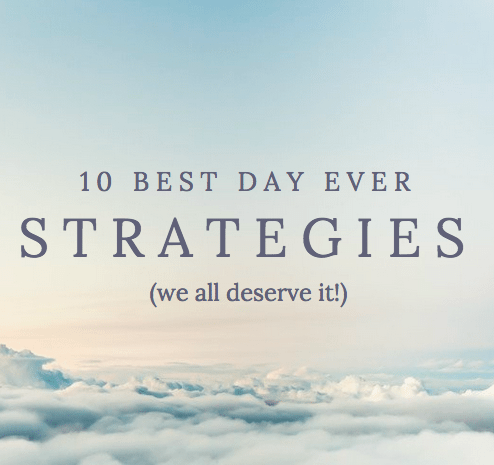 Here are 10 things you can do to make sure you have the BEST DAY EVER!!!
Wake up early! I know, it's not always easy to do the morning rise and shine – but it's worth it! There's something really relaxing about waking up early and not having to deal with the morning-rush. If your mornings are like mine with a lot of craziness going on, you need a little extra time to just be in the morning!
Morning cup of coffee with the news. This works for me like a charm. Before I really kick off my day, I make a cup of coffee and sit on the couch enjoying the news (on the TV!) for about 20 minutes or so. The house is quiet. I can put my feet up and see what's going on in the world. I can just give myself a little me-time before it's time to hit the pavement and roll!
Outfits ready. I started doing this for myself when I was in elementary school and what can I say – it stuck! Every night before bed I layout my clothing (and for my kids, too!) for the next day. Even on days I don't have to be anywhere, I still layout clothing!
Lunches the night before. Prep as much as you can the night before. I love to prep all of my dry snacks the night before, it just makes it easier on me in the morning. Now I'm packing 5 lunches, so I'm looking for anyway which way to cut down time in the morning for myself! I love seeing everything 60-70% done in the morning.
Clean counters, clean sink. This is something I've been doing for years and it REALLY makes a big difference in the morning. Before you head to bed (regardless of how tired you are!) clean off all your counters and clear your sink. I'm telling you, there's something really incredible to coming down to a clean and sparse kitchen in the morning. It really makes a big difference.
Blood pumping. There's nothing like a little morning workout! It gets the blood pumping and it kicks you off with the day loaded with ENERGY! I used to do this last spring and am going to start this up again!! I don't go super crazy in the morning, I love to power walk, jog or do some cardio fitness DVDs. It's just to get my blood moving and it really does help me! You don't need to do it every single day, but make sure you bring some workouts in!
Drink Lemon Water. Yes, it has to have lemon! Why? Drinking lemon water as soon as you wake up spikes your energy levels physically and mentally. By improving nutrient absorption in your stomach, it gives you a steady, natural energy buzz that lasts the length of the day. You need to drink it first thing in the morning (on an empty stomach) to ensure full absorption. Lemons are chock full of nutrients, such as potassium, vitamin C, and antioxidants. 
Layout your day. Get organized and ready for the day. Start your to do list. Start prioritizing what needs to get done. Start getting yourself ready to rock and roll! You want your day to be full and accomplished, get its ready!
Do a load of Laundry. This is so helpful for me! Every single morning I start a load of laundry! It's so helpful to always have one going!
Stop for Lunch. Make sure YOU EAT LUNCH! This is vital! I can't tell you how many times I look at the clock and it's 2PM! Where did the day go?? Stop and eat. You deserve it.
Check out our Permission to Hustle Podcast, too! This will also help you have the BEST DAY EVER!
Also – check out my YouTube Channel for ways to crush your day and add a little entertainment into it!