Are you planning a trip to New Orleans!? I went to New Orleans Girls for a Trip with Vera Sweeney! It was the best trip I've ever been on and I'm dying to share with you all about it! I haven't been on a girls trip in a really, really (REALLY) long time. I think the older we get, the more we need to make sure we're spending time with the people who make us better and happier. I wasn't sure what to expect on this trip because we're not crazy party goers, but it was so much fun and there's so much to do in New Orleans!
Planning a Trip to New Orleans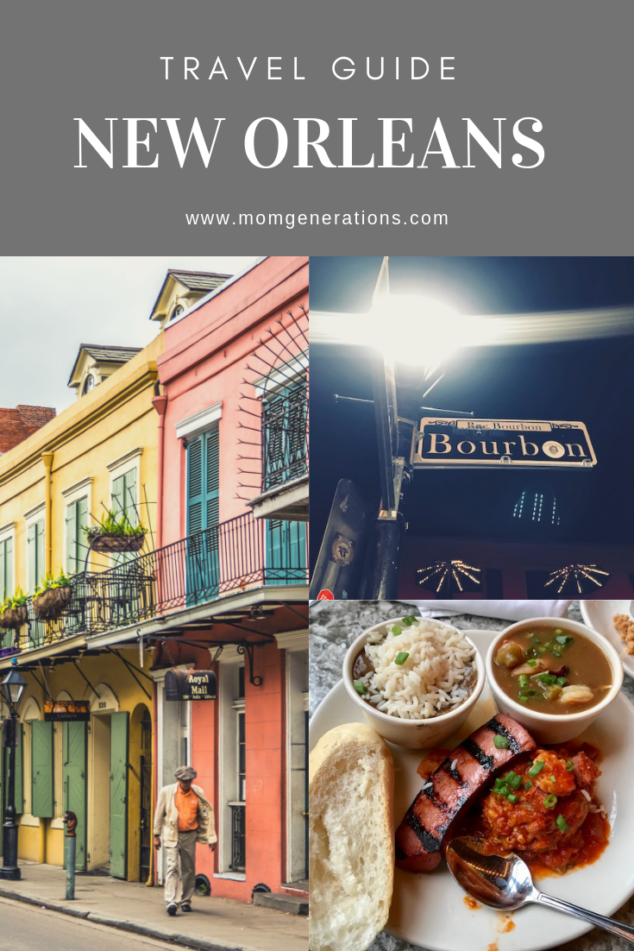 First – let me preface this New Orleans Girls Trip with these 3 statements:
1. Every woman needs a Girls' Trip!
2. Every mom should be required to take a Girls' Trip (at least once a year)!
3. New Orleans needs to be a destination for your next Girls' Trip.
Many people see Vera and me traveling throughout the country for work. We have become travel buddies and know each other inside and out. It's always fun to travel with Vera because we make each other laugh and we always (always, always) have a good time when we're together. Usually when we travel it's strictly for work – we're at a conference, we're speaking somewhere, we're at a brand activation or we're in business meetings. Very rarely do we get a getaway with each other and just be able to relax, enjoy and have a good time from sun up 'til sun down!
Planning a Trip to New Orleans
In New Orleans, we were able to do just that – relax, enjoy and have some girlfriend fun! To be honest with you, I didn't really know much about New Orleans except for its iconic Bourbon Street.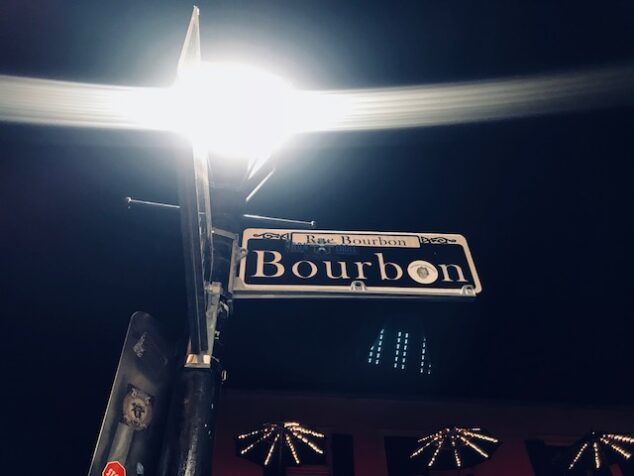 What I loved was that Vera and I were able to experience some new places, new food and new adventures together. I'm excited to share with you what we did, where we stayed and where we ate! It was a whirlwind of a trip, right before the holidays (December 15-18th), which was actually a wonderful time to go for us because it was nice to have some fun before the chaos of the holidays.
We stayed at the Royal Sonesta Hotel right on Bourbon Street, which was amazing because we were up close and personal to the energy and vibe of the French Quarter.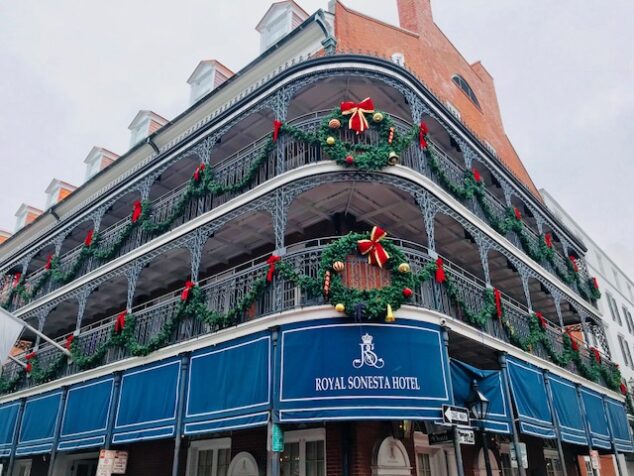 Planning a Trip to New Orleans – Where to Stay
As soon as we exited our Uber on the first day and saw where the hotel was located, we knew it was going to be a fun weekend! The decor of the hotel was classic and elegant and luxurious. As their website says, "Traditional gabled windows, rich colors and linens accented with fresh flowers, wrought-iron balconies, and a lush courtyard create an experience unlike any other. Royal Sonesta New Orleans offers the best of the Big Easy all under one roof. The hotel is home to several dining and entertainment venues, where you can take in the local flavors from Cajun and Creole at Restaurant R'evolution to coffee at PJ's Cafe and fresh seafood at Desire Oyster Bar. Hit our club The Jazz Playhouse, voted best for hotels on Bourbon Street New Orleans, LA. Or unwind with a cocktail at Le Booze, one of our five bars."
We each stayed in our own room, which was nice because we had the extra space to stretch out and completely relax at the end of the night (and I didn't have to listen to Vera's sound machine!). The guestrooms were beautiful!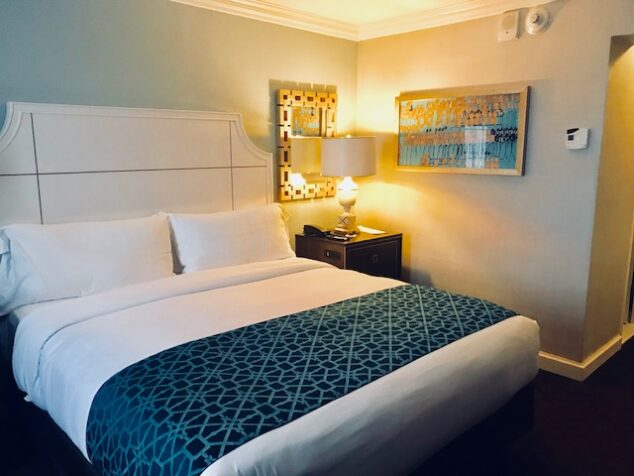 The decor was modern, but classic and timeless. The colors in the rooms were serene and peaceful. I'm obsessed with gold fixtures and accents, so I loved seeing these touches in my room. I took a couple of photos of the accessories and texted them to my husband for some inspiration! There was ample room to spread out, especially for us, considering we packed like we were going away for a month! And! The hotel bathroom got 2 thumbs' up from me! I was easily able to spread out all of my essentials on the counter. I love when I have the ability to do that, not crammed into a small space. The older I get, the more in-tuned I'm becoming to the easy of things like this.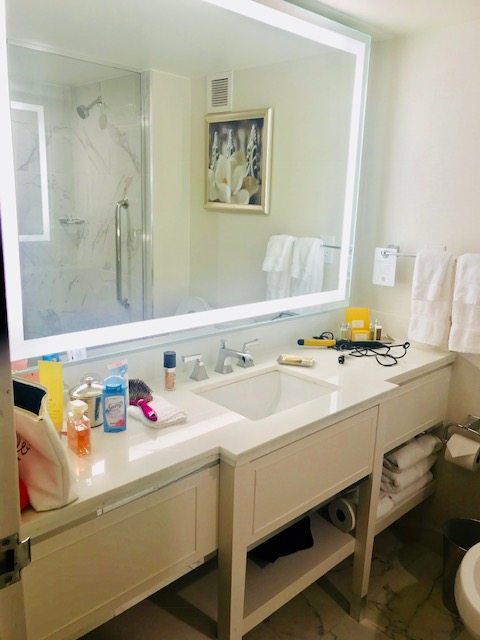 As you can see, lodging for us was a win-win! If you're looking for a place to stay, definitely check the Royal Sonesta Hotel. It's literally in the middle of the French Quarter, so it's an easy and accessible place to get to many different places by foot in the French Quarter. If you're looking for an experience like this, this is your hotel!
Where to Eat – Planning a Trip to New Orleans
We had our very first meal at the Desire Oyster Bar, which is directly connected to the Royal Sonesta Hotel. We were told that the Desire Oyster Bar offers one of the most authentic dining experiences in New Orleans, so we were excited to head on in and feast. We immediately grabbed a table overlooking Bourbon Street for lunch and took in all the sights while enjoying our meals. Since we're both not local and (I'll be honest) I'm not a foodie, we asked our waitress to recommend spotlight dishes that we just had to try. This became a theme all weekend for us – asking for recommendations from people who know the lay of the land the best. For lunch we each had the Creole Trio – Creole Gumbo, Jambalaya, Red Beans and Rice, Smoked Sausage.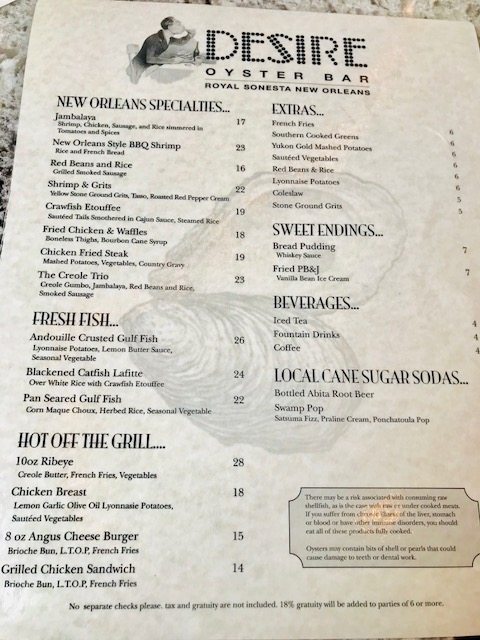 It was incredible! Definitely a meal I would recommend to anyone heading here for lunch or dinner. You get 3 samplings of New Orleans food that is out of this world delicious! We also tried Fried Alligator, which was a treat within itself (and tasted like chicken!).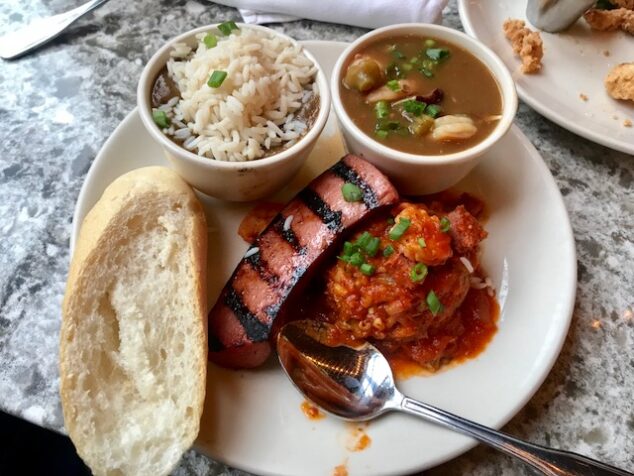 Planning a Trip to New Orleans – Do a Tour
Since we wanted to make sure we did things that would enhance the New Orleans experience, we knew going out on a Haunted Tour would be something fun. OK… I'm terrified of things like this, but Vera LOVES them! So, as a great best friend, I tagged along. We went on the 5-in-1 Haunted Ghost and Mystery Tour, guided by Lisa (who was phenomenal).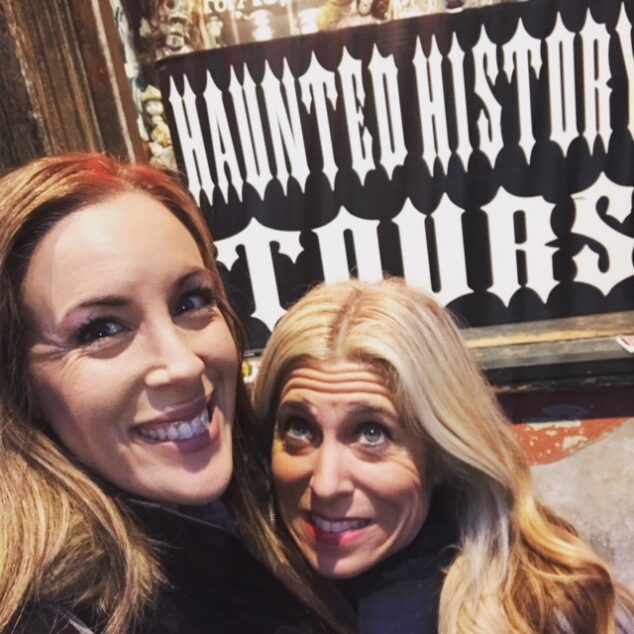 The tour is about:
Ghosts, Vampires, Witches, Voodoo & Unexplained Mysteries all together in one tour. Follow our licensed guides into the dark alleys and secret courtyards for the thrill tour like no other. Hear the tales of unsolved murders and crimes of passion that left their ghostly imprints in our history. Follow the footsteps of a mysterious serial killer many believe was something other than human. Find out why things aren't always what they appear to be in the hidden corners of the French Quarter! Perfect for those who only have time for one tour and want a little taste of everything.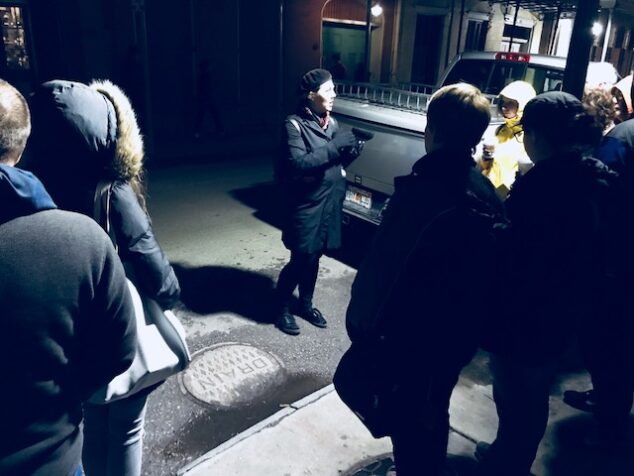 I have to say, it wasn't too scary, but VERY interesting. What I loved about Lisa's tour was that she gave us so many stories about the history and folklore and tales of New Orleans and she kept saying to us, "I'm here to tell you stories, you draw your own conclusions." I didn't realize so much about the history of New Orleans and the people until I took this tour. It really brought us through so much history and fun with history, but through interesting and mind-boggling stories. Definitely a must do!
Planning a Trip to New Orleans – Planning a Dinner
For dinner on our first night we dined at the recommended Meauxbar, located on the corner of Vieux Carre, one step off the brand-new Rampart Streetcar line and across the street from lush Armstrong Park.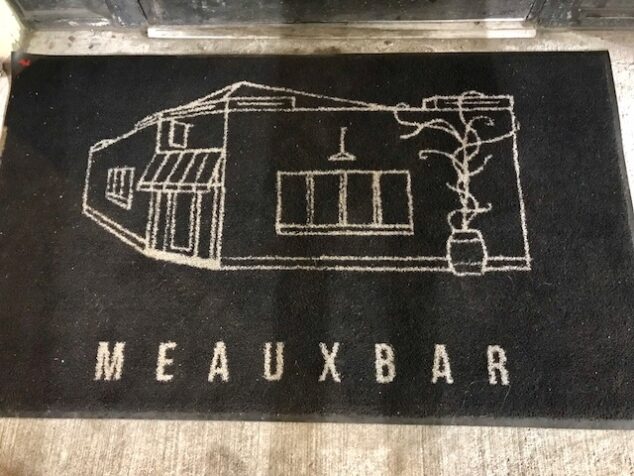 The second we saw Meauxbar on the corner, we knew it was going to be perfect for us. It reminded me of a trendy place that you'd find in Soho in NYC. They have an authentic menu and creative, intimate bar. We kept saying it would be the perfect spot for a romantic date!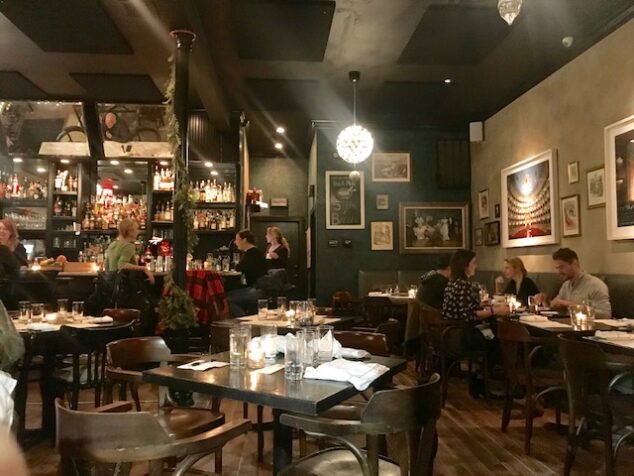 I kicked off my meal with their Kale Salad and then my main course was Seared Scallops (recommended by our waiter!). Everything was delicious! And – of course – you can't have a dinner without dessert in New Orleans!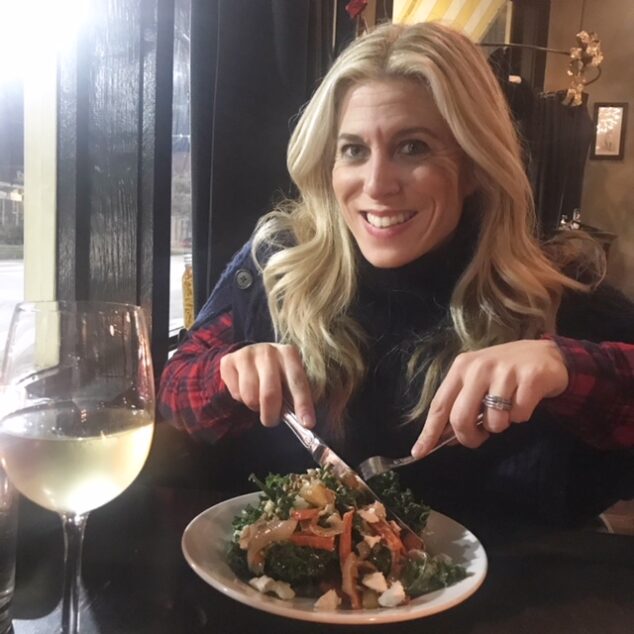 I swear it's not even an option here. We left stuffed as can be, but loved every single second. As a matter of fact, when we got back to the hotel and heading up in the elevator, we recommended Meauxbar to a couple. I hope they loved it!
Planning a Trip to New Orleans – YOU NEED TO GET BEIGNETS!
Our next day was packed from beginning to end with lots of fun experiences. We kicked off our Saturday at the iconic Café Beignet on Royal Street. It's funny – just when you think the whole City is sleeping at 8:30am – you walk around the corner and see the line outside there. It's THAT kind of iconic! And as you can imagine, we dined on delectable BEIGNETS for breakfast!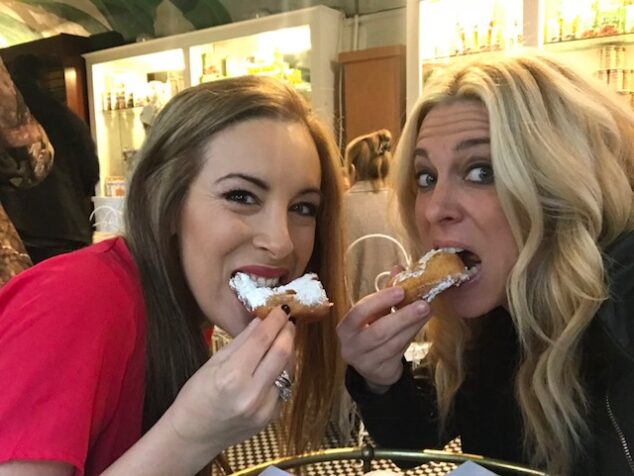 Café Beignet is a cup full of New Orleans' best European traditions. For two hundred years, New Orleanians have savored every sip of their rich coffee accompanied by delicate, crisp beignets (ben-yays).
These golden squares, usually dusted with powdered confectioner's sugar, can best be described as a cross between a French pastry and an American doughnut. In New Orleans, beignets are enjoyed at a breakfast, for dessert, or any time for a special treat.
We even went back to Café Beignet for a sweet dessert the next day. We couldn't help it! Once you have a beignet, you just consistently want another. They were perfection… light, doughy and covered with powered sugar. I mean… COVERED! Great way to kick off the day!
Planning a Trip to New Orleans – MUSEUM!
The next stop on our 2nd day was to the National World War II Museum.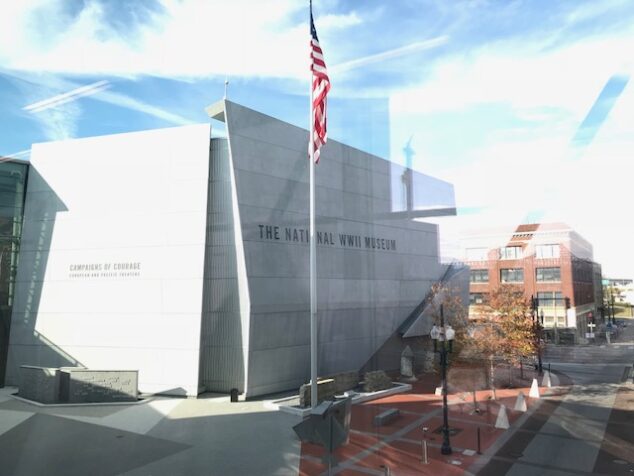 I have to say – this was one of my most favorite things to do and experience while in New Orleans. I couldn't believe how moving this Museum was for me and how impactful it was to tour and view and visit. If you're ever in New Orleans, the National World War II Museum tells the story of the American Experience in the war that changed the world–why it was fought, how it was won, and what it means today–so that all generations will understand the price of freedom and be inspired. It was incredible to stop and think that my grandparents were alive during this time. My grandparents experienced this piece of the world in their lives. It was really very, very powerful and moving.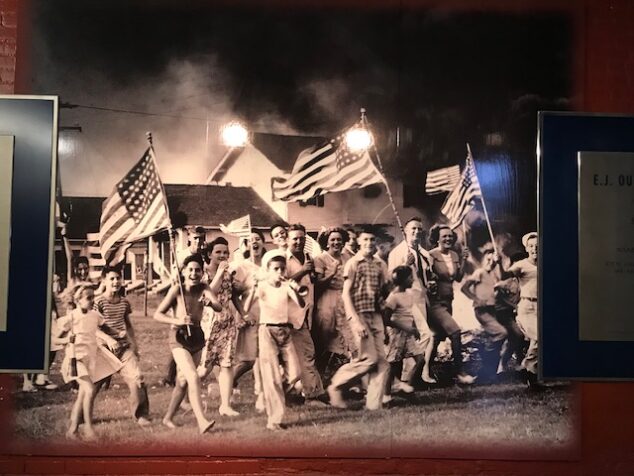 While we were there, we were told that a must-do was to view the movie Beyond All Boundaries. This was incredible. I mean, INCREDIBLE. Beyond All Boundaries, showing exclusively in The National WWII Museum's Solomon Victory Theater, is a 4D journey through the war that changed the world. This Museum-produced film experience is narrated by executive producer Tom Hanks, with Phil Hettema serving as show producer and creative director. Beyond All Boundaries features dazzling effects, CGI animation, multilayered environments, and first-person accounts from the trenches to the Home Front read by Brad Pitt, Tobey Maguire, Gary Sinise, Patricia Clarkson, Wendell Pierce, and more.
I wanted to buy something for myself at the gift shop to remember the experience, and as soon as I saw this iconic sign – I bought it for my Vision Board!
For lunch we were off to Cochon Butcher!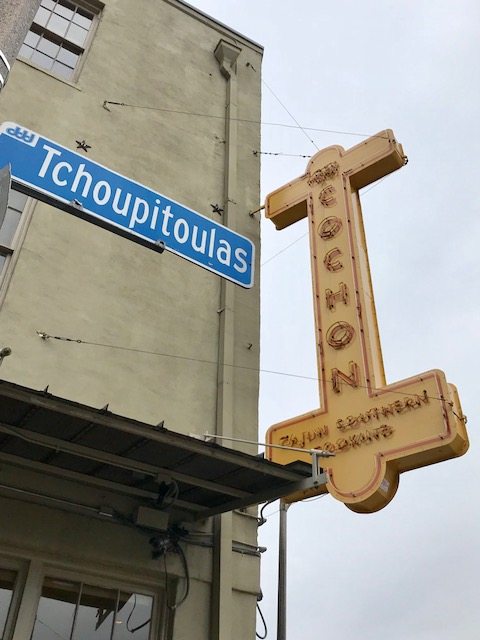 Planning a Trip to New Orleans – LUNCH SPOTS!
What was so cool about this restaurant? Let me share this… Established in 2009 in the New Orleans Warehouse District, Butcher is a butcher shop, a sandwich counter and a wine bar located next door to Cochon. Chefs Donald Link and Stephen Stryjewski offer small plates, daily lunch specials and dinner entrees. Inspired by old-world meat markets, Butcher specializes in house made meats, terrines and sausages. The fresh cuts are handpicked, and the ready-to-cook items are available daily. Butcher offers an array of house made pickles, jellies, jams and sauces, as well as a carefully curated collection of handmade knives, cutting boards and branded merchandise.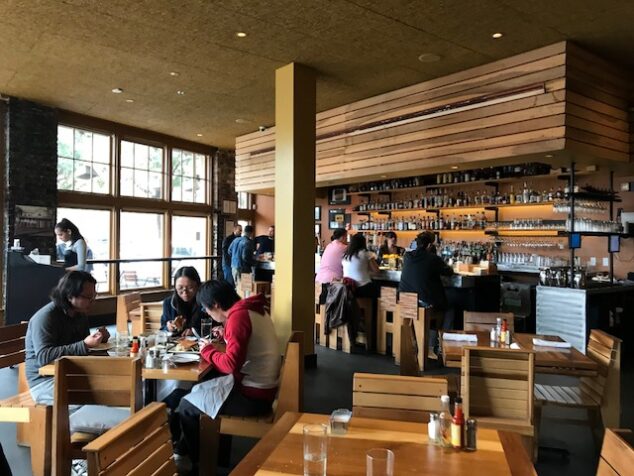 I love how warm and friendly Cochon Butcher was to walk into! It was the perfect destination for a yummy and relaxing lunch. The staff was awesome and (per usual) gave us perfect recommendations. I – of course – had pork and it was insanely delish!
Planning a Trip to New Orleans – MUST VISIT!
After lunch, we went to Mardi Gras World! Talk about a world within a world! Mardi Gras is what New Orleans is known for and it was absolutely incredible to learn about the history of Mardi Gras AND (the coolest) see what goes into making a Mardi Gras!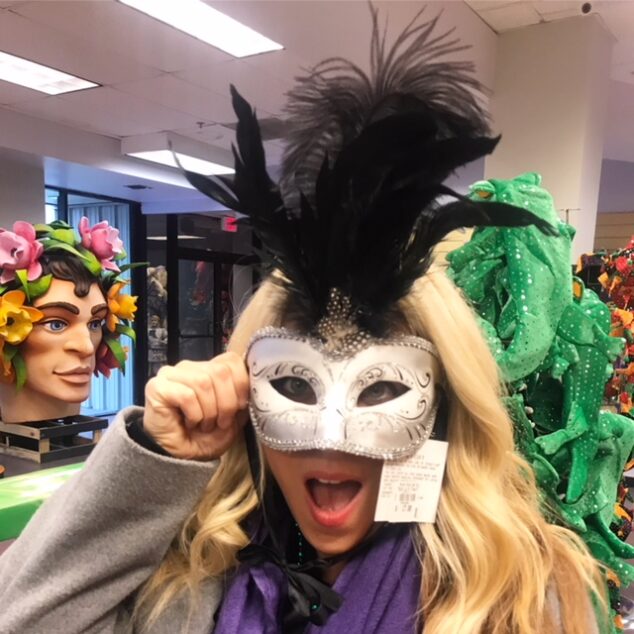 When you visit Mardi Gras World, you see the largest float designing and building facility in the world. That's right – in the world! Believe it or not, but more than 80 percent of the floats that journey down New Orleans' streets during the Carnival season are designed and built right HERE.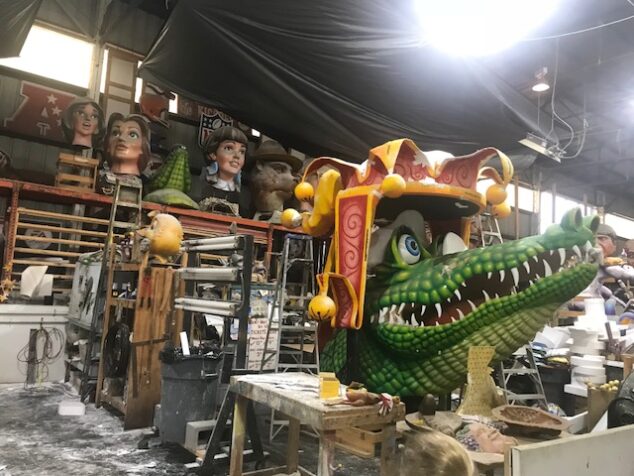 The history began back in 1947 by float designer and builder Blaine Kern and truly an empire was born. Mardi Gras World provides visitors with the opportunity to wear authentic Mardi Gras costumes and tour enormous warehouses filled with floats. The tour includes a short video and a tour on Mardi Gras history and customs.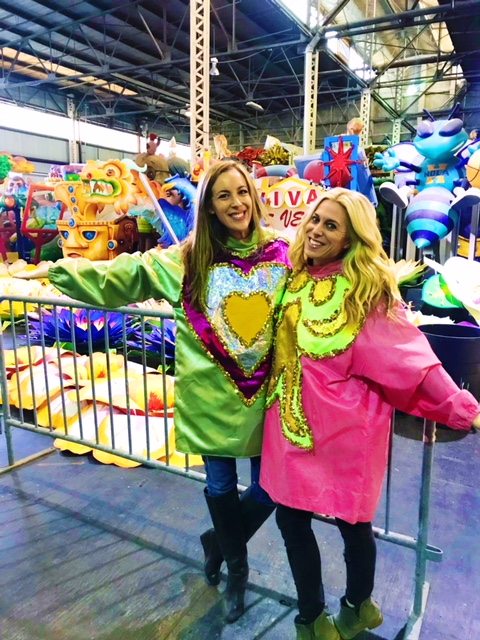 I could have spent hours just walking around and gazing at the different floats. They were MASSIVE and just creative and unique and overall amazing! This should be a definite MUST-DO on your New Orleans itinerary!
Planning a Trip to New Orleans
And to wrap up our second day, we experienced Celebration in the Oaks. I feel like this is a HUGE local thing to do, most likely like visiting Manhattan in New York during the holidays. It was packed with people and filled with families all excited and anxious to see the beautiful holiday lights. If you've never experienced this in New Orleans, it is VERY cool to check out!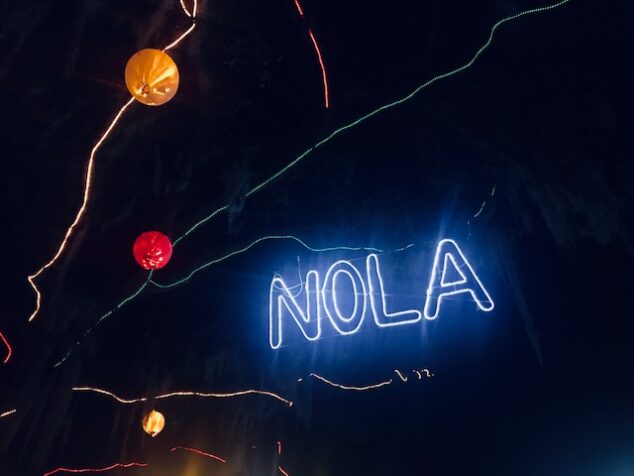 Celebration in the Oaks in City Park is one of the most spectacular holiday lights festivals in the country, with more than 165,000 visitors pouring into the Park to see the magical winter spectacle. City Park's famous oaks are covered thousands of twinkling lights and breathtaking light displays are scattered throughout 25 acres of the Park, including the Botanical Garden, Storyland, and Carousel Gardens Amusement Park.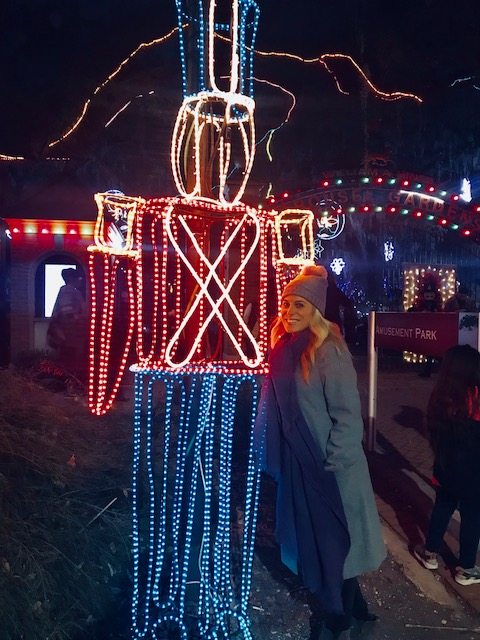 It was adorable to see the kids so excited about the lights… I kept thinking how much my kids would love it! Vera and I had a wonderful time walking around and taking in the all the sights. Usually when I'm with my kids, I feel like we do a lot in fast forward motion, and it was nice to relax and take in these magnificent sights during the holidays.
As you can see, we had a ton of fun in New Orleans!! I have a bunch more to share with you, so make sure you check out my next post, too! It's Part 2 of The Ultimate Girls Trip in New Orleans! If you're going to do New Orleans, you may as well do it with a best friend! You will experience everything together and have memories that last a lifetime!
Planning a Trip to New Orleans – IT'S A MUST DO!
Disclosure: This was a sponsored Travel Trip with New Orleans Convention and Visitors Bureau. All opinions and photos are mine.