If you're looking for the ULTIMATE Girls Trip, New Orleans Trip needs to top your list! I traveled with my bestie Vera Sweeney to New Orleans this past December for some much needed time away together! We had been craving time to relax, enjoy and just have some good old fashioned best friend FUN! As I said in my previous post (because this is Part 2, check out Part 1), many people see us traveling throughout the country for work. We really have become travel buddies and know each other inside and out. Here's the thing, we just very rarely get a chance to get away with each other and just be GIRLS! We're always working-working-working, which is fun because we love to work… but it was so nice and refreshing to go away and not have any business meetings to rush to!
New Orleans Trip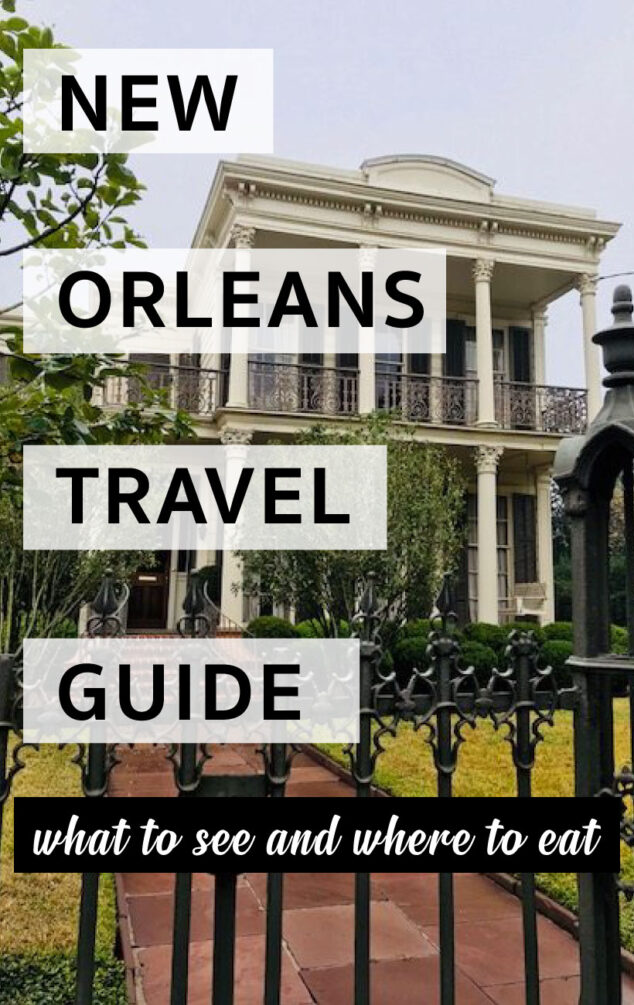 New Orleans provided the PERFECT back drop for us of FUN! New Orleans is such a magnificent city… you have history, you have fun experiences, you have incredible food, you have wonderful people, you have all the ingredients you need to create a memorable trip.
In my previous post, I shared what Vera and I did during the first two days of our trip, and in this post, I'm going to share what we did the last two days of our trip. I thought that giving you a play- by-play would be fun and make it easier to digest how you can create an easy and enjoyable itinerary for yourself!
New Orleans Trip
So here's the funny thing about the last 2 days of our trip in New Orleans — it rained. And I don't mean "rained," I mean POURED! It was crazy! I'm used to rain, but this was a pouring rain all day long. It rained so hard that our 1st experience of the day, which was to be a Creole and Crescent Bike Tour with Freewheelin' Bike Tours got canceled. We were so much looking forward to our bike tour, but completely understood the need to cancel it. Just so I can give them a shout out, because their customer service was amazing, the team from Freewheelin' Bike Tours called us that morning and kept us in the loop about the weather. We SO appreciated them being on top of it. If you're heading to New Orleans and want to take a bike tour, here is where we were scheduled to go:
Creole and Crescent Tour Highlights:
• French Quarter & New Orleans History
• St. Louis Cemetery #3
• Treme (The REAL one)
• Esplanade Avenue
• Frenchmen Street
• The Marigny
• Armstrong Park and Congo Square
• Bayou & Faubourg St. John
• Coffee & Beignets in City Park *(price of your food & drink not included in tour price)
• And beautiful New Orleans scenery throughout the entire ride
When this tour was canceled, we did the next best thing that we could do – we went directly to the concierge at the Royal Sonesta Hotel. You know what his advice was to us (because we said we needed to head out and experience something!)?
"Buy an umbrella and start walking, girls!"
We laughed, but he was serious. He gave us a French Quarter map and highlighted all the different places that we could easily get to on foot (yes, even in the rain!) right near our hotel. So we took his advice! We bought an "I (heart) New Orleans" umbrella (no joke), put on clothing we didn't care about getting wet, stopped worrying about our hair and got walking! A true GIRL WEEKEND experience!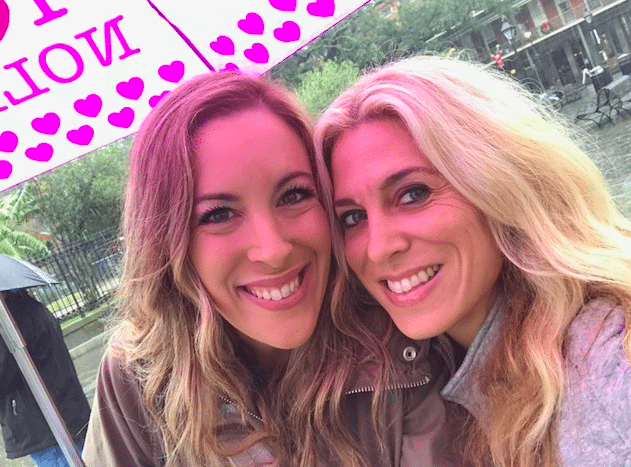 First stop for us on our New Orleans Trip?
The Presbytère – Louisiana State Museum. The Presbytère's two permanent exhibits tell two sides of the ongoing Louisiana story—one of celebration (Mardi Gras) and one of resilience (Hurricane Katrina). When we arrived at the Presbytère, we weren't sure what to expect. The 1st exhibit we walked through was the Hurricane Katrina one. It was unbelievable. We could hardly keep it together as we walked through because it was emotional and very powerful to see what happened to the city and how they have truly banded together as a city to come back in full force.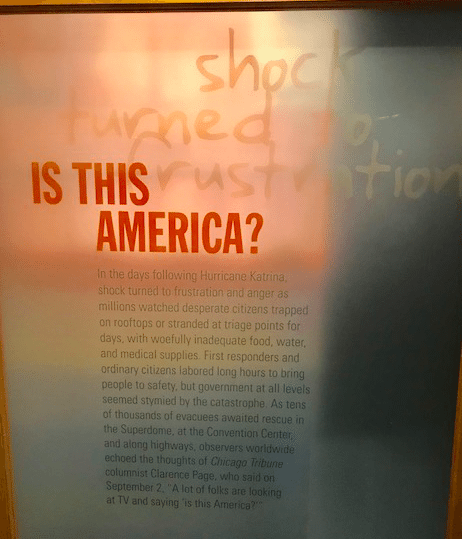 Obviously I remember hearing about the destruction of Katrina and seeing and listening, watching stories of the city and people literally displaced and separated from their homes.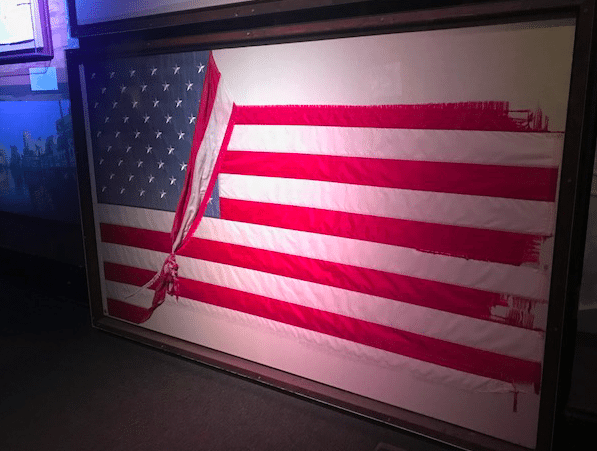 What I didn't know was truly, I mean truly… the utter destruction that the city endured afterwards. Seeing the photos. Hearing the 911 calls. Watching the real, raw footage from the local news. Seeing newspaper clippings. It really amplified it for me. But what was so remarkable about walking throughout this exhibit was seeing the resilience of New Orleans.
Seeing the people come together and build. Seeing the goodness in people. Seeing the LOVE of the history and the city from the world. It was really a wonderful exhibit to walk through and to experience.
After touring this exhibit, the next one we toured while on our New Orleans Trip was all about Mardi Gras. Truly, you are given the gift of seeing the resilience of New Orleans and then what keeps the celebration going there.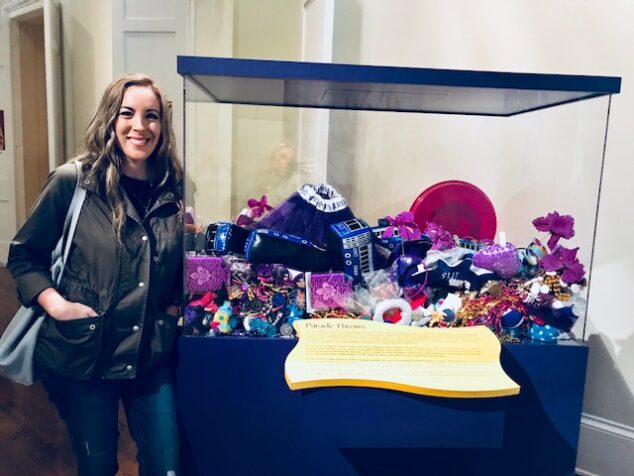 This exhibit was very cool and very informative. It was interesting because Vera and I had already learned so much at Mardi Gras World, but it was so neat to learn more about the details.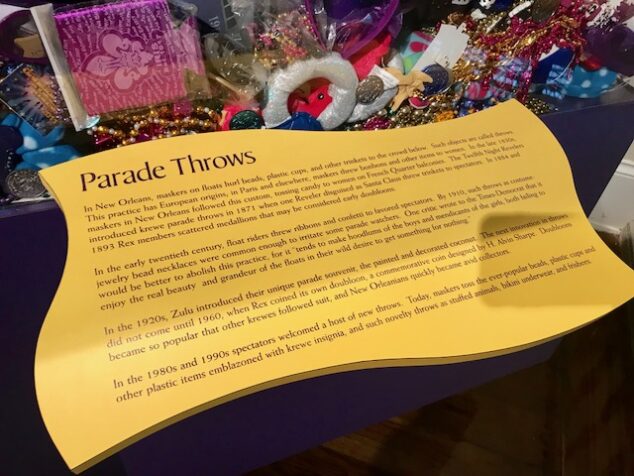 Mardi Gras: It's Carnival Time in Louisiana offers a window into the annual celebration and riotous rituals of Mardi Gras, a festival that is inextricably woven into Louisiana's way of life and whose roots extend deep into the Middle Ages. There are parade floats to climb, costumes to see and historical throws on display as well as rare glimpses into the secretive social club society from which modern-day Mardi Gras krewes evolved. And it's not a party without music: Mardi Gras albums, records, sheet music and more are also part of the collection.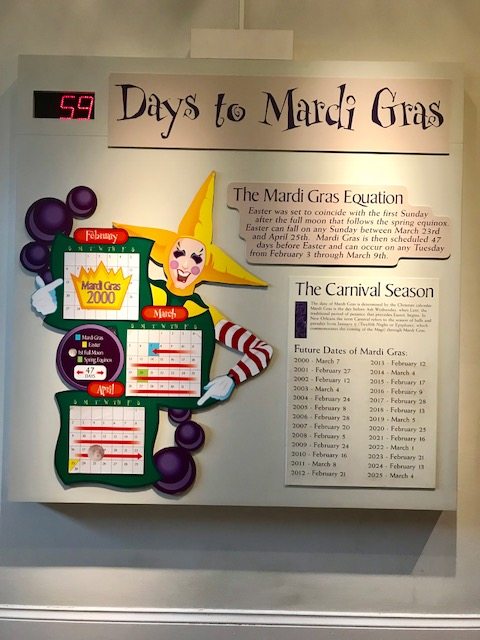 This was an exceptional exhibit to walk-through and learn from, and I definitely suggest a walk through here. Mardi Gras is the celebration of New Orleans, so I loved getting to know as much as I could about it.
Next up on our New Orleans Trip! FOOD!
After touring the Presbytère, we had a quick lunch at Johnny's Po-boys on St. Louis Street. Johnny's Po-boys is the oldest family-owned po-boy restaurant in New Orleans, which is really cool.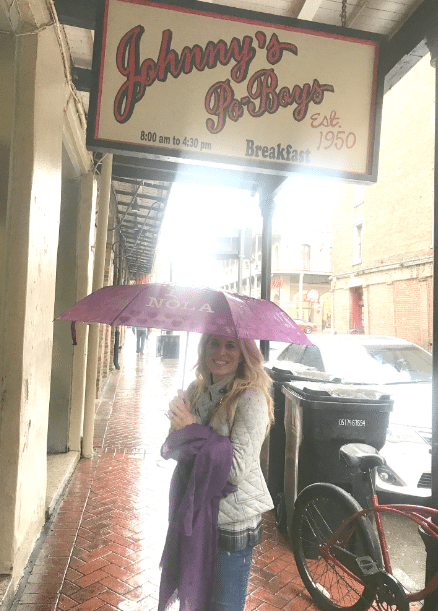 They serve everything from breakfast to their famous warm bun po-boys. Johnny's was also one of the first restaurants to re-open in the city of New Orleans after the devastation of Hurricane Katrina, which seemed fitting after walking through the Katrina exhibit. To be honest with you, I didn't really know what a po-boy was before our trip, never mind the history behind them. It was really interesting to read about them… In 1929, the Streetcar Union, Division 194 went on strike. The strike went on for several months, and the striking workers had very little money to survive. Two brothers, Benny and Clovis Martin, former streetcar operators before opening their "Martin's Bros. Restaurant," decided to help their friends on the picket line. They fed their friends sandwiches made of one-pound loaves of French Bread cut into three and filled them with ham, cheese, lettuce, tomatoes, pickles and mayo. These sandwiches were fed to the men free of charge. As the men came into the restaurant, they would say, "Here comes another 'poor boy' man." And so, the po-boy became a part of New Orleans cuisine. So next time you hear about a po-boy, you know what they are and why they're called po-boys!
After lunch, we spent the rest of the afternoon walking through the French Quarter. We took in the architecture and visited tons of little shops. The weather was a little bit better in the afternoon – it would stop and rain, stop and rain – which gave us the opportunity to do even more. It was so much fun to just have some time to explore and really get to know the French Quarter.
Here are some photos of us out and about town when you're on your New Orleans Trip!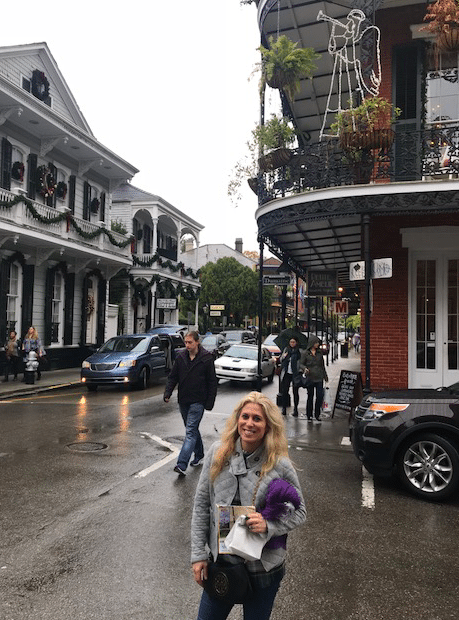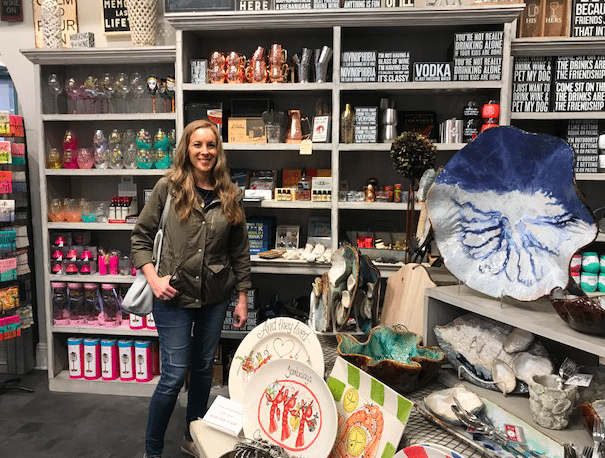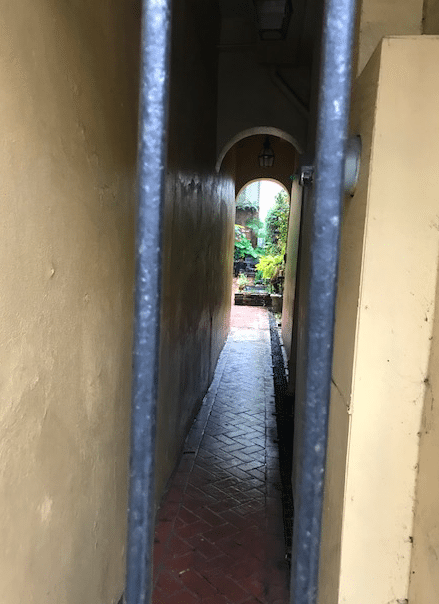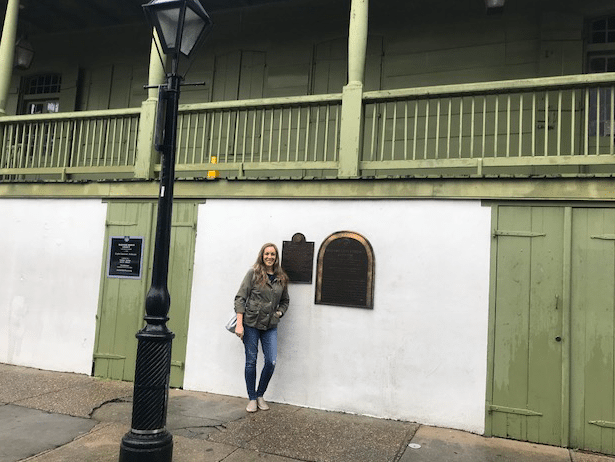 If you're looking for a historical place to have dinner, make sure Napoleon House is on your list. It's funny – every local that gave us advice about being in New Orleans mentioned eating at the Napoleon House. If you're heading on a New Orleans Trip – this is definitely a stop you want to make!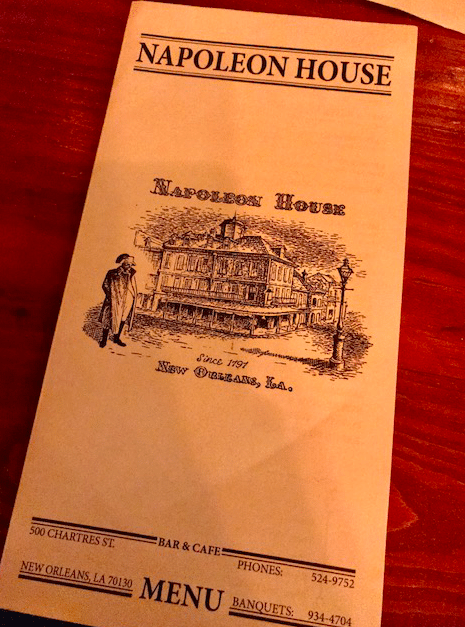 We were excited to head there and experience it for ourselves! What makes the Napoleon House standout? Easy. Few places capture the essence of New Orleans like the Napoleon House: A 200-year-old landmark that's as casual and unique as its French Quarter surroundings. The building's first occupant, Nicholas Girod, was mayor of New Orleans from 1812 to 1815. He offered his residence to Napoleon in 1821 as a refuge during his exile. Napoleon never made it, but the name stuck, and since then, the Napoleon House has become one of the most famous bars in America, a haunt for artists and writers throughout most of the 20th century. Owned and operated by the Impastato family since 1914 and Ralph Brennan since May of 2015, it's a place that suspends you in time, where you can hear Beethoven's Eroiqua, which he composed for Napoleon, and the music of other classical masters, while sipping a Pimm's Cup, and basking in an ambiance that could only be New Orleans.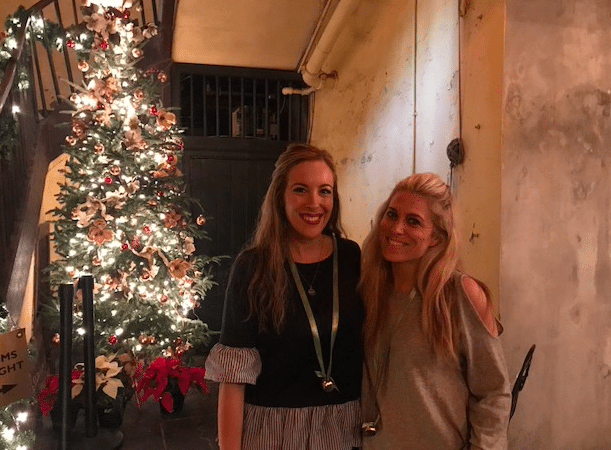 Walking in… we could feel the history. The lighting is dim and it definitely embodies a historical place that has been around for years and years and years.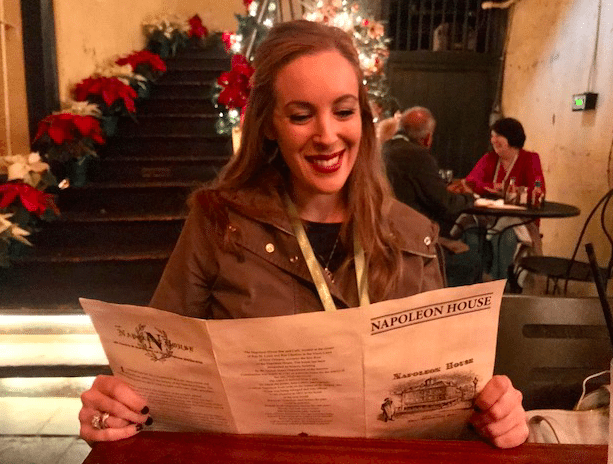 You feel part of New Orleans history here and it's really a fascinating experience. Being there during the holiday festivities was fun because the entire place was decorated, giving off more of a festive feel and ambiance. We dined on guacamole, bacon and grilled cheese sandwiches. They were incredible! Our meal was hearty, delicious and we felt transfixed in time.
After dinner – with it being the holidays – we had planned to go Caroling on Jackson Square. Unfortunately due to the rain, they canceled it outside, but brought it inside the St. Louis Cathedral. If you head on a New Orleans Trip around the holidays! OMG! GO!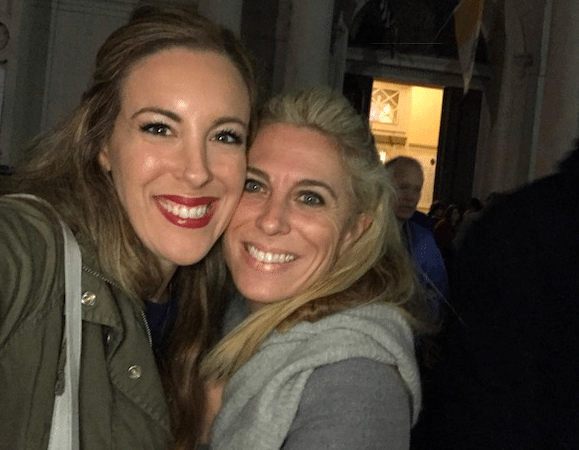 One night each year, residents and visitors of New Orleans join together to sing carols by candle light, lifting their voices high into the night.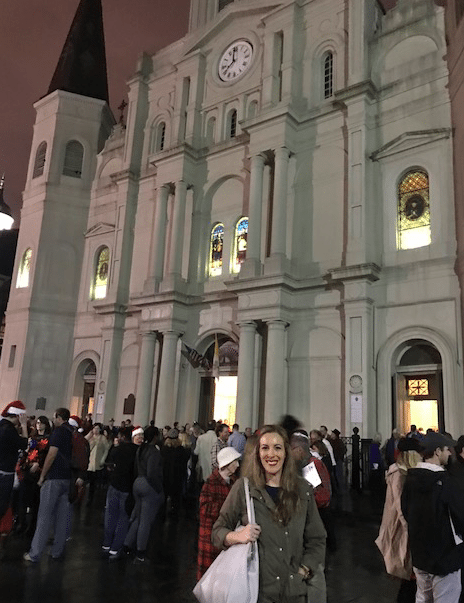 Sponsored by Patio Planters of the Vieux Carre, caroling in Jackson Square attracts hundreds of people who gather in the square after dark. Since it wasn't outside this year, it was tough to get into the Cathedral for the singing – but we could hear it and the amount of people who showed up was remarkable. What an amazing annual tradition in which we were honored to participate!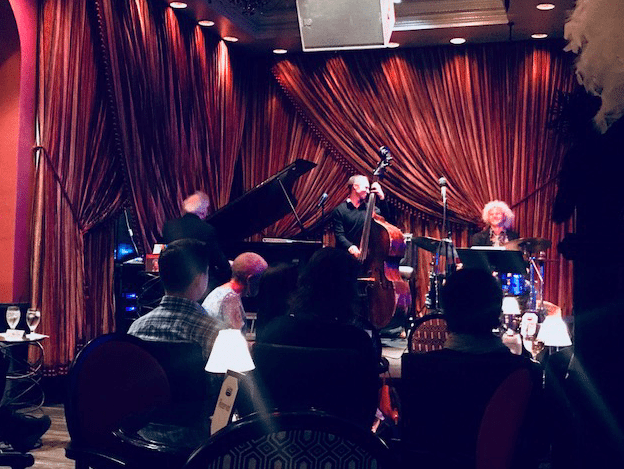 Since we were in New Orleans, we felt we had to do a JAZZ NIGHT! I mean, how can you go to New Orleans and not do some jazz!? This was something we were super excited to do! Fortunately for us, our hotel (The Royal Sonesta) had a club, the Jazz Playhouse right in the lobby and we were able to enjoy some jazz right there. Every single night there was something amazing planned, so it was wonderful to have the option to enjoy some JAZZ right where we were staying. Definitely make sure you check out what your hotel has to offer, maybe keeping some JAZZ in mind.
New Orleans Trip
Our last day was bittersweet. We didn't want our trip to end, but we also knew our kids (and our guys!) were ready to have us back home! I'm telling you, the great thing about going away mid-December was that it really did allow us to relax right before the holiday rush.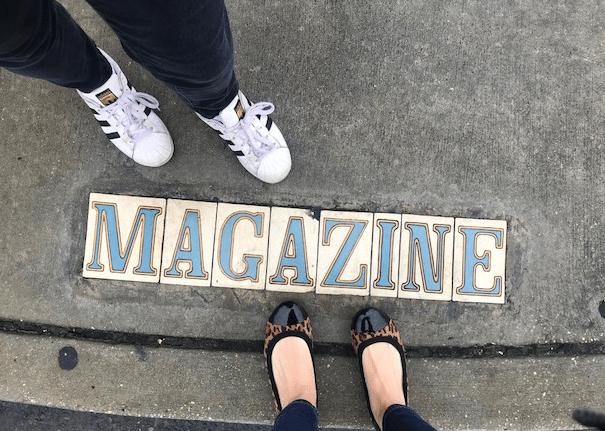 New Orleans Trip
We both woke up extra early on our last day, almost to make sure we savored every single second. We strolled up and down Magazine Street that morning before we landed on breakfast at District Donuts.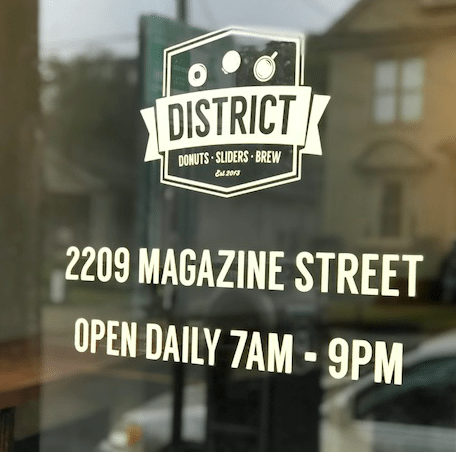 We were there early, so the shops weren't open (yet) along Magazine Street, but it was so cute to see the sights and the people and the energy there! It's such a popular destination to explore among visitors, so I'm so glad we got the chance to do it. But… let me get back to District Donuts. OMG. OMG. OMG. It was super cool!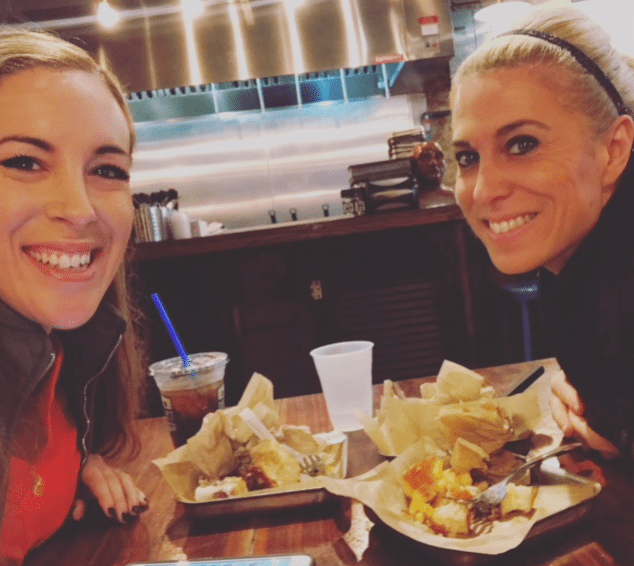 At District Donuts, they make everything from scratch, even down to the sprinkles! They use real food made with integrity; no pre-made mixes or artificial flavors. Their team works excellently to create all glazes and pastry creme fillings by hand.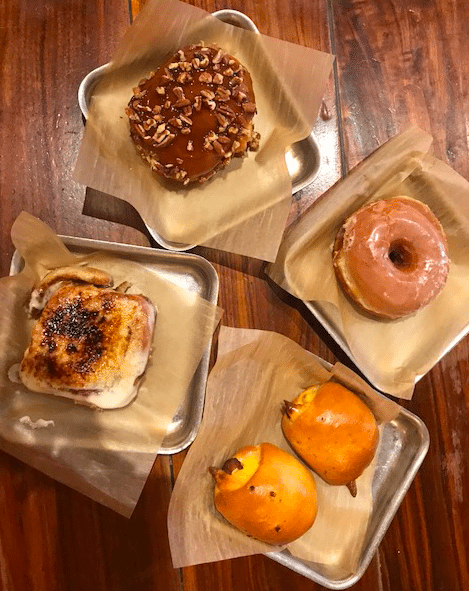 As soon as you walk in, you see the yummy magic! Not to mention, the smell was INCREDIBLE! The cool thing about District Donuts is that they offer seven rotating donuts every day; the catalog is now well over 100 options. It's just extraordinary! I'm not kidding, if I lived in New Orleans, I would be here every single Saturday morning with my kids!
New Orleans Trip – MUST DO!
After breakfast, we were signed up for a walking tour. Not just ANY walking tour… a Two Chicks Walking Tour! Let me preface this section with this suggestion – if you ever head to New Orleans (or anywhere else!) my advice is to sign up for a tour. When you take a tour of a place you don't know, you discover so much more than you would on your own. You learn. You discover. You explore. You get an inside peek at things you wouldn't have seen. Not to mention – you really do get a good taste of the area on a tour. That being said, we were able to take a tour with Two Chicks Walking Tour of the Garden District and it was magnificent!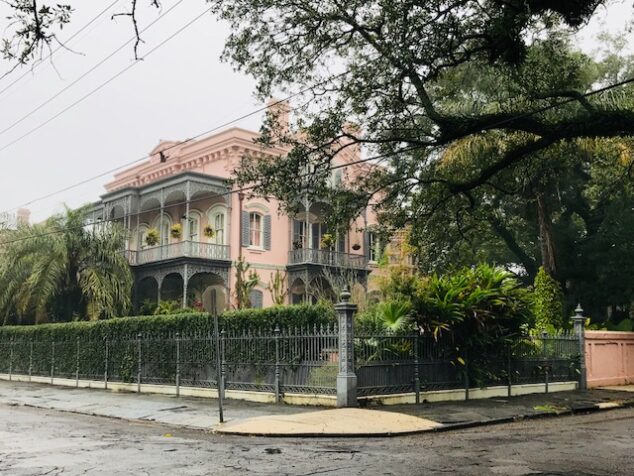 Why Two Chicks? The Two Chicks' Garden District walking tour features opulent homes, shares fascinating history, and features the beautiful Lafayette Cemetery #1. This neighborhood is familiar to many due to the large amounts of filming that takes places around the area. American Horror Story Coven fans will be delighted to know that Miss Robichaux's Academy is featured. The Civil War, celebrity homes, and amazing architecture are discussed in a manner that is accessible and relevant.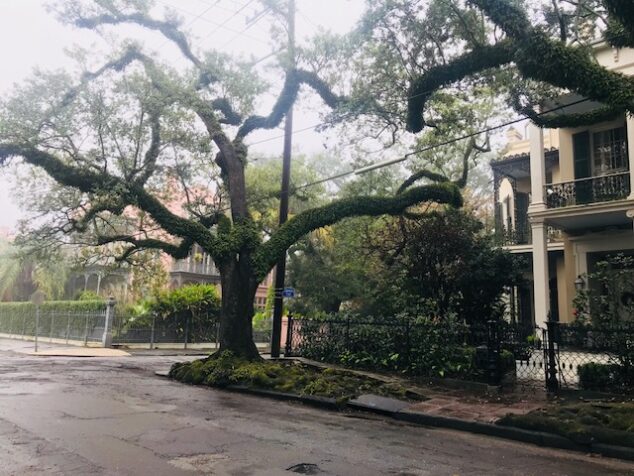 The amount of history. The beauty. The magnificence. The stories. It was wonderful to have an expert walk us through everywhere and answer questions. It was just a phenomenal tour and I highly recommend anyone taking this tour. I could hardly take in enough of the sights. It was jaw-dropping.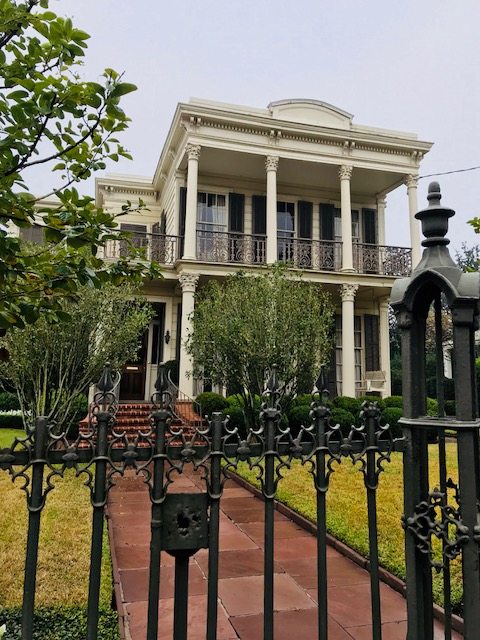 For me,the best part was seeing the architecture. I kept snapping photos because I couldn't wait to show my husband some of the amazing things I was seeing (*note – also the Manning "Football Gods" childhood home!).
I hope I've made you excited to visit New Orleans!
It was such a wonderful trip with Vera, and we had an exceptional time. Do yourself a favor and take the time to go away with your bestie. Embrace your inner self with your best friend and have some FUN! We all need it in our lives! New Orleans served as a wonderful destination for us. You will enjoy! You will explore! You will relax! You will enjoy the best foods and experiences and history, too!
Go on… BOOK it! New Orleans Trip!!
Check out our 1st DAY on our New Orleans Trip here!
Disclosure: This was a sponsored Travel Trip with New Orleans Convention and Visitors Bureau. All opinions and photos are mine.