Claiming My Family Weekends
It's already happening and I (honestly) can't believe it. I thought I had a couple more years before I had to worry about my kids having more weekend plans than me! I'm not talking swim meet plans, I'm talking… movies with friends, meet-ups at the pizza place, biking to the park… type plans. I'm not ready for this (yet).
On Friday when my 2 older sons got home from school, one of them asked if he could go to a basketball game after school that day. Usually he has swim team, but it worked out that it wouldn't conflict, so I let him go. My other son had made plans to go to a friend's house that night for awhile, so it was just 5 of us hanging out on Friday night. All is still fine. The boys had fun being out. We had fun at home with the other kids. It was a great Friday night for all.
Saturday rolls around and we're being bombarded with requests. One wants to go off with this friend. One wants to have this buddy over. One wants to go to the movies with his friends. One wants to sleepover a friend's house. It was too much! LAST weekend it was the exact same way. Friday night – everyone was out, which was fine! Saturday during the day – everyone had friends over, which was fine. But…….. and here's my BIG BUT, I don't want this to be an event single weekend occurrence. They're in middle school, not high school… not college!
So this past Saturday, I said NO to everything.
Were the boys upset?
Yes.
Did they think it was unfair?
Yes.
Was I worried about it?
NO.
I said to my husband, "I'm reclaiming our Saturday as a family!"
When I told the boys that we were going to head out and do something as a family, the first question was, "Are we going to do something fun?"
Oh little faith in their mom!
I called up a local bowling alley to see about doing a rock-and-bowl night with the kids, but they were booked solid. Although – they did have open lanes from 5-7 that we could take advantage of with the kids! Boom! Sign us up!
Off we went to the bowling alley for some family fun! We haven't been bowling in forever! I couldn't even remember the last time we all went as a family. When we got there, they guy gave us 2 lanes since we have 7 people – so it was the boys in one lane and mom/dad/Victoria in the other!
Competition on for the boys! It was nice seeing them have fun together and realize up close and personal that it's pretty cool having brothers your age! They have been going here, there and everywhere lately with friends that I think they've forgotten how lucky they are to have each other in the mix of everything!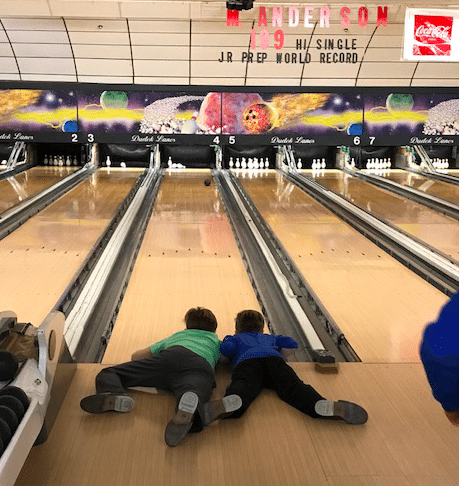 They laughed! They shoved (yes, but lightly!). They competed. They really had a fun time! It was wonderful to just be out with them and enjoying every single one of them at the same time!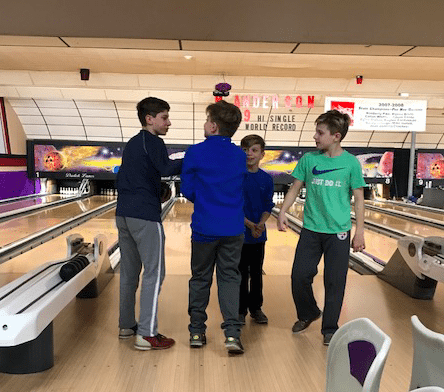 I know the kids are getting older and want to have social lives, but I want them to appreciate being with their family, too.
And… they even posed for a photo for me. Approved by all at the end of the night!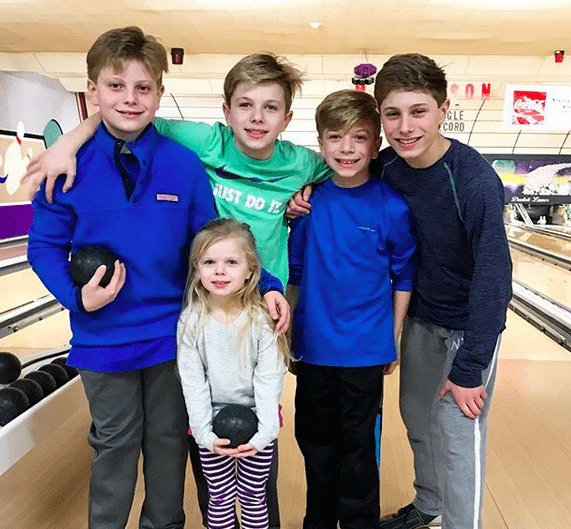 As we were driving home, I told my husband ONE night (always) during the weekends from here on out are ours. No friends. No plans. JUST family. I know they love doing things with friends, but for me – I love doing things with them. They can have friends over, that's fine… but weekends are precious and important for us to be together.