Why You'll Love DECEPTION on ABC TV. There's nothing like finding a new TV show that you just love. Let me go a bit further… there's also nothing like finding a new TV show that you know your husband will love, too! I have found a win-win for us — DECEPTION on ABC, which premieres tonight at 10PM (ET)!
Believe me, you're going to want to tune in, so set your alarm now to make sure you don't miss it!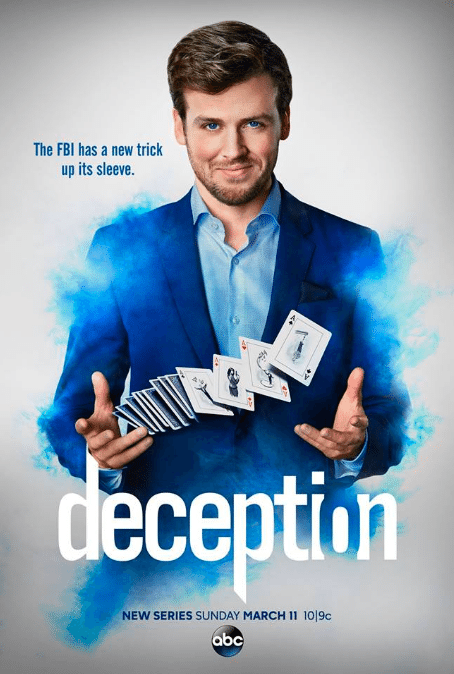 Photo Credit: ABC
DECEPTION centers around superstar Las Vegas magician Cameron Black and his career, which has been ruined by scandal, but he's found another place to put his skills of deception, influence and illusion to use: the Federal Bureau of Investigation. As a consulting illusionist, Cameron uses every trick at his disposal — inventing new ones as necessary — to help the government catch the world's most elusive criminals and solve crimes that seem to defy all explanation. In doing so, he while feeds his ego by staging the biggest illusions of his career.
If you're into magic – you're going to love it.
If you're into mystery – you're going to love it.
If you're into adventures – you're going to love it.
DECEPTION brings it all and I can't wait to sink my teeth deeper and deeper into this show!
When I went to LA for the A Wrinkle in Time press event 2 weeks ago, I had the awesome opportunity to screen the 1st episode of DECEPTION (the one that airs tonight!) AND interview CHRIS FEDAK ("Deception" Creator & Executive Producer) and DAVID KWONG ("Deception" Co-Producer).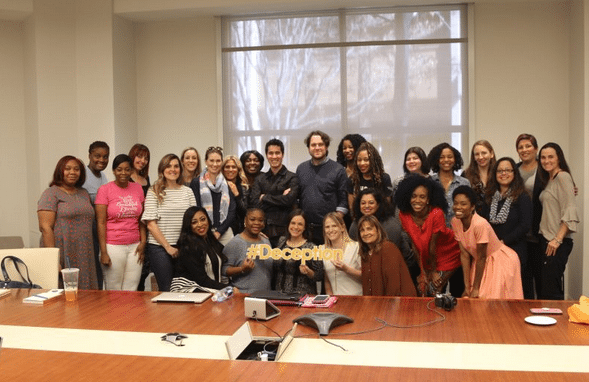 Photo Credit: Louise Bishop
Chris and David were phenomenal to interview because they have such passion and love for the show. They LOVED that we enjoyed screening the 1st episode and were anxious to get our feedback, which was great to see from them! They really were appreciative that we viewed it and wanted to see more!
Immediately Chris shared with us that he "hadn't seen a show about a group of people putting together deceptions like this, and I thought that could be cool. And then the other part of it that I liked is that I thought, this is Magician Impossible. What we're going to be doing every week is essentially an action show with mystery and deceptions and all that cool stuff. But instead of it being every episode has to end with a gun fight or a big fight is that every episode would have a big deception at the heart of it."
And that truly is the core of DECEPTION and why the 1st episode really brought me in, there's nothing like it on TV right now! It's different. It's cool. It's imaginative. It keeps you thinking. It even deceives YOU the audience. It really pulls you in from the beginning!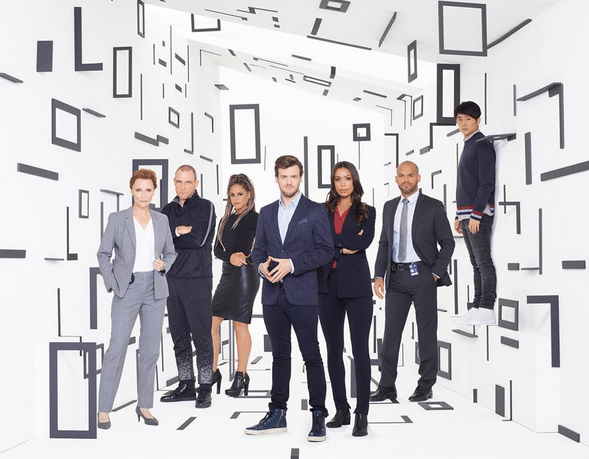 Photo Credit: ABC
It's funny because right off the bat, I felt deceived because the lead character Cameron, played by Jack Cutmore-Scott, is incredible with a deck of cards. I truly thought as I was watching him in the different scenes that it was impossible for it to actually be HIM doing those tricks. I thought FOR SURE it was somebody else that they edited in to make it look like him. I was WRONG. I was WRONG big time. I couldn't get over that! Chris and David LOVED hearing that we were all beyond impressed with Jack as Cameron.
David explained, "We got very lucky that Jack Cutmore-Scott is very dexterous and loves magic. And he didn't have the skills already, but he worked very-very hard and continues to work with me and our New York magician Francis Menotti, and he's always got a deck of cards on him. It becomes an obsession, it's like a practice hobby, you just keep at it and keep at it, I mean he's very-very- he's great, it's good, lucky."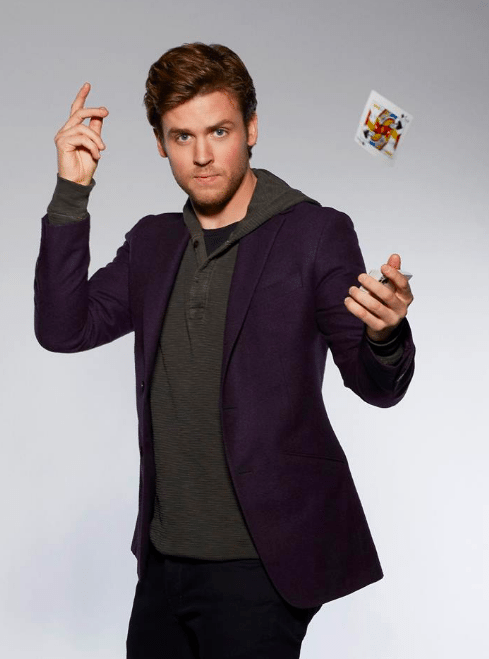 Photo Credit: ABC
Chris even went on, "It was crazy, when we cast the show, we always assumed we'll hire and we'll have David's hands doing all the magic. But then as we got closer and we cast Jack and we were lucky to get him, it's like we had charming we had handsome… and the thing is that he's also obsessive. So as we were walking around the production offices in New York getting ready for the shoot, I'd see Jack working on a trick, and I just thought, I'll just tell him we'll just do the viz effects. And it's that's not okay for him, he is a perfectionist."
I loved hearing that because it really made me love the role of Cameron more! I love knowing that it's actually Jack doing these tricks… and that he has put in the hard work to nail them and get them right!
What really sets DECEPTION on its own is the magic. You just don't see TV shows based around magic and illusions. It was really fascinating to all of us to hear and learn what we could about the magic part of the show. We were all surprised to learn that they try to make the magic on the show as real as possible! Honestly – it's like you're getting a magic show within a TV show!
Chris laughed and said, "We try to do it as real as possible. When you're making a show, you're always up against time constraints, so occasionally we have to ju-je something. But it was important for all of us to make all tricks that could be possible, that I could actually do."
David added, "But we're also very respectful of magicians, so we have to be able to walk a very fine line, like you'll learn a lot about magic and the theories of magic and deception and illusion, but we're not going to ruin tricks. But for the most part, we really do the give you that kind of behind the scenes perspective."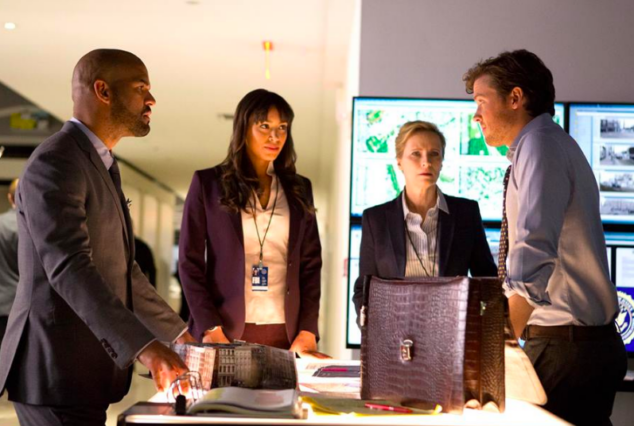 Photo Credit: ABC
One thing that was interesting to ask because the show is so FULL of great writing and storytelling and magic and tricks, we wanted to know what comes first – the magic trick or the script? Once you see an episode, you realize all the moving parts and it's an interesting way to look at the show. Do you create an episode around tricks? Or around a story line?
Chris answered, "At the beginning David essentially did a class [with the writers] where he went through different theories of magic, put them up on the board, then we talked about them. And then on all the other boards, we'd talk about the story and what we want to do and how we're going to break down the season and all the mystery stuff. And each individual episode we're excited about. And then we merged the two together and said which thing goes with this because the better the deception, it the illusion matches up with the emotions that we're doing in that episode, that's when we're really kind of hitting that sweet spot. And I think what we've learned over the course of the season is that we can do a lot. We have those elements of the story, we have some great guest stars coming in this season, but we can also go big – there's lots of crazy things that we do and that was fun to see."
I'm telling you, you're in for a fun ride with DECEPTION!
What I personally love about DECEPTION is that it's a show for moms and dads, grandparents, teenagers, young adults, men and women… everyone! It's on at 10PM (ET), so my kids won't be up watching it, but it's the kind of show I would DVR for them. It's a show that people will all enjoy and we need more TV like that nowadays!
We asked Chris and David who they think this show is perfect for and they responded, "The people in this room it's funny, for me I don't know. I never know until the show really gets out there and who watches it, who gets excited by it. But in truth for me, I did the show for everybody. I think that as David said, there is a fourteen year old girl who is going to be a huge magician someday and hopefully maybe she watches this show and gets excited and starts practicing. And starts doing the ten thousand hours to get to the point where they can do these tricks. I think it's made for anybody who's looking to have fun watching TV Sunday nights at ten o'clock after Idol."
And as David added at the end, they want people to know that "magic is fun!"
I will add, one cool thing that we didn't expect as part of our interview was seeing David perform for us! He spent 30 minutes doing magic tricks for all of us! He was AMAZING! He definitely is passionate about magic and I'm thrilled for him that he gets to share this passion with everyone through DECEPTION!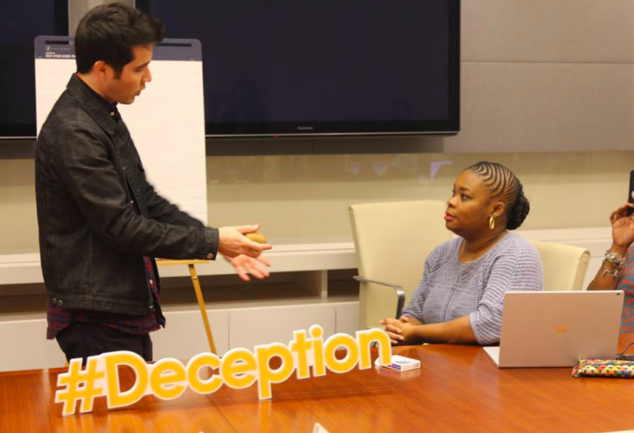 Photo Credit: Louise Bishop
I'm telling you right now, you're going to love it! There are 13 episodes slated right now! Make sure you TUNE IN TONIGHT FOR THE SHOW – ABC – 10PM (ET)!!
Disclosure: This was a Disney/ABC press trip. All opinions are my own. Travel was covered.